Sharp's 6-Inch Mono-Crystalline Silicon Solar Cell has a Full Size Conversion Efficiency of 25.09 Percent
Sharp says it has achieved the world's highest full size conversion efficiency of 25.09% using a 6-inch-size silicon solar cell.
This achievement of high conversion efficiency for mono-crystalline silicon solar cell was realized with Heterojunction Back Contact structure, a fusion of back contact structure, utilized in Sharp's solar module BLACKSOLAR and heterojunction structure, forming an amorphous silicon film on the surface of mono-crystalline silicon substrate.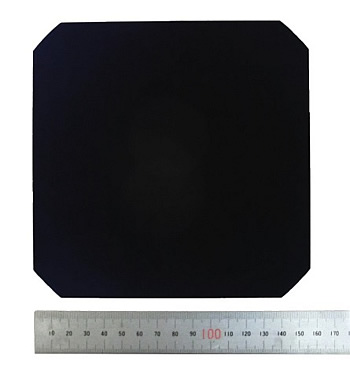 This technology accomplishment is supported by the research and development initiative promoted by New Energy and Industrial Technology Development Organization (NEDO). The 25.09% conversion efficiency was validated by the Japan Electrical safety & Environment Technology laboratories (JET)
Sharp plans to continue to work to achieve higher conversion efficiency as well as improving power generating costs.