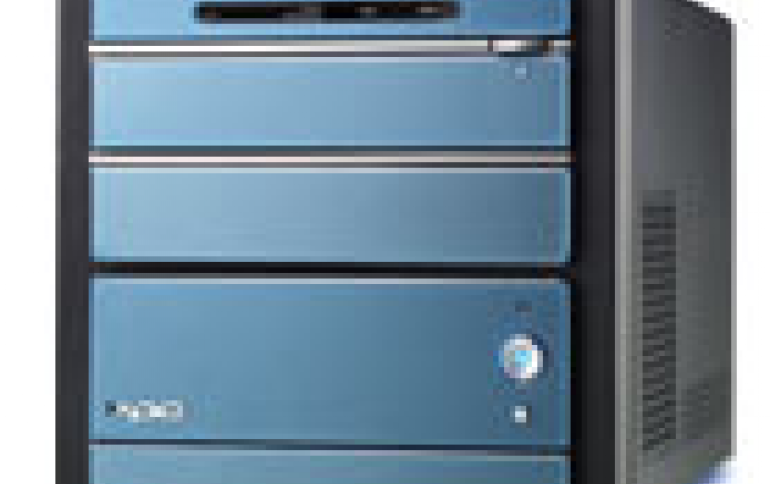 Shuttle launches first Nvidia nForce4 SFF PC
Shuttle introduced the Shuttle XPC Barebone SN25P. It is the first SFF PC to offer both HyperTransport and PCI-Express. The leading-edge performance of the newest Shuttle XPC Barebone is made possible by the inclusion of the NVIDIA nForce4 chipset. ?Be prepared to be blown away by the performance and style of this radically new XPC,? said Jonathan Yi, vice president, product planning, Shuttle." AMD Athlon? 64 enthusiasts have been begging for this implementation and today we?re delivering.?

Shuttle is the first vendor to deliver a SFF PC based on the NVIDIA nForce 4 solution. The Shuttle XPC Barebone SN25P resets all previous performance benchmarks with its 1GHz HyperTransport system bus and paradigm-setting x16 PCI-E graphics. Furthermore, integrated Gigabit LAN, FireWire? 400, 8-channel audio functionality and hardware firewall, as well as bundled Trend Micro PC-cillin malware and virus protection, help make the Shuttle XPC Barebone SN25P the most-advanced and secure SFF PC to date.

Featuring an integrated 8-in-1 card reader, toolless setup, powerful 350W power supply and 4G Silent X cooling technologies, the Shuttle XPC Barebone SN25P comes in Shuttle?s ?P? chassis, the industry benchmark for convenience, integration and ergonomics. Moreover, space for three 3.5-inch hard drives, full-size optical drive and integrated RAID (mixed SATA / PATA; 0, 1, JBOD), the XPC SN25P provides unmatched SFF storage flexibility and expansion options.

The XPC SN25P will begin shipping in volume next week. The system will be available immediately in Taiwan and about one week later in other markets. The company plans to first ship the SN25P as a barebone unit, with sales of complete systems following later.

Also today, Shuttle launched its XPC SB83G5C home-theater XPC. The Intel 915G based system features an integrated TV tuner and can be powered by remote control. Software is also included with the system for recording television programs, as well as organizing and playing audio, video and image files. The system will be targeted for Asian markets in particular and will begin to be available in the middle of March.

According to the company, Shuttle shipped 48,000-49,000 XPCs in January, with PCIe systems accounting for about 30% of the shipments, up from 20% last year. Shuttle is also the only SFF PC company to launch a BTX SFF PC, and BTX sales accounted for about 5% of the company?s January shipments, with Japan being the market most receptive to the product.