Sony Ericsson Releases Two New Android Phones
Sony Ericsson unveiled two new Android models Wednesday. The company plans to launch the Xperia ray and Xperia active models during the third quarter, Chief Marketing Officer Steve Walker announced in Singapore. Sony Ericsson, which saw its phone unit sales drop 23 percent in the first quarter from a year earlier, is moving away from cheaper phone models and seeking to take on Apple's iPhone, Research in Motion's Blackberry and Nokia's N9 in the higher-priced smartphone market.
"We made quite a fundamental shift in strategy and decided to focus a large part of our efforts into smartphones, to focus on the mid- and high-end part of the business," Walker said. "In many markets, we see a dramatic shift from feature phones to smartphones."
The company said in April that smartphones accounted for more than 60 percent of its sales during the first quarter.
Sony Ericsson's latest models that run on Android platform, the Xperia ray and active, will likely be priced below the high-end Xperia arc, Walker said.
The Xperia active is a compact smartphone with a 3" screen and runs the latest Android platform for smartphones (Gingerbread 2.3). The phone packs Reality Display with Mobile BRAVIA Engine, a 5mp camera with HD video functionality, and an 1Ghz processor. Xperia active is also dust proof and water resistant and incorporates wet finger tracking, to ensure the phone works when either the screen or a user?s fingers are wet.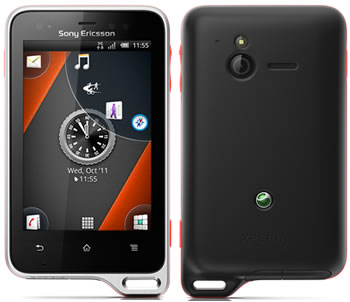 The phone comes pre-loaded with sports apps that enable users to easily track their fitness levels. Users can set their ideal training route using the built-in GPS, Barometer and Compass. On-screen heart rate and pulse can be monitored in realtime (enabled by ANT+ wireless networking technology), while the iMapMyFitness app can monitor day to day performance. Additionally, Facebook inside Xperia allows consumers to share their experiences with friends.
Extras included in the box:
- One extra exchangeable soft touch back cover
- Detachable ear hooks for the portable handsfree active headset
- Wrist strap to keep the phone close at all times
- An arm case for use during a workout
- 2GB memory card to save all your special moments
- Micro USB cable for charging and computer data transfer
Sony Ericsson Xperia active will be available globally in selected markets from Q3 2011.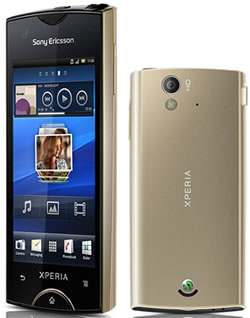 The company also announced the Xperia ray - a new smartphone alongside CommunicAsia 2011 in Singapore. With a 3.3" screen (854 x 480 pixels) and running the latest Android platform for smartphones (Gingerbread 2.3), the phone packs in an 1Ghz processor, Reality Display with Mobile BRAVIA Engine, a 8.1mp camera with Exmor R for mobile and HD video functionality. The device is only 9.4mm thin and weighs 100 grams.
The phone also incorporates a front facing camera and a scratch resistant screen and integrated touch keys. Sony Ericsson's new phone also integrates Facebook and has access to Google services.
Sony Ericsson Xperia ray will be available globally in selected markets, including Japan, from Q3 2011.
Last but not least, Sony Ericsson unveiled the Sony Ericsson txt, an entertaining messaging phone. A sister phone to Sony Ericsson's recently announced Sony Ericsson txt pro, Sony Ericsson txt has a full view QWERTY keyboard and a SMS shortcut key. The phone also features a "friends" application that enables users to see Facebook and Twitter updates at a glance from their top five friends.
Sony Ericsson txt is Wi-Fi enabled and comes equipped with a 3.2mp camera with video recording and a 2.6-inch display (240 x 320 pixels)
Sony Ericsson txt will be available globally in selected markets from Q3 2011.