Sony Single-Lens OLED Display Module Turns Any Eyewear Into Smartglasses
Sony has developed an attachable Single-Lens Display Module that can turn eyewear of varying designs into a smart device. The module is compact and lightweight enough to be easily attached to a any kind of eyewear. It is equipped with a High-Resolution Color OLED Microdisplay, a Micro-Optical Unit and a miniaturized control board with arithmetic processing capabilities on par with smartphones that was made possible by high-density packaging technology.
This display module is equipped with a 0.23 inch High-Resolution Color OLED Microdisplay that is among the smallest in the world. It was made possible by Sony's OLED and semiconductor silicon drive technologies. While possessing a display measuring 0.23 inches diagonally, it achieves a resolution of 640 x 400 pixels. It is also capable of reproducing deep blacks with contrast ratio higher than 10,000:1 and covering 100% of the sRGB color space.
With conventional panels, a light shield had to be incorporated into the pixel structure in order to achieve color purity in the RGB stripe matrix. But with the newly developed panel, Sony was able to optimize the matrix arrangement – therefore allowing for a smaller light shield – and miniaturize pixel size while improving the aperture ratio. With these advancements, Sony managed to preserve the brightness necessary for use in outdoor conditions while achieving considerable miniaturization in panel size (10.2 mm x 7.9 mm).
Sony's new display module is also equipped with a Micro-Optical Unit optimized for this OLED Microdisplay, thereby enabling the module to achieve the necessary size and weight. The Micro-Optical Unit contributes to the realization of high quality image projection in any lighting conditions, from a sunny outdoor environment to the dark indoors. The projected image's diagonal angle of view converts to 13 degrees, which is equivalent to the field of view for a 16 inch display 2 meters in the distance.
In addition to its OLED Microdisplay and Micro-Optical Unit, the module is also equipped with a control board loaded with a processor with capabilities on par with smartphones, Wi-Fi functionality, and a variety of sensors. Sony achieved miniaturization of this control board by leveraging its high-density packing technology. The display unit weighs in at around 40 g (22 g for the display arm and 18 g for the secondary arm).
By attaching it to a pair of fashionable glasses, goggles, sunglasses, or other type of eyewear, you can gain access to visual information. The module has potential applications in sports or for work, among other areas, displaying helpful information that supports you in the activity you are engaged in. And this is all done in a small sub-window that does not obstruct your field of vision.
Sony is aiming to start mass production of this display module within the coming year. The company plans to make it available to a wide variety of potential customers, from eyewear makers whose pieces are tailored for specific uses such as sports or entertainment, to electronics manufacturers who are considering pairing their products with wearable devices, to companies that provide business solutions utilizing wearable devices.
For example, when cycling, playing a round of golf, or engaging in some other outdoor sport, attaching this module to a pair of sports sunglasses and pairing it with a smartphone would enable you to access information such as course maps or distance readings, even when your hands are tied. Alternatively, the module could be paired directly with an action camera capable of remote display on a smartphone, enabling you to check the angle of view and the captured image from a distance through your eyewear.
Sony will also provide software development kits (SDK) to partnering organizations for this Single-Lens Display Module boasting rich arithmetic processing capabilities. With the SDK, developers will be able to create dedicated apps tailored to specific uses. They can choose either to load an app onto the module itself, thereby enabling the device to be used independently of any other hardware, or to load an app onto a smartphone, thereby allowing the device to be used in tandem with a smartphone over a wireless connection. Along with the SDK, Sony will also release the display module's communication specifications, enabling developers to wirelessly pair it with a wide range of other devices aside from smartphones.
The Japanese company will be unveiling a prototype version of the new device called "SmartEyeglass Attach!" at the "2015 International Consumer Electronics Show (CES)" to be held in Las Vegas, US from Tuesday, January 6th to Friday, January 9th, 2015.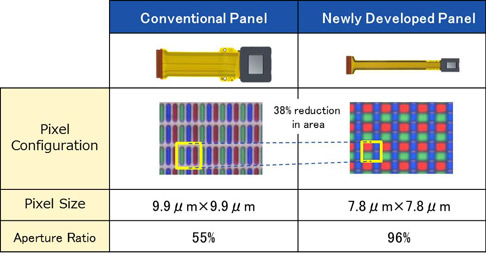 Specifications
Display
High-Resolution Color OLED Microdisplay(0.23 inch/diagonal)
Resolution
640 (H) x 400 (V) pixel
Display color
RGB with 24 bit color depth / color space sRGB 100%
Maximum brightness
800 cd/m2
Contrast ratio
10,000:1 or more
Display response speed
0.01 msec or below
Sensors
Electronic compass, accelerometer, touch sensor
Processor
ARM® Cortex®-A7 Processor
Wireless module
Bluetooth 3.0 + High Speed, IEEE802.11b/g/n
Battery capacity
400 mAh
Weight
Approximately 40 g (Display arm: 22 g; Secondary arm: 18 g)