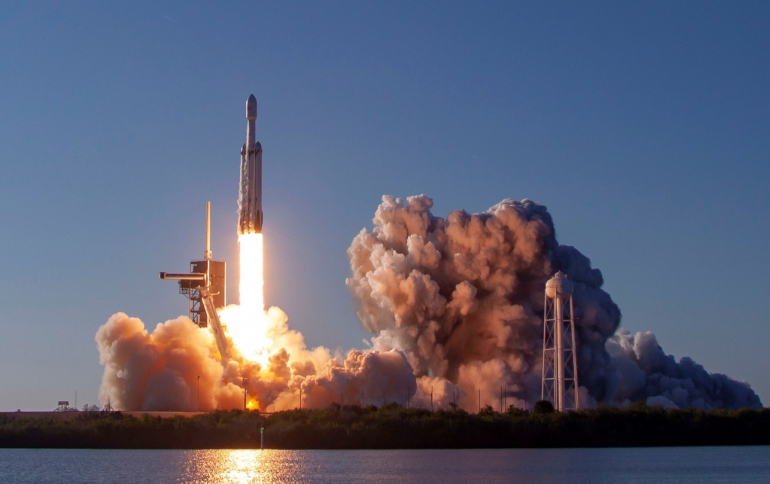 SpaceX Lands All Three Falcon Heavy Rocket Boosters
The most powerful operational rocket in the world, SpaceX's Falcon Heavy, launched its first commercial mission on Thursday from Florida, with all three of the rocket's booster cores to successfully landed back on Earth.
Producing 5.1 million pounds of thrust, Heavy blasted off from Florida's Kennedy Space Center carrying its first customer payload. Falcon Heavy carried a communications satellite for Saudi-based telecom firm Arabsat, which will beam internet and television services over Africa, Europe and the Middle East.
Roughly three minutes after clearing the pad, Heavy's two side boosters separated from the core rocket for a synchronized landing at the Cape Canaveral Air Force Station. The middle booster, after pushing the payload into space, returned nearly 10 minutes later for a successful landing on SpaceX's seafaring drone ship 400 miles (645 km) off the Florida coast.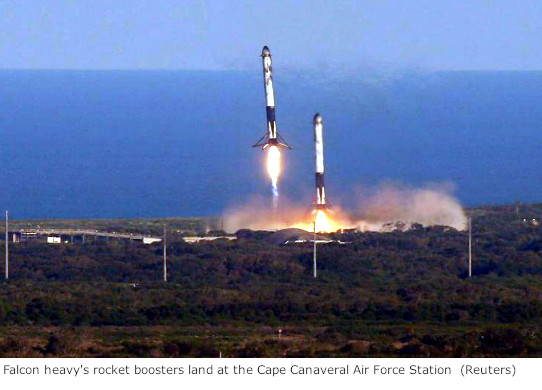 In the February 2018 test mission, Heavy's core booster missed the vessel and crashed into the Atlantic Ocean. Only the two outer cores had made it back to Earth in one piece. The center core of that launch missed its target drone ship, when it failed to light all three engines needed to land because of a fuel shortage.
But the new three boosters used for this flight were upgraded versions of SpaceX's rockets, knows as Block 5.
All three rocket boosters will be refurbished and re-fly in another Falcon Heavy mission this summer to carry military and science satellites for the Air Force.
Liftoff with Heavy's new military-certified Falcon 9 engines was crucial in the race with Boeing-Lockheed venture United Launch Alliance and Jeff Bezos' Blue Origin as Musk's SpaceX, working to flight-prove its rocket fleet one mission at a time, aims to clinch a third of all U.S. National Security Space missions - coveted military contracts worth billions.
The U.S. Air Force tapped SpaceX in 2018 to launch for $130 million a classified military satellite and in February added three more missions in a $297 million contract.
SpaceX and Boeing are trying to send humans to space from U.S. soil for the first time in nearly a decade under NASA's Commercial Crew Program. SpaceX's Crew Dragon capsule, atop a Falcon 9 rocket, cleared its first unmanned test flight in March ahead of its crewed mission planned for July, while the first unmanned test for Boeing's Starliner capsule is slated for August on ULA's Atlas 5 rocket.
Israeli spacecraft crashes on moon
Meanwhile, the Israeli SpaceIL spacecraft lost contact with Earth in Netanya, Thursday, and failed in its attempt to make history as the first privately funded lunar mission.
The spacecraft crashed into the moon just moments before touchdown, as a result of a communication loss with ground control during its final descent. The spacecraft's engine turned off shortly before landing, and scientists were still trying to figure out the cause.
The small robotic spacecraft, built by the nonprofit SpaceIL and state-owned Israel Aerospace Industries, had been travelling around the Earth several times before entering lunar orbit.