Spansion Debuts Breakthrough Interface and World's Fastest NOR Flash Memory
Spansion Inc. today announced Spansion HyperBus Interface, a breakthrough that improves read performance while reducing the number of pins, along wit the first family of products based on this new interface, the Spansion HyperFlash NOR Memory devices. The new HyperFlash NOR Memory has a read throughput of up to 333 megabytes per second - more than five times faster than ordinary Quad SPI flash currently available with one-third the number of pins of parallel NOR flash.
The Spansion HyperBus Interface will enable a wide range of high-performance applications, such as automotive instrument clusters, infotainment / navigation systems, advanced driver assistance systems (ADAS), hand-held displays, digital cameras, projectors, factory automation, medical diagnostic equipment, and home automation appliances.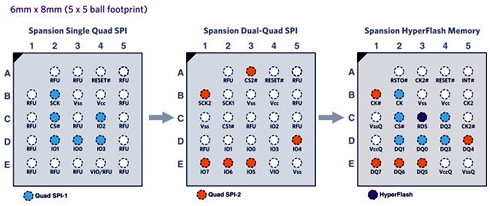 The 12-pin Spansion HyperBus Interface consists of an 8-pin address/data bus, a differential clock (2 signals), one Chip Select and a Read Data Strobe for the controller, reducing the overall cost of the system.