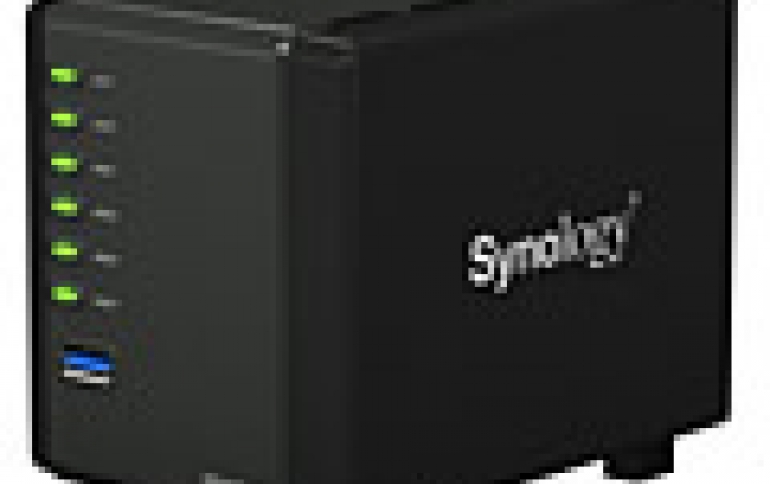 Synology Releases The DiskStation DS416slim NAS
Synology has released the DS416slim, a 4-bay NAS server aimed at home users and professionals in need of a compact, storage solution. The device can host up to four 2.5" hard drives for a total of 8 TB available data.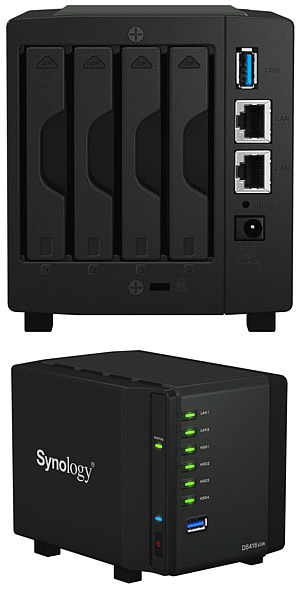 From a hardware point of view, the DS416slim boasts a dual-core 1.0 GHz CPU with a dedicated encryption engine and 512 MB of DDR3 RAM. With Link Aggregation enabled, DS416slim delivers up to 170.23 MB/s in reading and 77.62 MB/s in writing. Writing through a single Gigabit LAN speed goes up to 78.81 MB/s, which represents a 30% boost compared to the previous generation. DS416slim's high performance is paired with low power consumption, as DS416slim consumes only 17.17 watts in average during activity.
The device features four hot-swappable trays and 2.5" its hard drives can be replaced on the fly if needed. In addition, the fan module situated at the bottom of the unit can be removed in a breeze in case of malfunction. In addition, one of the two USB 3.0 ports is available on the front panel of DS416slim.
DS416slim runs DiskStation Manager (DSM), Synology's operating system for NAS devices, is offering a wide range of applications from backup, network management to multimedia.
Hardware Specifications
CPU
CPU Model
Marvell Armada 385 88F6820
CPU Architecture
32-bit
CPU Frequency
Dual Core 1.0 GHz
Floating Point
Hardware Encryption Engine
Memory
System Memory
512 MB DDR3
Storage
Drive Bay(s)
4
Compatible Drive Type

2.5" SATA III / SATA II HDD (Up to 12.5mm drive height)
2.5" SATA III / SATA II SSD

Maximum Internal Raw Capacity
8 TB (2 TB HDD x 4) (Capacity may vary by RAID types)
Maximum Single Volume Size
16 TB
Hot Swappable Drive
External Ports
USB 3.0 Port
2
File System
Internal Drives
EXT4
External Drives

EXT4
EXT3
FAT
NTFS
HFS+ (Read Only, with max. volume size 2TB)

Appearance
Size (Height x Width x Depth)
120 mm x 105 mm x 142 mm

Weight
0.66 kg

Others
RJ-45 1GbE LAN Port
2 (with Link Aggregation / Failover support)
Wake on LAN/WAN
System Fan
60 mm x 60 mm x 1 pcs
Fan Speed Mode

Cool Mode
Quiet Mode
Low-power Mode

Easy Replacement System Fan
Wireless Support (dongle)
Brightness adjustable front LED indicators
Power Recovery
Noise Level*
20.3 dB(A)

Scheduled Power On/Off
Power Supply Unit / Adapter
30W

AC Input Power Voltage
100V to 240V AC
Power Frequency
50/60 Hz, Single Phase
Power Consumption
17.17 W (Access)
11.63 W (HDD Hibernation)

British Thermal Unit
58.63 BTU/hr (Access)
39.71 BTU/hr (HDD Hibernation)

Environment Temperature
Operating Temperature
5°C to 40°C (40°F to 104°F)
Storage Temperature
-20°C to 60°C (-5°F to 140°F)
Relative Humidity
5% to 95% RH
Certification

FCC Class B
CE Class B
BSMI Class B

Warranty
2 Years
Notes

Power consumption is measured when fully loaded with Western Digital 1TB WD10JFCX hard drive(s).
Noise Level Testing Environment: Fully loaded with WD 1TB WD10JFCX hard drive(s) in idle; Two G.R.A.S. Type 40AE microphones, each set up at 1 meter away from the Synology NAS front and rear; Background noise: 17.2 dB(A); Temperature: 23.6˚C; Humidity: 58.2%.

DSM Specifications
Storage Management
Maximum Internal Volume Number
256
Maximum iSCSI Target Number
10
Maximum iSCSI LUN
10
Supported RAID Type

Synology Hybrid RAID
Basic
JBOD
RAID 0
RAID 1
RAID 5
RAID 6
RAID 10

RAID Migration

Basic to RAID 1
Basic to RAID 5
RAID 1 to RAID 5
RAID 5 to RAID 6

Volume Expansion with Larger HDDs

Synology Hybrid RAID
RAID 1
RAID 5
RAID 6

Volume Expansion by Adding a HDD

Synology Hybrid RAID
RAID 5
JBOD

Global Hot Spare Supported RAID Type

Synology Hybrid RAID
RAID 1
RAID 5

File Sharing Capacity
Maximum User Accounts
2048
Maximum Groups
256
Maximum Shared Folder
256
Maximum Shared Folder Sync Tasks
2
Maximum Concurrent CIFS/AFP/FTP Connections
128
Windows Access Control List (ACL) Integration
NFS Kerberos Authentication
Log Center
Syslog Events per Second
100
Add-on Packages
Cloud Station Server
Maximum Concurrent File Transfers
128
Download Station
Maximum Concurrent Download Tasks
30
Media Server
DLNA Certification
PDF Viewer
Spreadsheet
Surveillance Station
Maximum IP cam (Licenses required)
8 (including 2 Free License)
Total FPS (H.264)*
300 FPS @ 720p (1280x720)
150 FPS @ 1080p (1920?1080)
100 FPS @ 3M (2048x1536)
40 FPS @ 5M (2591x1944)
Total FPS (MJPEG)*
150 FPS @ 720p (1280x720)
75 FPS @ 1080p (1920?1080)
50 FPS @ 3M (2048x1536)
25 FPS @ 5M (2591x1944)
Video Station
Video Transcoding
Group 2
VPN Server
Maximum Connections
5
Environment & Packaging
Environment
RoHS Compliant
Packaging Content

Main Unit X 1
Welcome Note X 1
Accessory Pack X 1
AC Power Adapter X 1
RJ-45 LAN Cable X 2

Optional Accessories

Remote
Camera License Pack
VS360HD

General
Networking Protocols

CIFS
AFP
NFS
FTP
WebDAV
CalDAV
iSCSI
Telnet
SSH
SNMP
VPN (PPTP, OpenVPN)

Management

Auto DSM Upgrade
Email/SMS Notification
Customized User Quota
Customized Administrator/User Group
Syslog Support
DDNS Support
IPv6 Support
VLAN Support
PPPoE
Hotspot
Resource Monitor
Connection Manager
UPS Management
Scheduled Power On/Off
Custom Management UI HTTP/HTTPS Ports

Windows AD Domain Integration
Domain Users login via Samba/AFP/FTP/File Station
HDD Management

HDD Hibernation
S.M.A.R.T.
Dynamic Bad Sector Mapping

Security

FTP over SSL/TLS
IP Auto-Block
Firewall
Encrypted Network Backup over Rsync
HTTPS Connection

Utilities
Synology Assistant
Supported Clients

Windows 7 or above
Mac OS X 10.10 or above

Supported Browsers

Chrome
Firefox
Internet Explorer 9 or later
Safari 8 or later
Safari (iOS 7.0 or later on iPad)
Chrome (Android 4.0 on tablets)