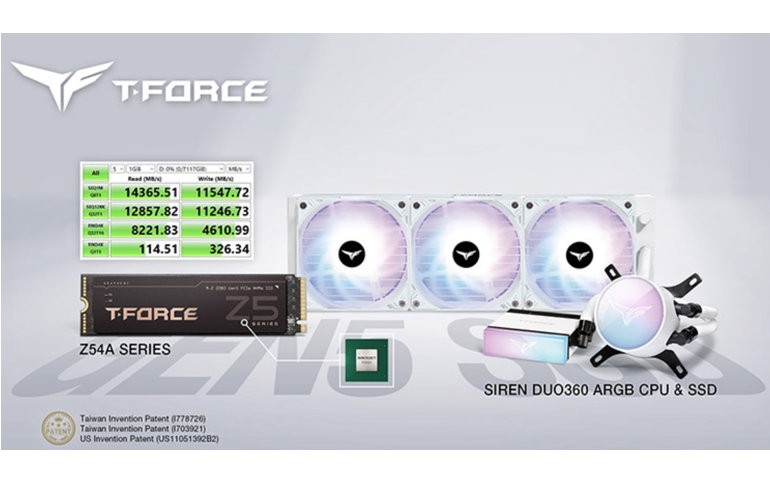 Teamgroup announces T-FORCE Z54A 14GB/s Gen5 NVME SSD!
TEAMGROUP's gaming brand, T-FORCE's Z54A series, develops the pioneering new generation PCIe Gen5 SSD with outstanding performance, with read and write speeds up to 14,000 MB/s and 10,000 MB/s, respectively. TEAMGROUP exclusively cooperates with globe-leading advancing storage supplier, InnoGrit Corporation, producing the ultra-fast PCIe SSD products for certain high-performance fields, such as computers, workstations, data centers, servers, gaming consoles, video making, and editing.
T-FORCE offers the most comprehensive heat-sink solutions for the M.2 SSD, tailored for the heat sinks of the ultra-fast Gen5 PCIe SSD. The circular AIO liquid cooling systems with a Taiwanese invention patent (I778726) bring a group of high-level computer users the solution to the problem of low speed caused by the high-temperature operation of the PCIe M.2 SSDs. The solution that the T-FORCE M.2 SSD brings has the ability to perfectly release performance and extend the lifespan of SSDs. It is the product of the SSD heat sink that brings the benefit of saving power to the new generation.
Through cooperation with InnoGrit Corporation, we adopted the 12nm PCIe IG5666 controller. This controller features high performance, high reliability, high stability, and low delay, supporting various mainstream NAND speeds up to 2,400 MT/s. The InnoGrit IG5666 controller is equipped with a pioneering code-correction technique that extends the lifetime of NAND. In the meantime, this controller also has a decoder for low-power mode, which can automatically switch to the mode to extend the lifetime and sustainable data of working. The InnoGrit IG5666 controller collects the AI algorithm for temperature data developed by InnoGrit Corporation, providing extraordinary multitasking performance.