Terramaster F4-210 NAS Server
6. Conclusion
The Terramaster F4-210 is an interesting proposal for power users who wish to get a fully armed NAS server for their home/office use. The device comes with four (4) slots so users can install up to 64TB (16TB x 4) of storage at various RAID configurations (Single, JBOD, RAID 0, RAID 1, RAID5, RAID 6, RAID 10) depending the installed HDDs. The device supports both 3.5" and 2.5" drives (either mechanical or SSDs). The retail package is complete and has all the stickers/screws you might need in order to get everything ready to run.
The device has a nice external finish in light silver and its made out of aluminium with plastic parts (HDD trays). While someone may not like it, it saves weight and for sure doesn't affect the overall performance of the device. Installing the drives is easy and Terramaster has several guides/information at their website and a good active forum for users to ask questions for possible problems.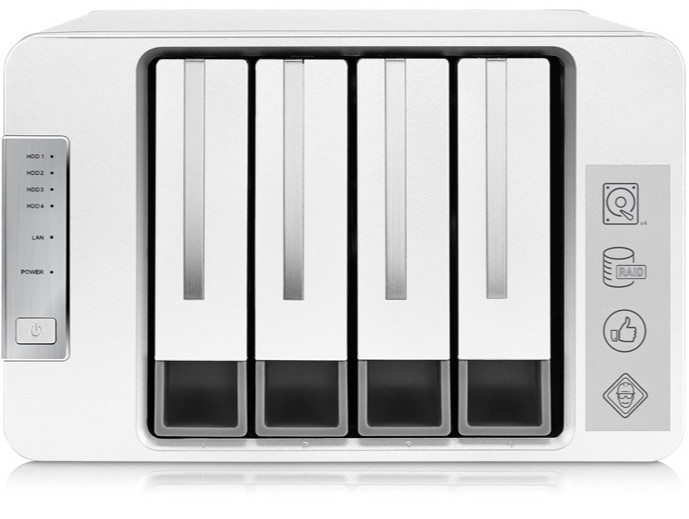 The device runs on TOS, the system that Terramaster develops and continues to support/improve with constant releases. The first installation guide is simple to go with and even amateur users will get their way through. The final desktop can be seen either from an PC or even mobile devices with the Terramaster android app.
The F4-210 is powered via a RealTekRD1296 chipset, a Quad Core 1.4GHz with 2GB DDR4 RAM, which may be enough for simple tasks, however experienced users will look for higher specced models, with Intel CPUs inside to get higher performance and other features. At the back there is one (1) Gigabit Ethenet and two USB 3.0 ports for other users. The two fans at the back will ensure the internal stays cool at all situations.
The GUI interface seems clean and easy to navigate/understand. You can set active users with specific read/write rights and install...apps! Yes Terramaster offers a variety of apps for many different scenarios either for backup local or remote and constantly adds new apps as well with new firmware revisions.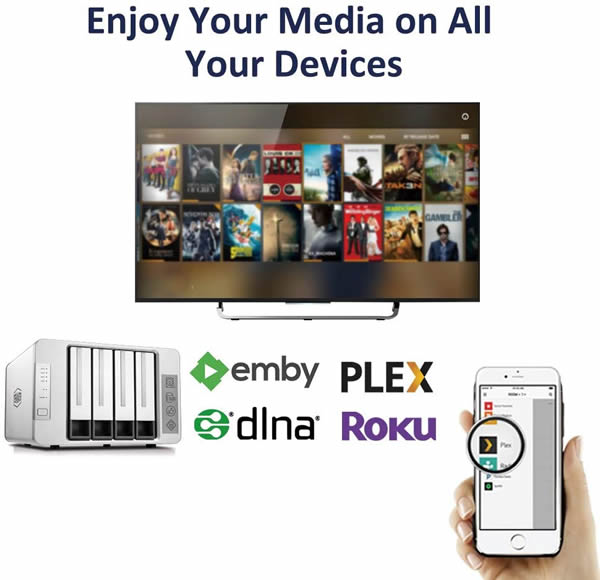 We mainly tested the Plex app, which will interest many users and we found that the F4-210 can handle up to 1080p files encoded with x264 codecs very good with low cpu usage. Multi-channel files are also playable. What this device cannot do is 1080p x265 files and higher resolutions (4k). Reading/write seems high enough, maxing out the 1Gbit Network with up to 95mb/sec writing and 114mb/sec reading from the device, very good performance for home/small office use. All that package comes with a price tag of ~260 Euro/$ which isn't cheap, however we feel this device is a solid product that will be useful for user who wish to have good performance/price ratio NAS Media Server with many capabilities.
Positive
+ Complete retail package with screws and screwdriver
+ Great Overall build quality
+ Easy to setup and installing HDDs
+ Many RAID options for users to choose
+ Works as a media server for many devices (PC/MAC/PS/XBOX) with DLNA or Plex
+ Terramaster.com has many online guides/ instructions/active forums.
+ Very little noise from the onboard fans
+ Has many build-in apps for users to choose from
+ Great cost/performance ratio
+ Very good performance up to 1080p x264 files with Plex Media Server
Neutral
- Not multi gigabit lan (have to look for higher priced models)
- Plastic HDD trays need care when inserting into to the box|
- Onboard memory is fixed cannot be upgraded
Negative
- Doens't support Wifi/Bluetooth out of the box, only with specific adapter which isnt sold by Terramaster based upon RTL8812AU chipset,
- Device doesn't support 1080p x265 & 4K software/hardware transcoding with Plex