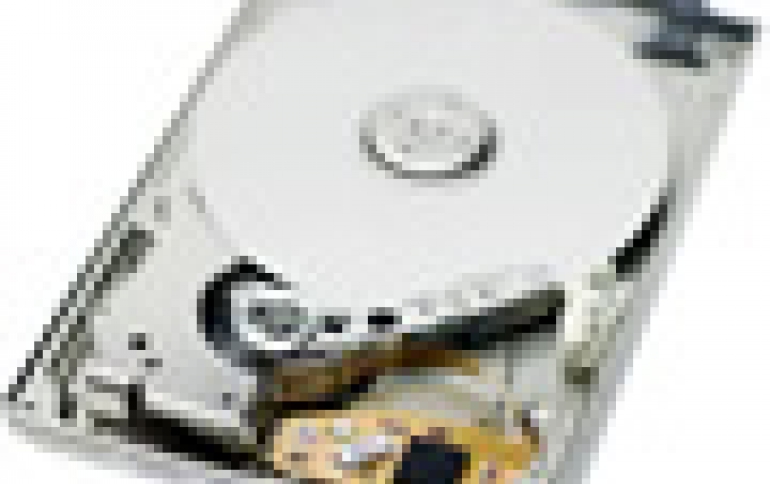 Toshiba Brings Discrete Track Recording Technology to Prototype of 120GB Hard Disk Drive
Toshiba today announced a prototype hard disk drive (HDD) that uses Discrete Track Recording (DTR) technology to boost capacity to a record-breaking 120 gigabytes (GB) on a single 1.8-inch platter. The drive is the first in the world to apply DTR, a breakthrough technology that boost the areal density of a perpendicular magnetic recording (PMR) by a full 50 percent. Toshiba plans to start mass production of HDDs integrating DTR technology in 2009.
The new prototype HDD is a 1.8-inch PMR HDD. Toshiba's latest 1.8-inch HDD in the market offers a single platter capacity of 80GB; application of DTR technology boosts platter capacity to 120GB, and takes the recording density to 516 megabits per square millimeter (333gigabits per square inch). A servo pattern for tracking control is also formed on the disk.
DTR technology increases recording density by forming a "groove" between the tracks on the PMR medium. The groove reduces signal interference between adjacent data tracks, allowing the pitch of the tracks to be shortened. The improved signal quality also contributes to raising the recording density by 50 percent.
The DTR "groove" forming process is most easily applied to small form factor HDDs, such as 1.8 inch and 2.5 inch drives. It will take these drives to a new level of enhanced capacity.
Small form factor HDDs are now found in such applications as mobile PCs, digital audio players, digital video cameras, and car navigation systems.
DTR technology utilizes an electron beam lithography system developed in research related to the "Nanometer-Scale Optical High Density Disk Storage System", a national project supported by Japan's New Energy and Industrial Technology Development Organization (NEDO).