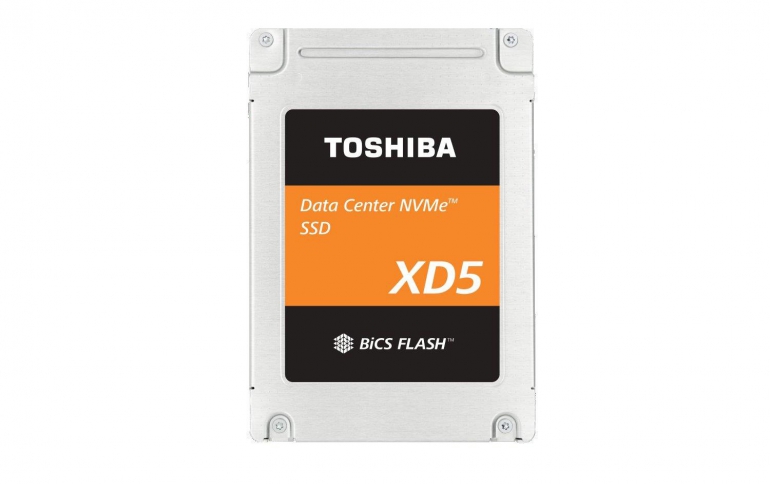 Toshiba Expands NVMe SSD Portfolio For Cloud Data Centers With New XD5 Series
Toshiba Memory America, Inc. has made available the XD5 Series NVMe SSD platform in a 2.5-inch, 7mm low-profile form factor that is optimized for read-intensive workloads.
Developed for both data center and cloud environments, the new 2.5-inch form factor XD5 Series has been designed for NoSQL databases, large-scale-out data mining and analysis, and streaming applications. The XD5 Series is also suited for Open Compute Project (OCP) applications and systems.
Built on 64-layer BiCS FLASH TLC (3-bit-per-cell) 3D flash memory, and featuring a PCIe Gen3x4 interface, the new XD5 SSD 2.5-inch option delivers sequential read performance up to 2,700 megabytes per second (MB/s) and sequential write performance up to 895MB/s with low active power consumption of 7 watts. At one drive write per day (DWPD), the XD5 Series can write nearly 4 terabytes (TB) of random data daily for five years at a consistent performance rate. Random read/write performance is specified at 250,000/21,000 Input/Output Operations per Second (IOPS) respectively.
XD5 Series

Capacities (GB)

960 – 3,840

1,920 – 3,840

Form Factor1

2.5-inch (7mm)

M.2 (22110)

Power Envelope (W)

7

Endurance (DWPD)

1

<1

Dual Port (2x2)

No

128KiB Sequential Read (MB/s)

up to 2,700

129KiB Sequential Write (MB/s)

up to 895

4KiB Random Read (KIOPS)

up to 250

4KiB Random Write (KIOPS)

up to 21
The flash memory and controllers leveraged within the XD5 Series offer , data protection, end-to-end error detection and power-loss protection, and the product is backed by a five-year limited warranty.
The company will showcase its new XD5 2.5-inch SSDs, as well as its complete lineup of data center SSDs, at the upcoming OCP Global Summit, in the San Jose Convention Center from March 14 – 15, 2019.
Toshiba is sampling the XD5 2.5-inch drives to select customers and plans to make them availabile in Q2 2019.