Toshiba Releases Hybrid Drives to Boost Share in Storage Market
Toshiba will launch two 2.5-inch form factor Hybrid Drives that promise to bring new levels of high speed read and write performance to notebook and desktop PCs. The new drives, which integrate high capacity hard disk drives and NAND flash memory in a single unit, will be available in two capacities, 1TB and 750GB. Toshiba has started sample shipments today.
The new drives?the 1TB MQ01ABD100H and the 750GB MQ01ABD075H - use hard disks to deliver high capacity and 8GB NAND flash memory as a cache memory to support high speed data throughput. The MQ01ABD100H model achieves a surface recording density of 1,153.4Mbit/mm2 (744.1Gbit/in2) and 1TB capacity with two disks and a product height of 9.5mm. The MQ01ABD075H achieves a surface recording density of 858.1Mbit/mm2 and a 750GB capacity. Read and write times are about three times faster than in Toshiba hard disk drives with equivalent capacities. In PCs, the new Hybrid Drive reduces application boot times by about 40%. With a 2.5-inch form factor and high capacity, the new drives are positioned as a high performance alternative for portable and desktop PCs.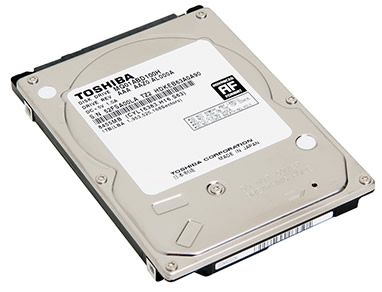 In operation, data is allocated to one of the Hybrid Drive's three memory layers: DRAM buffer memory, 8GB of 32nm SLC NAND flash memory or the magnetic disk media. This process is enhanced by an algorithm that dynamically learns the user's data access pattern and stores data accordingly to the appropriate tier. High speed access is achieved by storing frequently accessed data in the NAND flash memory.
Toshiba plans to sell the new hybrids at a price that is close to standard hard drives. The company's rival Seagate currently sells a 750GB hybrid drive that can be purchased online for about US$130, in the same price range as a 120GB SSD, with 16 percent of the storage.
Specifications
Model Number 
MQ01ABD100H 
MQ01ABD075H
Maximum Capacity (Formatted) 
1TB (1,000GB) 
750GB
Number of platters 
2
Number of head 
4
Average seek time 
12msec
Interface 
Serial ATA 3.0/ATA-8
Interface transfer rate 
6.0Gbit/s
Rotational speed 
5,400rpm
Buffer memory
32MiB
NAND flash type 
32nm SLC
NAND flash size 
8GB
External dimensions (WxDxH; mm) 
69.85mm (W) × 100.0mm (D) ×9.5mm (H)
Weight (g) 
112g (typ.)
Energy consumption efficiency 
0.00075 
0.0010
Category name 
H 
H 
Acoustics 
Idle 
23dB
Seek 
24dB
Vibration resistance 
Operating 
9.8m/s2, 1G (5-500Hz)
Non-operating 
49m/s2, 5G (15-500Hz)
Shock resistance 
Operating 
3,920m/s2 (400G, 2msec half sine wave)
Non-operating 
8,820m/s2 (900G, 1msec half sine wave)