1. Introduction

Vantec Thermal Technologies was established in 1994 and since then has been developing advanced PC computer peripherals including power supplies, CPU cooling solutions, accessories for Notebooks, UV LED fans and external enclosures.
We received form Vantec their latest product, the NexStar 3 (NST-360SU-BK) external Serial ATA (eSATA) Hard Drive Enclosure, which is an attractive black durable aluminum enclosure for 3.5" SATA Hard Disc Drives.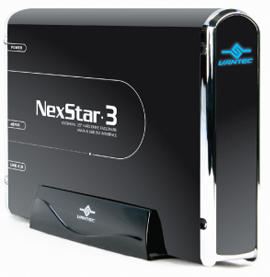 Features:
- External aluminum enclosure for 3.5" SATA drives
- Convenient: plug & play and swapable
- Blue LED Indicator Power/HDD Activity
- Supports USB 2.0 and SATA for transfer speeds
- Supports up to 400GB Hard Drives
Specifications:
VANTEC NexStar 3 (NST-360SU-BK)
Dimensions
206 x 123 x 33mm
Package Includes
Aluminum enclosure, Power Adaptor, Power Cable, eSATA Cable, USB Cable, User Manual, CD-ROM Driver, SATA to eSATA Bracket, Vertical Stand, Screws.
OS support
Windows 98/ME/XP, Mac OS 8.6/OSX
Features
Hard drive support up to 400GB, USB & eSATA easy plug and play installation, hot swapable, fanless operation
Interface

USB 2.0 for transfer speeds up to 4800 Mbit/sec (backwards compatible with USB 1.1)
eSATA for transfer speeds up to 3Gbps

Power supply
External Power Adapter universal auto-switching
Input: AC 100-240V, 50-60Hz
Output: DC +12V/1.5A
Warranty
1 year warranty
Retail Package: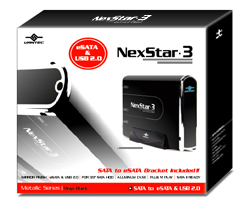 The retail box includes the black aluminum case, a power supply, one USB & eSATA cable, one SATA to eSATA Bracket, the manual, screws, a CD with the drivers and a stand for vertical mounting.