Verbatim Launch HD DVD Recordable Media
A new recording dye based on proven AZO-Technology specially designed for HD DVD-R allows Verbatim to achieve optimum data writing quality, minimising the thermal interference between data marks which is a key performance parameter as the data density of HD DVD is over 3.5 times higher than that of standard DVD. Verbatim proved the media's high read/write compatibility in numerous tests with the latest HD DVD burners and players. Movie fans can immediately enjoy the sharp images high definition technology provides.
Dual Layer HD DVD-R media with a capacity of 30GB will be available in February.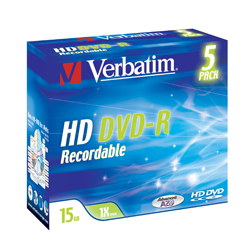 Verbatim also announces another addition to its DVD product range, the Verbatim DVD+RW 8x with 4.7 GB storage capacity. Bringing 8x rewritable speed to this popular format will allow users to reduce the recording time by 40 per cent while still providing the inherent flexibility of rewritable format.
The new fast DVD+RW is primarily designed for video recording and streaming computer backup applications. Users record 4.7 GB of data in approximately 8 minutes. The discs can be rewritten more than 1,000 times. Similar to Verbatim's entire rewriteable product family, the DVD+RW 8x is an excellent archival disc; The Advanced Super Eutectic Recording Layer (SERL) ensures that users can enjoy perfect noise-free, high-speed data storage every time.