VIZIO's New 2018 Home Theater Sound Systems With Dolby Atmos is Starting at $499.99
VIZIO's new 2018 Home Theater Sound System with Dolby Atmos is rolling out at a surpisingly affordable price, with another set to follow later this year.
The 36", 5.1.2 version of the Vizio system is the first to see a release today at $499.99. This system includes a total of five speakers around you (three at the front, and two at the rear), two upward firing speakers, and a single subwoofer.
This will be followed by two larger 46-inch models, one of which boosts the length of the bar at the expense of rear speakers (the 3.1.2 model for $799.99), and another which maintains the rears and adds an extra two upward-firing speaker channels for a 5.1.4 setup ($999.99). While $1,000 might seem a lot for a 5.1.4 surround sound system, it's less than you'd pay for comparable systems from Sony, Samsung and others.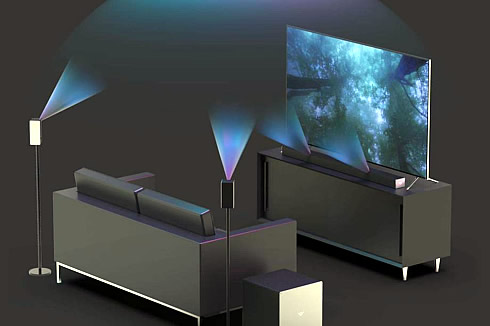 The speakers reflect sound off of the ceiling. You also get the usual benefits of Dolby Atmos, like sounds that seem to come from a specific place in the room. Vizio said while engineered to please audiophiles, the speakers relatively easy to set up compared to other systems, thanks to the built-in amplifiers.
With Google Chromecast built-in, the VIZIO Home Theater Sound Systems with Dolby Atmos also allows users to stream music from any Chromecast-enabled audio app, including favorites like Spotify and Google Play Music. By tapping the Cast button or by downloading the free SmartCast Mobile app, users can transform any mobile device into a touchscreen remote to stream music directly to their VIZIO home theater sound system or sound bar.
The latest VIZIO sound bar systems also feature smart home capabilities. With voice-control support for Google Assistant, users can control their sound bars using only their voice. While Bluetooth is integrated into all VIZIO audio products, streaming over a WiFi connection allows listeners to control audio over a greater range compared to Bluetooth, in addition to experiencing higher quality audio without interruptions from texts or phone calls.