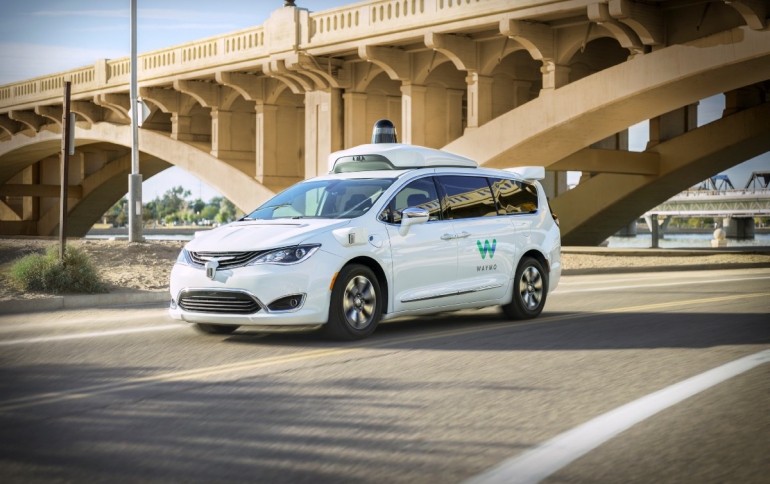 Waymo One Self-driving Taxi Service Launching In Arizona
Alphabet's Waymo on Wednesday launched a significant development in its quest for autonomous transportation: the Waymo One self-driving taxi service launched in Arizona.
The company will first offer Waymo One to hundreds of early riders who have already been using the company's technology. Over time, Waymo hopes to make Waymo One available to even more members of the public as we add vehicles and drive in more places. At first, Waymo-trained drivers will supervise our Waymo One vehicles.
Waymo will start by giving riders access to the Waymo app. They can use it to call Waymo's self-driving vehicles 24 hours a day, 7 days a week. They can ride across several cities in the Metro Phoenix area, including Chandler, Tempe, Mesa, and Gilbert. Riders will see price estimates before they accept the trip based on factors like the time and distance to their destination.
To get started, customers confirm their pickup location, and let Waymo know where they want to go. During the ride, riders can see all the key details of their trip on the in-car screens as well as in the app.
With the tap of a button on the in-car console and screens, or through the Waymo app, riders can connect instantly to a rider support agent to ask questions like, "What if I want to change my destination during the trip?".
These channels will become even more important as the company transition to fully driverless rides. At the start, Waymo-trained drivers will be riding along to supervise the vehicles for riders' comfort and convenience.
Up to three adults and a child can ride.
Producing revenue is a strategic milestone, putting Waymo ahead of U.S. rivals, primarily General Motors's Cruise Automation and Uber Technologies, which have yet to launch their own paid self-driving services.
For now, pricing is roughly in line with that of Uber and Lyft. A 15-minute, 3-mile (4.8 km) drive taken by Reuters last week cost $7.59, just above the $7.22 offered by Lyft.
Arizona has fewer regulations on self-driving cars than most states, a major factor in Waymo's decision to launch there.
A bill that would speed the use of self-driving cars without human controls has been stalled in the U.S. Senate for over a year. Meanwhile, rules on key issues such as data, privacy, liability and cyber security are still undecided.