Waymo's Newest Self-driving Vehicle is the Electric Jaguar I-PACE
Waymo and Jaguar Land Rover are partnering to design and engineer the first premium electric fully self-driving vehicle, built for Waymo's transportation service.
This new self-driving Jaguar I-PACE blends Jaguar's design with Waymo's self-driving technology, designed and developed completely in-house.
The partnership is a further step in Waymo's plan to roll out a robotaxi service in the United States. The company is considered by most self-driving experts to be ahead in the highly competitive race to deploy such vehicles for the masses, where rivals include General Motors and Uber Technologies.
Testing of the vehicles will begin this year, said Waymo Chief Executive Officer John Krafcik, with incorporation into the fleet from 2020.
Jaguar's I-PACE launched earlier this month. The SUV is the first battery-powered vehicle for the brand, which is owned by India's Tata Motors. The all-electric I-PACE has a compact size making it ideal for city driving. Its big, fast-charge battery means it can drive all day.
Waymo will add up to 20,000 I-PACEs to Waymo's fleet in the next few years.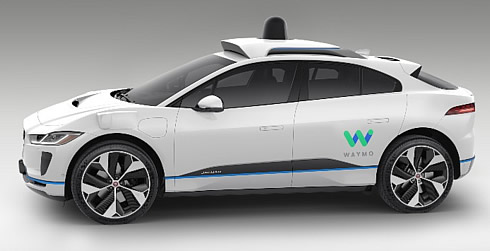 The new self-driving I-PACE will start testing in Waymo's fleet later this year, and Waymo says it will soon be playing a vital full-time role in the company's driverless transportation service.
Waymo currently tests its self-driving system on Chrysler Pacifica minivans built by Fiat Chrysler Automobiles. The company has plans to roll out a ride service to the public in the Phoenix, Arizona area in coming months, with plans to later launch it more widely.
Questions over the safety of self-driving vehicles are swirling following the March 18 death of a pedestrian struck by a self-driving Uber test vehicle in Arizona. On Saturday, Krafcik said Waymo's system would have seen and avoided the pedestrian.
Uber announced last year that it planned to buy up to 24,000 vehicles from Volvo, owned by China's Geely Automobile Holdings Ltd. Companies planning to launch driverless car services generally supplement existing hardware on vehicles supplied by automakers with their own self-driving technology.