1. Features, specs

Notebook computers are becoming very popular as they are conveniently offer portability and performance. Many users have even replaced their desktops with their favorite mobile computer for their everyday tasks. This everywhere and anywhere computing concept requires reliable and fast storage options, which should be offering everything a desktop solution offers. Western Digital released the "Black Scorpio" series of 2.5" hard disk drives promising to offer desktop=class performance for notebooks.

The disks offer 7200 RPM spin speed, 16 MB cache, and capacities up to 320 GB. With technologies like IntelliSeek, which calculates optimum seek speeds to lower power consumption and SecurePark, which reduces power by parking the heads during low power idle mode, these drives deliver 5400 RPM equivalent power consumption in a 7200 RPM drive.
WD's exclusive WhisperDrive is also features and combines advanced seeking algorithms to yield one of the quietest 2.5-inch hard drives on the market.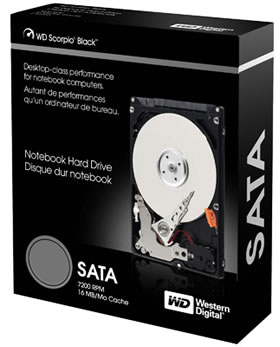 WD's ShockGuard technology protects the drive mechanics and platter surfaces from shocks during shipping and handling and in daily operation. WD's SecurePark parks the recording heads off the disk surface during spin up, spin down, and when the drive is off. This ensures the recording head never touches the disk surface, resulting in improved long-term reliability due to less head wear and improved non-operational shock tolerance.
As an added layer of protection, if the drive (or the system it's in) is dropped while in use, WD's free-fall sensor detects that the drive is falling and, in less than 200 milliseconds, parks the head to help prevent damage and data loss. (Available on WDxxxxBJKT models only.)
Today we are testing the WD Black Scorpio 320GB (WD3200BEKT) that offers a capacity of 320GB using two platters.