4. Summary

The WD Scorpio series offers a massive storage combined with 7200rpm speed and 16MB cache for the fastest possible results. The WD3200BEKT we tested today performed pretty well, considering that we are talking about a HDD with a dual platter design. The drive starts reading/writing at 80MB/sec and ends at 40MB/sec with a 14.5ms access time. Of course, you cannot really compare those figures with those coming of the latest desktop models.
The drive's temperature in an open environment was around 42 degrees Celsius, and hopefully won't get much higher inside a laptop case.
Lastly, the WD3200BEKT should be among the quietest HDD's we have ever tested.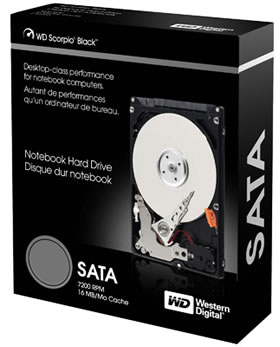 So we have to do here with a 7200rpm 2.5" HDD drive which combines increased storage capacity with quiet operation, while it is adequately fast and for its category. If your single hard disk found in your notebook is small and slow, WD's implementation is a wise choice, although it would require you to pay something extra for it. The drive is also backed by a 5-year warranty.