What to look for in Firewall Security Software
Cybersecurity is of utmost importance for business. Data breaches, ransomware, and other cyberattacks could quickly cost your business time and money. Not only that but if a cyberattack results in data breaches, your reputation will also be on the line. IT services work hard to protect businesses from cyberattacks, and one of the most common ways to do this is to use a firewall.
A standard, traditional firewall protects you from traditional cyber threats, but as the world of technology advances, cyberattacks are now more advanced, harder to detect, and even harder to recover from. As such, firewalls – especially for organizations that need security across the whole network – require a much more advanced level of security with additional functionality.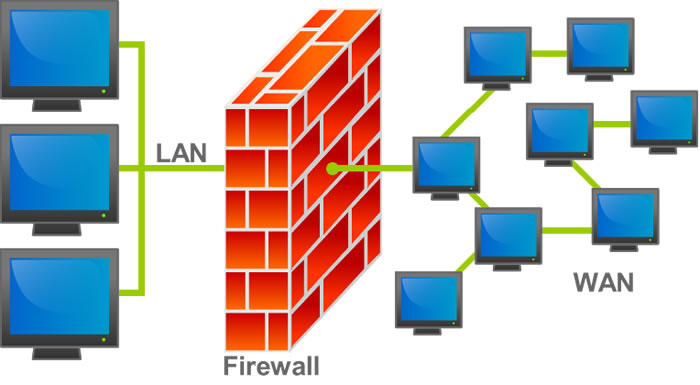 Image from wikipedia
According to Cybersecurity Ventures, more than 50% of cyberattacks are targeted towards small or medium businesses. So, if you're responsible for ensuring your company tech is safe, what should you look for in a firewall security system?
Unified Management
IT departments for businesses need to be able to manage the security of the full network from a single platform. The modern business will have desktop computers, laptops for remote workers, and even work phones for every employee. After a year of remote working, businesses across the globe are expected to make more workers remote full time – meaning network security is more important than ever.
Network security can be incredibly complex. From mobile devices and cloud-based storage, your firewall needs to be able to handle sophisticated cyber threats coming in from all directions. Unified Security Management (USM) allows IT departments to manage and update the entire network's security from a single location to minimize risk for the growing business.
Threat Prevention
Some cyberthreats can lay dormant within a network for years before being activated. The longer a cyberattack is on a network, the harder and more expensive it is to remove it. As well as the cost for removal, cyberattacks can cause costly damage to the network, decrease productivity and even have legal repercussions if personal data is lost or exposed. According to Gartner, 43% of companies are put out of business instantly when they are victims of security breaches and data loss. Only 6% last longer than two years.
Rather than waiting for an attack and trying to fix the problem then and there, the best way to minimize the damage an attack can have is to prevent the threat in the first place. Network firewalls with built-in threat prevention will help keep your business as safe as possible.
When looking for firewall security for your business, look for additional features such as threat intelligence, anti-malware, and anti-phishing. If these aren't included, it's important to get these services installed as quickly as possible as part of your overall security strategy.
Adaptable Policies
As the digital transformation journey continues, firewalls must be compatible with an ever-advancing selection of programs and applications. While some programs may be high-priority, others will be able to take a back seat – meaning traffic and data usage can be balanced across the network.
In a similar sense, employees in different departments will need protection in place for different applications and systems. With all of this in mind, IT should be able to adapt firewall policies to the individual's specific device or to single applications to ensure everyone is protected at all time.
In-Cloud Security
With remote working and the need for additional storage, many businesses have turned to cloud-based work platforms and filing systems. Cloud computing can be accessed on both private and public networks – meaning the security can't afford to fail at all.
Cloud-based environments need as much protection from cyber-attacks as the physical servers at the office. Therefore, your network firewall should be able to handle cloud-based systems and protect them accordingly.
Scalable Functionality
Suppose your business is just starting out; who knows how large you could be in 5 years' time. With this in mind, it's worth finding a firewall security system that is scalable to your ever-changing needs. That way, you have one less thing to worry about as your business grows. Firewalls are available for businesses of all sizes, but opting for a scalable – or even hyper-scale – service will allow you to focus on your business's success rather than potential risks.
These are just a few things to consider when looking for firewall security. Your security needs to cover the whole network and should prevent threats as well as fight against them. For more help, contact an IT specialist to find out what options are available to you.