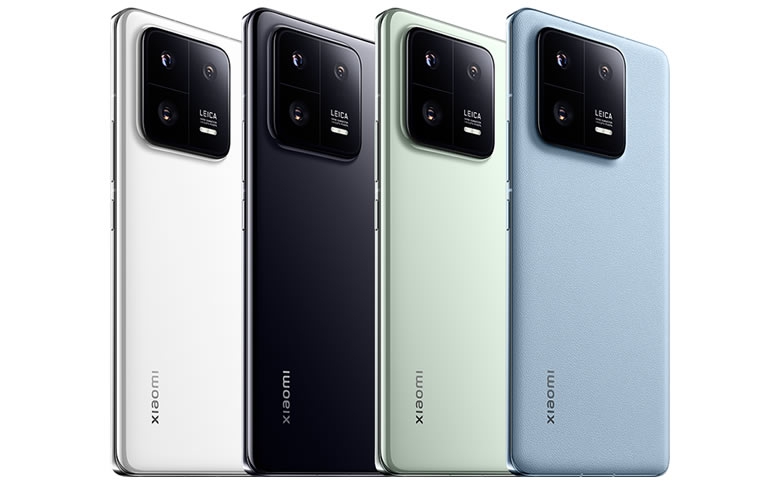 Xiaomi Announces Annual Flagships Series in Collaboration with Leica
Xiaomi unveils Xiaomi 13 Series today at its annual flagship launch event in Mainland China. As the second generation of devices created in collaboration with Leica, Xiaomi 13 Series introduces new optical and computational capabilities with Leica true color imaging, Leica 75mm floating telephoto lens, and offers professional camera features derived from Xiaomi 12S Ultra, including Leica optics and two photographic styles. Sporting a brand new design, Xiaomi 13 Series features powerful performance with the latest Snapdragon® 8 Gen 2, as well as Xiaomi's own Surge battery management system. Xiaomi 13 Series starts from RMB 3,999 in Mainland China official sales channels. Also announced during the launch are MIUI 14 and a host of flagship ecosystem products.
Both Xiaomi 13 and Xiaomi 13 Pro feature an all-new minimalistic design language highlighting its powerful technological capabilities.
Created in four classic and captivating colors, White, Black, Flora Green and Mountain Blue, Xiaomi 13 adopts a flat screen with matching flat edges for a clean and strong visual impact on the front. Xiaomi 13 Pro, in contrast, features a double-curved ceramic body for a uniform look that transitions smoothly especially into the camera module. Also available in four colors, Ceramic White, Ceramic Black, Flora Green (Ceramic) and Mountain Blue.
To ensure a premium visual experience, both flagships sport best-in-class displays. Xiaomi 13 implements a screen-to-body ratio to 93.3% with a 6.36" full-screen AMOLED display and 1.61mm ultra-thin bezels. This new generation of AMOLED display offers a 10% increase in power efficiency, a resolution of 2400x1080, accurate colors, up to 120Hz refresh rate, and supports global DC dimming. Xiaomi 13 Pro, on the other hand, sports a larger 6.73" double-curved display and features the same new generation AMOLED material. Offering a resolution of 3200x1440 and accurate color display, as well as 120Hz LTPO dynamic refresh rate, Xiaomi 13 Pro also offers 1920Hz PWM dimming. The displays of Xiaomi 13 and Xiaomi 13 Pro both have excellent HDR capabilities, with a fullscreen brightness of up to 1,200nits and a peak brightness of up to 1,900nits for optimal viewing.
Furthermore, the blue color option of the two models features a new SKIN / nano-tech/ material. The specially developed material has a soft, excellent touch and fine texture, and is resistant to photodegradation and peeling even under prolonged sunlight exposure. Xiaomi 13 Series also offers IP68 protection.
Ultimate performance with Snapdragon® 8 Gen 2
Xiaomi 13 Series features the latest 4nm flagship processors from Qualcomm, the Snapdragon® 8 Gen 2 mobile platform. The new 1+4+3 fusion CPU architecture brings 37% performance improvements while reducing power consumption by 47%. The brand new Adreno GPU brings 42% performance improvements while reducing power consumption by 49%. In typical benchmark workloads, Snapdragon® 8 Gen 2 achieved almost 2x fps/watt.
Both devices are equipped with the latest LPDDR5X 8533Mbps memory and UFS 4.0 flash storage, offering data throughput on par with desktop processors, and greatly improving mass data operations such as computational photography. UFS 4.0 also includes our File-Based Optimization that keeps fragmentation at bay.
Authentic Leica experience offering two photographic styles with Leica true color imaging
Xiaomi 13 Series is equipped with Leica professional optics lens and two photographic styles as seen on Xiaomi 12S Ultra, with all-new Leica true color imaging and Leica portrait experience. Each lens is Leica optics-certified for high resolution, large aperture, and almost imperceptible aberrations, providing a solid foundation for excellent image quality. A new 75mm focal length is available for both telephoto and portraits.
Xiaomi 13 Pro's main camera sports a 1" ultra-large sensor of IMX989 with a 23mm ƒ/1.9 Leica professional optical lens consisting of 8 aspherical lenses, ALD ultra-low reflectance coating, lens edge ink coating, a new cyclic olefin material, and a spin-coated process IR filter to achieve the same optical quality as Xiaomi 12S Ultra. Xiaomi 13's main camera features IMX800 sensor with a 23mm ƒ/1.8 Leica professional optics lens consisting of 7 aspherical lenses, ALD ultra-low reflectance coating and new cyclic olefin material for crystal clear images. Both the devices support HyperOIS.
Xiaomi 13 Series features a new Leica 75mm focal length telephoto lens, and the entire camera system covers an optical zoom range of 0.5x - 1x - 3.2x. 75mm is a classic Leica focal length that makes portraits less distorted and highlights subjects. In addition, the Master-lens system of the Xiaomi 13 Series offers a 75mm Portrait lens to simulate a very shallow depth of field and unique bokeh effect.
Xiaomi 13 Pro's 75mm telephoto features a floating focus lens design that takes reference from the optical path design of SLR lenses and innovatively divides the six lenses into two groups, the rear three of which have a strong focusing ability and could float inside the lens group when focusing, thus achieving a large focusing range of 10cm to infinity within a limited travel distance, allowing you to shoot not only the original 75mm telephoto and portraits, but also the super close-ups.
Leica Authentic Look, one of the two photographic styles on Xiaomi 13 Series, highly mimics the signature Leica-style, preserving the true contrast between light and dark and accurate white balance of the image, avoiding significant distortion of light and color, and pursuing a precise balance of computational photography to capture the image without any distortion. The photos taken under this mode can be used directly, but also leave room for post-production adjustments. Leica Vibrant Look is an imaging style that maintains accuracy and restraint while making moderate brightening and saturation adjustments to present bright and sharp shadows, along with vibrant colors, making it more suitable for vivid scenes and information recording.
Powered by the imaging aesthetics of Leica, Leica Authentic Look and Leica Vibrant Look have all been upgraded to support P3 color gamut, which captures 25% more color and dramatically improves the expression of reds and greens. This makes Xiaomi 13 Series perfect for capturing the most beautiful time of day—the hour around sunset, frequently called as "golden hour" or "blues moment." In these fleeting moments, the sky will present a gorgeous array of colors, testing the color and dynamic range of a camera imaging system. With its wide color gamut capability, Xiaomi 13 Pro perfectly retains the rich colors in this scene.
With the support of Xiaomi Imaging Engine, Xiaomi 13 Series has the strongest computational photography capability among all Xiaomi flagships. Based on its powerful operation efficiency and expansion capability, it can not only support RAW-level computational photography, using parallel computing pipeline to greatly improve the speed of photo capturing, but also use heterogeneous graphics processing capability to achieve Xiaomi ProFocus.
Xiaomi 13 Series also offers professional creators high creative freedom. The camera app's Pro Mode allows manual adjustment of shooting parameters and supports shooting 10-bit RAW format photos calibrated by Adobe Labs, 4K 10-bit Dolby Vision HDR video, and 4K 10-bit LOG video.
Xiaomi Surge Battery Management System
Xiaomi 13 Series is equipped with its self-developed Surge charging chip, with Xiaomi Surge battery management system. It brings users a longer service life and refined experience upgrade. Among them, Xiaomi 13 is equipped with 4,500mAh silicon-oxygen anode battery, with the highest energy density under the same power. It also supports 67W wired charging and 50W wireless charging.
Xiaomi 13 Pro is equipped with a 4,820mAh battery and supports 120W wired charging and 50W wireless charging.
Latest MIUI 14 for ultra-smooth user experience
Xiaomi 13 series comes with the latest MIUI 14, which is centered around convenience and simplicity, showing refined details everywhere and bringing long-lasting smooth operations. MIUI 14 significantly optimizes the system space occupation and cuts unremovable system applications down to eight. The new software not only makes the operating system smoother by reorganizing structural codings and optimizing system resources allocations, but also give access to third-party applications, creating a fluent experience across the entire system. In addition, MIUI 14 also offers new widgets, enhances on-device privacy protection, and provides new features in devices interconnectivity.
Another major update is XiaoAi AI Assistant 6.0 with the new recommendation function, which learns user habits and actively provide shortcuts to payment codes and transportation codes in advance, specifically catered to Mainland China audiences for convenient day-to-day use. It also provides multi-functional reminder for operations such as schedule, smart home, travel, and anniversaries, becoming the most intimate intelligent assistant for users.
Along with software updates, Xiaomi 13 also packs a massive 4620mm² VC in a compact body that delivers superb heat dissipation and sustained performance even in a compact design. Thanks to the large battery and Surge battery management system, as well as the excellent energy efficiency of the Snapdragon® 8 Gen 2, Xiaomi 13 offers the longest battery life among Xiaomi's premium series to date. Xiaomi 13 Pro is equipped with 1016 ultra-wide band vibration motor and is redesigned in waveforms for hundreds of scenarios to create a new haptics experience. Together, Xiaomi 13 Series offers an all-round, elevated premium flagship experience.
Xiaomi 13 Series will be available for sale starting on December 14 via Xiaomi official channels in Mainland China. Xiaomi 13 Pro comes in four storage variants, with 8GB+128GB at a price of RMB 4,999, 8GB+256GB at RMB 5,399, 12GB+256GB at RMB 5,799, and 12GB+512GB at RMB 6,299. Xiaomi 13 also comes in four storage variants, with 8GB+128GB at a price of RMB 3,999, 8GB+256GB at RMB 4,299, 12GB+256GB at RMB 4,599, and 12GB+512GB at RMB 4,999. In addition, Xiaomi 13 also offers five special edition colors in limited quantity sold exclusively on Mainland China Mi Store app and mi.com: Red, Blue, Yellow, Green and Gray.
Global availability details for Xiaomi 13 Series will be revealed in the upcoming months. Please stay tuned to further announcements.
Launched alongside Xiaomi 13 Series are Xiaomi Watch S2, Xiaomi Buds 4, Xiaomi Sound Pro, Xiaomi Router 10000, and Xiaomi Mini PC.
Integrating cutting-edge technology into stylish aesthetics, Xiaomi Watch S2 brings a professional-grade sports tracking experience, offering ultra-comprehensive health monitoring and convenient features on the wrist. Besides the classic 46mm, Xiaomi Watch S2 also comes in a more compact 42mm size, and is available in black, silver and light gold, as well as offering various options of colors for leather or silicone straps. For the first time, Xiaomi Watch S2 supports body composition measurement, which only takes a few seconds to measure and present eight types of body health data results. Xiaomi Watch S2's new safety tracking feature, allows the users to send geolocation and SOS messages with a quick keystroke in case of any emergency.
Xiaomi Watch S2 is available now for sale starting from RMB 999 for size 42mm and RMB 1,099 for size 46mm via Xiaomi official channels in Mainland China.
Xiaomi Buds 4 offers an immersive audio experience with its powerful hardware and software capabilities. Equipped with Xiaomi's customized graphene dual magnetic drivers and dynamic adaptive EQ compensation, the earbuds provide users a stable and consistent sound quality even while jogging. Xiaomi Buds 4 is LHDC 5.0 and Hi-Res Audio Wireless certified, bringing astonishing audio in high-definition and with low-distortion. Xiaomi Buds 4's case features a "space capsule" design, and earbuds can be snapped back into its place for easy storage. Its ergonomically half in-dear design enables users to have a secure fit and comfortable time for prolonged wearing. Furthermore, the adaptive active noise cancelling on Xiaomi Buds 4 enables a real-time adjustment for different levels of noise cancelling by recognizing ambient unwanted noise. With the new "independent spatial audio", Xiaomi Buds 4 has on-device computing capabilities, meaning it no longer depends on smartphones for spatial audio calculations.
Xiaomi Buds 4 will be available now at a recommended retail price of RMB 699 via Xiaomi official channels in Mainland China.
As the top-of-the-line model among Xiaomi smart speakers, Xiaomi Sound Pro is equipped with 7 units of 55W and 360-degree omnidirectional sound, and features HARMAN AudioEFX professional tuning. The smart speaker is able to automatically adjust its output style among "Strong Bass", "Balanced" and "Clean" modes by analyzing the content played when using XiaoAi Speaker app. In order to further enhance the connected smart home sound system experience, Xiaomi Sound Pro supports multiple connection methods such as Bluetooth 5.1, Aux in, and AirPlay 2. In addition, the intercom feature supports real-time communication between multiple speakers, as well as smartphones, TVs and other devices, so you can easily talk to your family without leaving the room.
Xiaomi Sound Pro will be available now for sale at RMB 999 via Xiaomi official channels in Mainland China.
Xiaomi Router 10000 features the highest configuration among our router offerings, and has an increased network speed by 20% compared with the previous generation. The flagship tri-band router offers a wireless and wired data transfer rate of up to 10 Gigabit, ensuring sufficient bandwidth for next-generation usage such as VR games, 8K streaming media, and real-time high-definition conferences. Equipped with a Qualcomm quad-core A73 processor, 12-channel signal amplifier, 2GB storage, dual 10G network port, USB 3.0 port, as well as a sophisticated heat dissipation system, Xiaomi Router 10000 enables users to easily build a 10Gbps ultra-high-speed household WAN/LAN with NAS and supports simultaneous connection of more than 1,000 devices. The NFC pairing feature allows users to connect to the high-speed internet extremely easy and accessible.
Xiaomi Router 10000 will be available for sale at RMB 1,799 starting on December 14 via Xiaomi official channels in Mainland China.
Xiaomi Mini PC, our first in-depth product cooperation with Intel, is currently the most compact mainstream performance desktop at only 0.444L and weighs 437g. It adopts the 12th generation Core i5-1240P processor featuring a 12-core 16-thread heterogeneous design with a maximum turbo frequency reaching 4.4GHz, while the integrated Intel Iris Xe graphics (80EUs) ensures excellent performance 24-7. On the storage front, it utilizes a 16GB DDR4 and 512GB PCle 4.0SSD, and supports expandable storage of up to 32GB RAM and 4TB SSD ROM. The large 4600RPM fan and a dual heat pipe heat dissipation system ensures a stable performance of Xiaomi Mini PC. The device comes with Windows 11 pre-installed and supports Ubuntu, OpenWWRT, UNRAID, and EXSI operating systems. For maximum utility and connectivity, it also features a wide range of versatile ports capable of connecting to external graphics cards and hard drives when needed. With Bluetooth 5.3 and Wi-Fi 6 built-in support, Xiaomi Mini PC is a compact yet powerful device, covering users needs in all daily scenarios.
Xiaomi Mini PC Standard Version is available now for sale at RMB 3,999; Xiaomi Mini PC Storage-free Version will be available for sale at RMB 2,999 starting on December 14 via Xiaomi official channels in Mainland China.
Last but not least, Xiaomi MIX Fold 2 receives a revamped design in CMF, introducing two new colors Silver and Black, the camera modules have been upgraded to a ceramic cover. The Silver color has a mirror-like camera deco, while the Black features a special glass back with a leather-like texture using laser photolithographic techniques. Both colors are available at RMB 8,999 on December 20th in Mainland China official channels.
For more information about Xiaomi as a company, please visit https://www.mi.com/global/discover/newsroom.