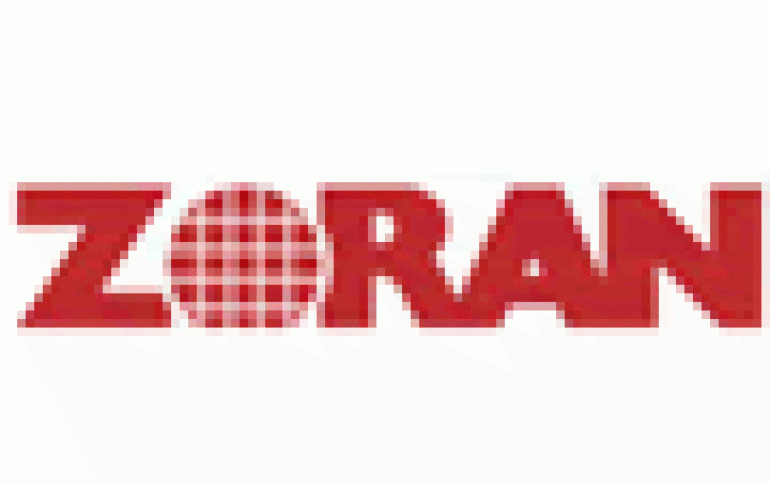 Zoran Demonstrates APPROACH Multimedia Processor Platform
Zoran will be demonstrating the features of its latest generation APPROACH mobile multimedia processor platform at 3GSM 2007, February 12 to 15, Fira de Barcelona in Hall 2, Booth 2D93. Zoran's APPROACH multimedia processor integrates Mobile TV, Embedded GPS with location-based services, digital camera Image Signal Processing (ISP) capabilities, 3D graphics engine, and enhanced multimedia features in a single chip design.

The APPROACH reference platform includes all the software applications needed for enabling most of the popular features of multimedia phones for global markets.

The platform currently supports DVB-H and T-DMB standards, as well as DAB-IP and DAB Radio Service. It will be adapted to incorporate Chinese mobile TV standards. The programmable signal-processing capabilities enable the incorporation of emerging standards, profiles and content formats for compatibility with evolving technologies.

The Mobile TV solution also supports applications such as Electronic Program Guide/Electronic Service Guide, Personal Video Recorder with Time-Shift, Data Services, and Interactivity. It also supports all relevant Conditional Access and Digital-Rights-Management standards for broadcast protection.

The APPROACH multimedia processor incorporates Zoran's digital camera ISP technology and supports up to 5 megapixel camera modules.

The mobile phone battery life is improved with the smart system power saving design and the use of advanced 90 nanometer process technology. Mobile SDRAM is embedded within the 8x8 mm package, eliminating the need for an additional on board component.