AMD Announces The Sulon Q VR And AR Headset, New Dual-GPU Card For VR Creation, Hints On Future GPUs
AMD is getting into the VR game. In partnership with Sulon Technologies, the company announced a "spatially award" head-mounted display called Sulon Q, that aims to blend virtual reality and augmented reality. On stage in front of press and developers at the inaugural AMD Radeon "Capsaicin" event, AMD gave the world a glimpse of what they' ve been working on, showing off the forthcoming Sulon Q headset.
The Sulon Q headset has a simple all-in-one, tether-free, "wear and play" design. There are no minimum specs to be concerned with, and no tangled wires, external tracking systems for movement or gestures. Everything you need is on-board.
The device has been designed offer virtual and augmented reality experiences using its Spatial Processing Unit which combines real-time machine vision technologies enabling users to enhance the real world through augmented reality applications, and seamlessly move from the real world to virtual worlds. The Spatial Processing Unit is a mixed reality spatial computer that provides real-time environment mapping and tracking from the inside outward, dynamic virtualization for VR/AR fusion, and gesture recognition.
Specifically, it uses the AMD FX-8800P processor with Radeon R7 graphics that leverage AMD's Graphics Core Next architecture.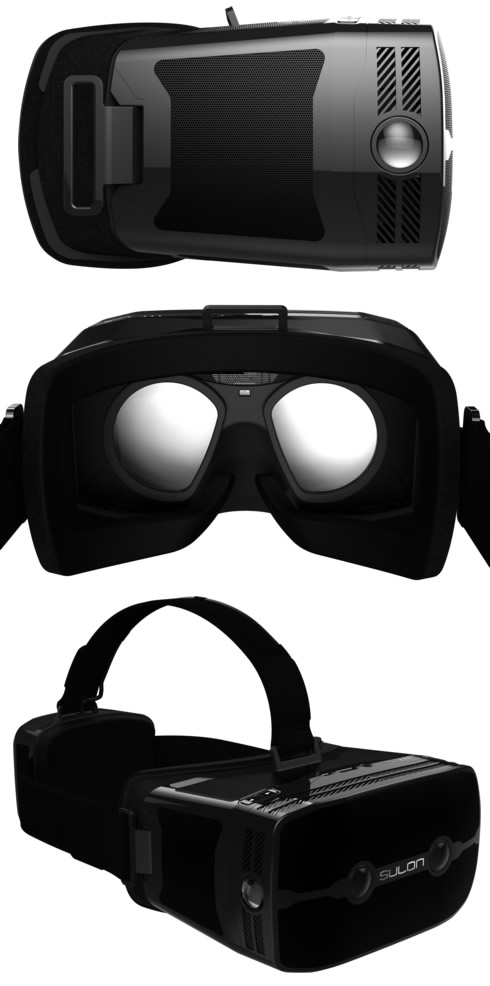 "The full performance of 4 compute cores and 8 GPU cores are unlocked through a Heterogeneous System Architecture (HSA), enabling the cores to share memory to work together for dramatic performance and efficiency," said Sulon Technologies CEO Dhan Balachand. "The result is a solution that is optimized for modern workloads and media formats, capable of driving the latest graphics APIs including DirectX 12 and Vulkan, and able to render stunning video game console-quality visuals on a beautiful 2560x1440 OLED display."
The Sulon Q headset also makes use of AMD's LiquidVR technology, along with the AstoundSound technology to let users hear sounds within a spherical." The device has a 3.5mm audio jack and custom earbuds. For voice communication, there are dual noise-cancelling microphones.
The device uses Sulon's "Project Dragon" application running on Windows 10. With it, users can enjoy holographic computing interfaces by placing applications in space in their own living room with a 110-degree field-of-view. Users can also multi-task by putting transparent or opaque windows where they want using gestures or the wireless keyboard and mouse provided in the box.
AMD says it is putting the finishing touches on the headset, which will be ready for launch in late spring.
VR push
AMD plans to dominate the the global virtual reality systems market. Besides teh Sulon Q, the company today revealed new advances in hardware and software to further the reach of VR, and unveiled its new GPU certified program that simplifies adoption of VR technology for consumers and content creators.
AMD is trying to make VR more easily accessible to consumers and content creators with its GPU certified program featuring the new "Radeon VR Ready Premium" and "Radeon VR Ready Creator" tiers. Its forthcoming Polaris GPUs will simultaneously advance VR-optimized graphics.
AMD says it is powering the overwhelming majority of home entertainment VR systems around the world, with an estimated 83 percent market share. This share is driven in part by AMD technology powering VR-capable game consoles installed globally.
The company is partnering with the Oculus Rift and HTC Vive Pre headset manufacturers to ensure the Radeon ecosystem is ready to take advantage of their launches this year.
AMD also today demonstrated for the first time ever the company's forthcoming Polaris 10 GPU running Valve's Aperture Science Robot Repair demo powered by the HTC Vive Pre. The sample GPU features the recently announced Polaris GPU architecture designed for 14nm FinFET, optimized for DirectX 12 and VR, and boasts significant architectural improvements over previous AMD architectures including HDR monitor support, high performance-per-watt, and AMD's 4th generation Graphics Core Next (GCN) architecture.
Last but no least, AMD officially unwrapped a liquid-cooled, dual-GPU card called the Radeon Pro Duo that it says is the most powerful VR GPU today.
The Radeon Pro Duo uses two of Radeon R9 Fury X GPUs placed onto the same PCB. The price of the card is anticipated to be $1,500 - the same price as AMD's Radeon R9 295 X2.
AMD has not provided any specs, but it looks like the card will be liquid-cooled. The card on stage was armed with a Cooler Master water-cooling unit and its radiator was equipped with a 120mm fan. It also used 3 groups of 8-pin power connectors, and had 3 DisplayPorts and an HDMI.port.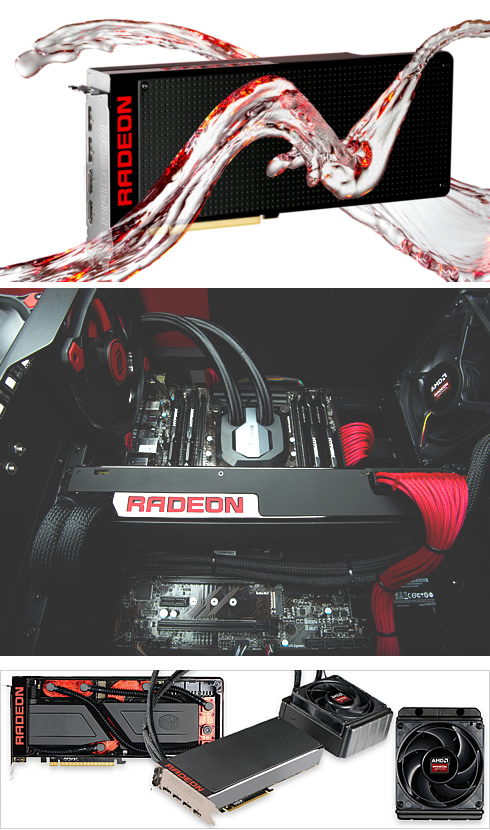 The company promotes the Radeon Pro Duo as having 16 TFLOPS of performance; this could mean that we have to do with two fully enabled Fiji GPUs, clocked at around 1GHz.
AMD also showcased some benchmarks using an Intel Core i7-5960X rig with 16GB of RAM and Windows 10, plus the latest drivers for a GeForce GTX Titan Z and its own Radeon 295 X2. And despite the marketing stuff, compared to the last generation of dual-GPU cards, it looks promising.
The card will be available sometime in the second quarter.
GPU roadmap
AMD also sketched out its GPU roadmap for the next few years. The roadmap unveils two new architectures: Vega, and Navi.
Following the launch of its Polaris GPU this year, the company plans to release the Vega GPU family, which will use HBM2 memory. Obviously Polaris will use GDDR5. AMD has also confirmed the number of GPUs in the Vega stack and their names -- Vega 10 and a Vega 11.
Vega will be followed by Navi, a GPU family that will offer scalability and "next-gen memory," according to AMD.
Sulon Q Expected specs
Hardware:

AMD FX-8800P processor at up to 35W with Radeon R7 graphics leveraging AMD's Graphics Core Next architecture
4 compute cores and 8 GPU cores unlocked through Heterogeneous System Architecture (HAS)
Sulon Spatial Processing Unit (SPU)

Memory: 8 GB DDR3L Memory
Storage: 256 GB SSD
Display:

2560x1440 OLED display at 90 Hz
110-degree Field-of-View

Audio:

3D spatial audio powered by GenAudio's AstoundSound® technology
Built-in 3.5 mm audio jack
Custom spatially-optimized Sulon Q earbuds
Dual noise-cancelling embedded microphones.

Tracking: Sulon Spatial Processing Unit combining real-time machine vision technologies and mixed reality spatial computer for real-time environment mapping and tracking from the inside outward, dynamic virtualization for VR/AR fusion, and gesture recognition
Sensors:

Accelerometer
Gyroscope
Magnetometer
Spatial mapping and tracking

Software:

Microsoft Windows 10
"Project Dragon" application for spatial computing
AMD LiquidVR technologies for ensure smooth and responsive VR and AR experiences

Peripherals:

Wireless keyboard and mouse provided in box
Any other Windows 10-compatible controllers and joysticks

Connectivity:

WiFi 802.11n/ac + Bluetooth 4.0
2 x USB 3.0 Type A
Micro HDMI OUT