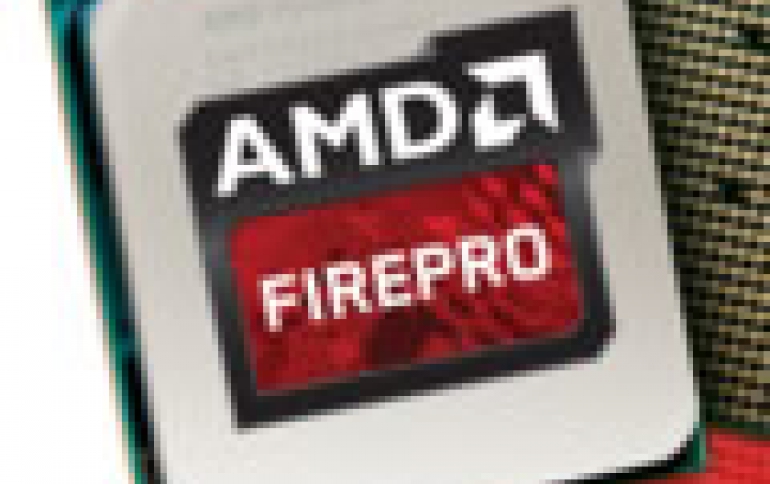 AMD FirePro Graphics Powers New Dell Precision Mobile Workstations
AMD today announced that the new Dell Precision 3510, 7510, and 7710 mobile workstations are powered by AMD FirePro mobile GPUs. Mobile workstation users will benefit from the AMD FirePro W7170M GPU in the Dell Precision 7710 mobile workstation matched with almost 3 TFLOPS of single-precision GPU compute power for GPU-accelerated applications and workflows.
For engineering and design pros, Dell Precision mobile workstations with AMD FirePro W7170M, AMD FirePro W5170M, and AMD FirePro W5130M professional graphics offer a powerful platform for Computer-Aided Design, Computer-Aided Manufacturing, and Computer-Aided Engineering software.
FIREPRO W7170M
FIREPRO W5170M
FIREPRO W5130M
Engine Clock

723 MHz

Up to 925 MHz

Up to 925 MHz

Memory

4 GB GDDR5

Up to 2GB GDDR5

Up to 2GB GDDR5

Memory Clock

1250 MHz

1.125 GHz

1 GHz

Memory Bandwidth

160 GB/s

Up to 72 GB/s

Up to 64 GB/s

Peak Single Precision Compute Throughput

2960 GFLOPS

Up to 1180 GFLOPS

Up to 950 GFLOPS

Peak Double Precision Compute Throughput

185 GFLOPS

Up to 73.8 GFLOPS

Up to 59.4 GFLOPS

Memory Interface

256-bit

128-bit

128-bit

Bus Interface

PCI Express 3.0 x16

GPU

Tonga

Cape Verde

FP64

1/16

Architecture

GCN 1.2

GCN 1.0

Graphics

DirectX 12

AMD Technologies

AMD Eyefinity multidisplay technology
AMD Enduro technology
AMD App Acceleration
AMD Power Management technologies
AMD HD3D technology

Available Systems

Dell
Precision 7710
Precision 7510
Precision 7710
Precision 3510
The FirePro Mobile W7170M is based on a fully shader enabled Tonga GPU, meaning all 2048 shaders ship enabled. The GPu is paired with 4GB of GDDR5 on a 256-bit memory bus, clocked at 5GHz, giving the part 160GB/sec of memory bandwidth. From a performance perspective the W7170M should deliver just shy of 3 TLFOPS of performance (2.96 TFLOPS).
The M5170M is based on a fully enabled version of AMD?s venerable Cape Verde GPU, packing 640 enabled stream processors. OEMs can ship the chip with GPU and memory clockspeeds reaching as high as 925MHz and 4.5GHz respectively. In a maximum clockspeed configuration performance should top out at 1.18 TFLOPSs.
The W5130M and W5170M are again based on the Cape Verde but this time some stream processors are disabled, bringing it down to 512. Otherwise the GPU clockspeed remains at up to 925MHz, while the maximum memory clockspeed is now 4GHz.