AMD Launches 7th Generation AMD A-Series APUs, Announces New Radeon RX GPUs, Demonstrates Upcoming Desktop Processor "Zen" Processor Core
AMD today at Computex unveiled the strategy for the upcoming Polaris architecture-based Radeon RX Series graphics cards, launched the 7th Generation AMD A-Series mobile Accelerated Processing Units (APUs) and demonstrated the high-performance x86 processor core (codenamed "Zen"), powering a "Summit Ridge" desktop processor that features eight cores. "We entered 2016 with a great product lineup and growing momentum for AMD's technologies," said AMD President and CEO Dr. Lisa Su. "Today's launch of our 7th Generation A-Series mobile APUs, to be followed closely by new Radeon RX Series GPUs and then our next-generation 'Summit Ridge' desktop processor powered by our 'Zen' core represent key proof points of our strategy to firmly re-establish AMD as a high-performance design leader."
New Radeon RX GPUs
Set to formally launch on June 29th, the Radeon RX Series will deliver an affordable solution for premium PC VR experiences, including a model that is both HTC Vive-Ready and Oculus Rift compatible. AMD promised that this technical achievement will provide VR experiences common to $500 GPUs in graphics cards that are less than half the cost.
AMD's first Polaris architecture-based graphics processor will be the Radeon RX 480, which promises to deliver premium VR capability at a price of $199 for the 4GB edition.
AMD expects that affordable PC VR enabled by Polaris architecture-based graphics cards will drive a wide range of VR-ready desktops and notebooks, providing a catalyst for the expansion of the market to an estimated 100 million consumers over the next 10 years.
"The Radeon RX series efficiency is driven by major architectural improvements and the industry's first 14nm FinFET process technology for discrete GPUs, and could mark an important inflection point in the growth of virtual reality," said Patrick Moorhead, principal analyst, Moor Insights & Strategy.
Radeon RX 480

GCN compute units
36
Stream processors
2304
Memory interface
256-bit
Memory type
GDDR5
GDDR5 transfer rate
8 GT/s
Memory size
4GB or 8GB
Peak single-precision
compute performance
over 5TFLOPS
Board power
150W
The Radeon RX 480 will be available with both 4GB and 8GB memory configurations, with data sent over a 256-bit bus. It's power consumption will be just 150 watts over a single 6-pin connector - identical to the power requirements for Nvidia's GTX 1070, which delivers higher Titan X-esque levels of power.
As you can see, he exterior of the reference Radeon RX 480 mimics the design found in AMD?s own Radeon Nano and Fury X.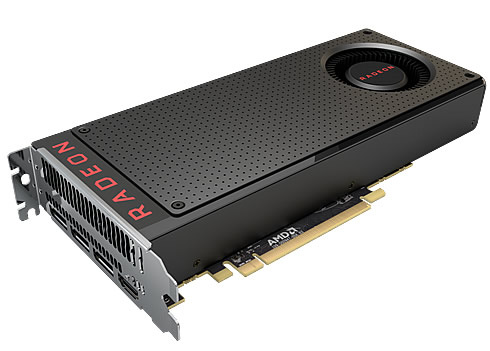 7th Generation AMD A-Series APUs
AMD's full 7th Generation AMD A-Series Processor lineup - previously codenamed "Bristol Ridge" and "Stoney Ridge" - includes the the 7th Generation AMD FX, A-Series, and E-Series Accelerated Processing Units (APUs).
The APUs support DirectX 12 and offer features like AMD FreeSync and AMD Dual Graphics technologies. AMD Advanced Power Management (APM) technology boosts performance to accomplish computing tasks with power efficiency for on-the-go capabilities. The new APUs allow users to enjoy up-to Ultra HD 4K video resolution, with AMD FreeSync Technology support for artifact-free eSports-style gaming performance.
The new 7th generation of APUs is similar to the previous generation that it still uses the 28nm fab process and still has four Excavator CPU cores and AMD Radeon GCN GPU cores. However, this new Bristol Ridge codenamed part is designed to be much faster than the previous Carrizo APU. This is due to the updated Excavator core, primarily supporting DDR4 memory through the controller, but also tweaks to the 28nm Bulk CMOS physical design that improved the voltage/frequency characteristics of the silicon. This combined with new AVFS (adaptive voltage frequency scaling) algorithms via improved through internal sensors enables AMD to offer a higher frequency for the same Thermal Design Power on the 7th Generation.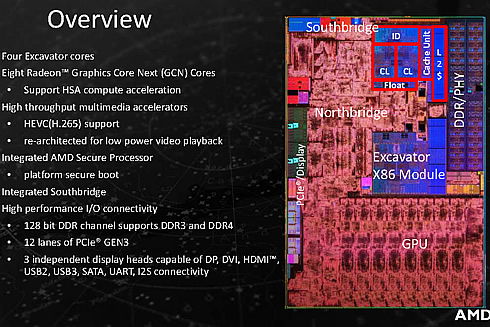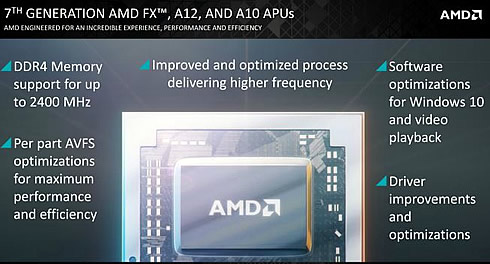 New in the 7th Generation APU will be what AMD calls 'Shadow Pstates', which AMD is combining with a check at POST on the quality of the silicon. What AMD will do with 7th Gen is apply a Shadow Pstate which allows the AVFS to change depending on the quality, age, degredation and performance of the processor. It allows the AVFS curve to ride nearer each CPU's specific characteristics, rather than a 'one size fits all' approach, and the user will end up with longer boost periods with a high quality die, or use less power when in lower frequency modes.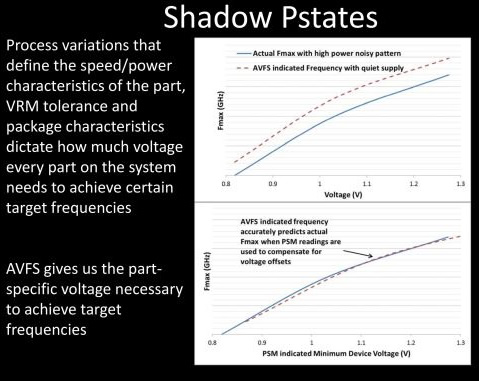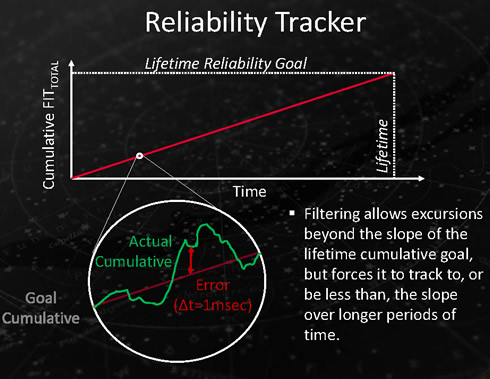 AMD also talked about the 'Skin Temperature Aware Power Management.' This solution allows an OEM to place up to five sensors over the I2C interface on the SoC and use AMD's internal controller to allow for longer boost periods while the chassis is cool or adjust as necessary. By working with AMD, the OEM's placement of the sensors will allow AMD to suggest appropriate coefficients for their internal controller to respond in the correct way via firmware adjustments.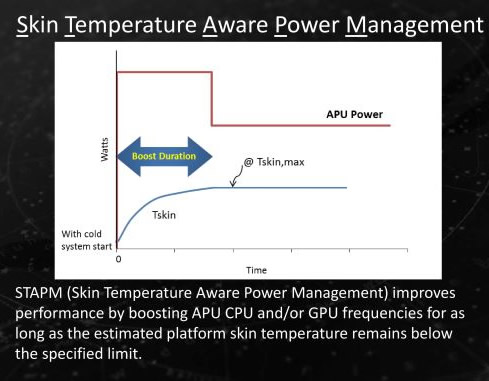 Shipping in volume to AMD's OEM customers, the full line of 7th Gen AMD A-Series processors feature mobile-optimized "Excavator" x86 CPU cores for high-speed computing, plus built-in Radeon graphics -- with some models offering up to Radeon R7 graphics.
The new product lineup will range from a 15W AMD E2-9010 APU with a 2.2 GHz max frequency all the way up to a 34W Advanced Micro Devices FX 9830P with a maximum clock of 3.7 GHz. There will be 35- and 15-watt versions of AMD FX, A12, and A10 processors.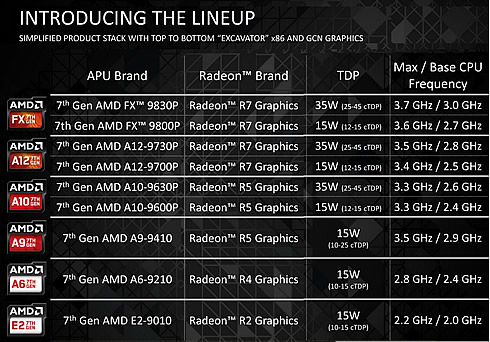 The graphics configurations for each chip will be the following:
FX 9830P: R7, 8 CUs, 512 SPs, 900 MHz max
FX 9800P: R7, 8 CUs, 512 SPs, 758 MHz max
A12-9730P: R7, 6 CUs, 384 SPs, 900 MHz max
A12-9700P: R7, 6 CUs, 384 SPs, 758 MHz max
A10-9630P: R5, 6 CUs, 384 SPs, 800 MHz max
A10-9600P: R5, 6 CUs, 384 SPs, 720 MHz max
A9-9410: R5, 3 CUs, 192 SPs, 800 MHz max
A6-9210: R4, 3 CUs, 192 SPs, 600 MHz max
E2-9010: R2, 2 CUs, 128 SPs, 600 MHz max
AMD claims it delivers graphics and compute superiority versus the competition, with up to 53% higher graphics performance and up to 51% higher compute performance when the 7th Generation AMD FX processor is compared to the Intel Core i7. Improved energy efficiency allows the 7th Generation AMD FX 9800P processor to consume up to 12% less power in productivity workloads compared to the previous generation AMD FX-8800P APU.
AMD identified a performance need in the entry level PC segment which it addressed with the 7th Generation A-Series Processors codenamed "Stoney Ridge." With the new 7th Generation AMD A9, A6, and E2 processors, AMD brings high-performance "Excavator" cores and video playback processing to this segment, which represents 26% of all PCs sold annually.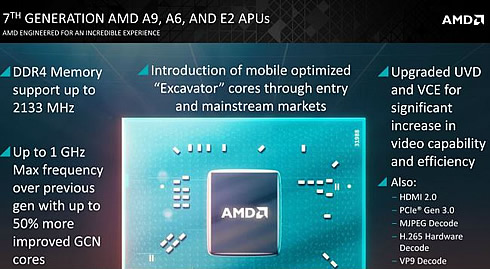 The transition to "Excavator" cores delivers up to 50% faster CPU core performance over the previous generation. Acording to AMD, the new A9 APU also performs well against the competition, providing up to 27% faster graphics performance than the Intel Pentium-4405U and even rivaling the Intel i3-6100U with competitive graphics and system performance, but with up to 1.2 GHz faster CPU speed.
AMD accelerated the availability of the new processors to support exciting new notebook designs, which allowed Acer, Asus, Dell, HP, and Lenovo to bring to market high-performance systems powered by the 7th Generation AMD A-Series Processors, many of which can be seen at Computex 2016, with additional designs expected to be announced throughout 2016.
"Zen" High-performance x86 Core
AMD debuted the world's first live public demonstration of its x86 "Zen" processor core architecture in the next-generation AM4 desktop processor (codenamed "Summit Ridge") which will be built iusing the 14nm FinFET technology and features eight cores and sixteen threads.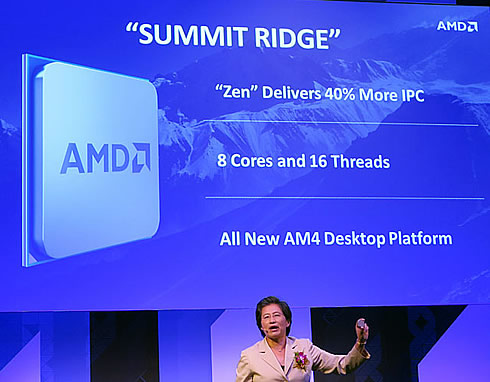 AMD's "Zen" core is designed to scale across multiple markets including high-performance desktops, servers, notebooks and embedded solutions with first availability planned in AMD's high-performance desktop "Summit Ridge" processor.
However, AMD executives at Computex said that the Zen-based processors will unlikely ship before 2017.
CEO Lisa Su re-confirmed the 40% IPC improvement with Zen.