1. Introduction

back in 2004 announced a new device that was aimed at users wishing to store their data on a portable device without the need for a PC. This device is the Share Steno CD311 and Apacer has kindly offered us the opportunity to review it. In this review, we will examine how the device works, give you an overview of its abilities and of course, carry out some real life tests.
- Background
Here is a short snippet on Apacer's background, taken from Apacer's website: "...Apacer was founded in 1997. Just two years later, Dataquest ranked the company as the fourth-largest third-party manufacturer in the highly competitive global memory module market. To achieve this ranking, Apacer had to demonstrate an unrivaled commitment to quality and earn the trust and business of several of the world's most prestigious IT brands.

Today, Apacer is much more than the memory solution pioneer of five years ago. Having gradually evolved its product line from a range of memory modules and flash cards and modules and expanded its worldwide presence, Apacer is now a global digital storage provider offering a complete range of digital imaging storage device..."
- What is the Share Steno CD311?
The Apacer Share Steno CD311 is a portable storage device which is designed to copy photographic image files from a digital camera without the need for a PC. Digital cameras and other USB devices can be connected to the CD311's USB 2 interface. The 40GB Share Steno CD311 allows you to store more than 40,000 3 megapixel photos. At just 220 grams, the Share Steno CD311 is lightweight and easy to carry, including outdoors.
- Main Features
• No need to connect to a PC thanks to the USB 2.0 OTG interface
• Any USB device (such as MP3-players, card-readers etc.) can be connected directly to the Share Steno CD311
• Copy photographic image files directly from a digital camera onto its portable hard disk in order to free your flash card memory
• Users can copy or delete selected files, create new folders and perform other file management tasks
• A backlit LCD panel shows the user what the device is doing and gives information about the number and size of files
The Share Steno CD311 is equipped with password and hidden-file protection to ensure absolute data security. Users can set a password to control access to data on the device and thus prevent disclosure of important personal data.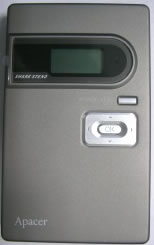 The easy-to-operate file function setup allows users to set personal files to "hidden" to protect personal data when sharing images. The Share Steno CD311 requires no external power supply, which makes it ideal for photographers and travelers. The supplied rechargeable Li-ion battery gives at least one hour of continuous use after it has been fully charged.
- Specifications
| | |
| --- | --- |
| Interface | USB2.0 OTG |
| Dimensions | 128mm x 78mm x 24mm |
| Weight | 220g (with Hard Disk) |
| Storage media | 2.5"hard disk drive |
| USB devices supported | DSC, USB Flash Drive, MP3 Player, External Hard Disc, Card Reader |
| Power supply | 5V / 2.5A |
| Rechargeable Li-ion battery | 3.7V / 1050mAh |
| USB device connection speed | 2 MB / Sec |
| PC Connection speed | Read : 26MB/Sec ; Write: 16MB/Sec |
| Operating systems | Windows 98 / ME / 2000 / XP, MAC 10.1.3 or greater version, Linux OS kernel 2.4 or greater version |