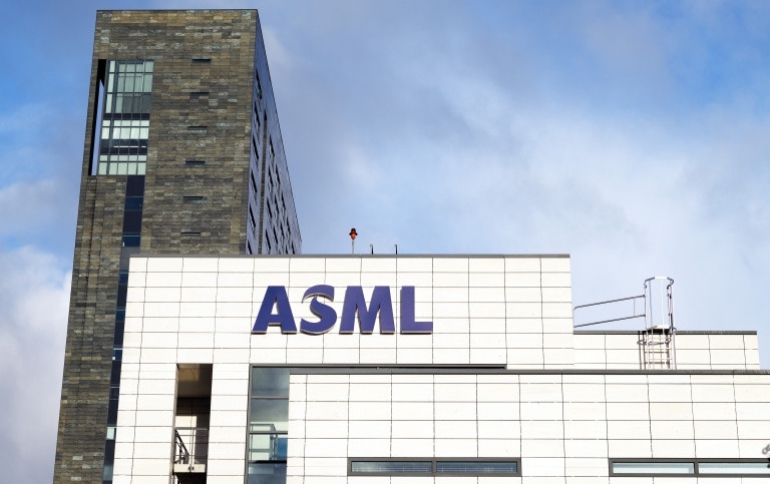 ASML Forecasts Sales Matching Estimates
ASML Holding NV forecast second-quarter sales in line with expectations, as Europe's largest semiconductor-equipment maker won orders for three more of its newest lithography machines.
The company predicts Q2 2019 sales of 2.5 billion euros ($2.8 billion) to 2.6 billion euros and a gross margin between 41 percent and 42 percent. A year earlier, ASML reported sales of 2.74 billion euros.
"Our first-quarter sales and gross margin came in slightly above guidance, supported by better than planned EUV system shipments and DUV profitability. The outlook for the remainder of the year remains unchanged, as we see accelerating growth through 2019 on the back of significant technology transitions, primarily in Logic. Our outlook is further underpinned by expected increasing Applications and Installed Base revenues. EUV systems are starting production of the first layers of the most advanced Logic nodes. Supporting these technology transitions is our higher productivity NXE:3400C EUV scanner - which we expect will also drive adoption in the DRAM memory segment. We reconfirm our previously disclosed longer-term outlook for 2020 and beyond, which remains based on our positive view on technology drivers such as 5G communications, automotive, artificial intelligence and data centers. In the short term, some volume demand uncertainties remain due to macro-economic developments," said ASML President and Chief Executive Officer Peter Wennink.
During Q1, ASML saw increasing demand for 200 mm TWINSCAN scanners across all dry wavelengths, which is mainly driven by strong growth in the automotive, industrial and Internet of Things market segments.
On 300 mm, the company will bring the DUV Dry products to the high performance NXT platform. It is on track to deliver the NXT:1470 mid next year.
ASML says its applications portfolio, including optical and E-beam metrology and inspection, computational lithography and software control products, continues to see growth. In Q1 2019, ASNL saw its Brion deep-learning technology to be adopted by several customers.
ASML is also making progress on its E-beam products for improved defect inspection sensitivity required on future nodes. To improve E-beam system productivity, ASML is on track to deliver a multi-beam system this year for R&D, moving to commercial product shipment in 2020.
For EUV, the first set of NXE:3400C optics are in the factory. These higher transmission optics will enable the higher throughput of 170 wafers per hour. This is expected to deliver cost effective shrink for both Logic and DRAM. The system is expected to be available to our customers in the second half of 2019.
ASML is an important supplier to chipmakers, with clients including Samsung Electronics Co. and Taiwan Semiconductor Manufacturing Co.
Samsung denies involvement in theft of ASML's secrets
In related news, Samsung on Wednesday denied any involvement in an intellectual property theft from supplier ASML.
ASML last week disclosed that former employees took company secrets to U.S. software maker Xtal Inc., which filed for bankruptcy in December after losing a $223 million judgment to ASML over the matter.
The Dutch semiconductor equipment maker's chief executive Peter Wennink denied initial reports that the Chinese government had been behind the theft, and added that funding for XTAL had come in part from China and in part from Korea.
"What we have found evidence for is that the (secrets) were stolen by people of American and Chinese nationality with Chinese background," he told NOS. "Those products were used to provide services to our largest Korean customer."
Samsung is ASML's largest South Korean customer and its largest customer overall. But the company said it was not involved in the industrial espionage.
"Samsung makes it a top priority to protect and respect the intellectual property rights of others ... No products that have resulted from our partnership with Xtal interfere with ASML's intellectual property," Samsung said.
"We are deeply disappointed at media reports that had widely assumed or even suggested Samsung's involvement in any wrongdoing against ASML, which are not true."
"While we cannot disclose details of our business deals, Samsung had made precautions so as to adhere to all laws and regulations with its development contract with Xtal, including a clause that specifically prohibits the illegal use of third-party IP," Samsung said.