be quiet! dark rock pro 4
1. Introduction
be quiet! back in 2018 released the Dark Rock (& Pro) 4 series of CPU air coolers for high performance processors with near-silent operation and performance features, but also introduced innovative and optimized functions that ultimately produce the best processor cooling at extremely low noise levels. The Dark Rock Pro 4 CPU cooler thanks to a combination of new and optimized features managed to raise the supported thermal design power (TDP) to 250 watts, matching its predecessor in performance, but at a lower noise level of just up to 24.3 dB(A).
The Dark Rock Pro 4 series' cooling fins and heat pipes use a specially enhanced ceramic black coating that not only results in an appealing all-black appearance, but also improves each cooler's heat conduction. The Dark Rock Pro 4 transfers heat efficiently from base to heatsink through seven high-performance copper pipes. Small dots on the fin surface increase the total cooling area, while a wave-contoured shape contributes to noiseless perfect air flow.
For included fans, be quiet! chosen a Silent Wings 135mm PWM fan with airflow-optimized blades, a reliable six-pole motor and fluid dynamic bearings (FDB) and an additional Silent Wings 3 120mm PWM fan with a funnel-shaped vent on the front. The fan mounting also uses a decoupled design to minimize heatsink vibration, resulting in even less noise. The coolers' top cover is made from brushed aluminum and features a high-grade diamond cut finish, while specially manufactured caps are used to mask heat pipe ends and screw holes. To improve compatibility with high-performance RAM using tall heat spreaders or LEDs, Dark Rock Pro 4 features formfitting cutouts at the bottom fins.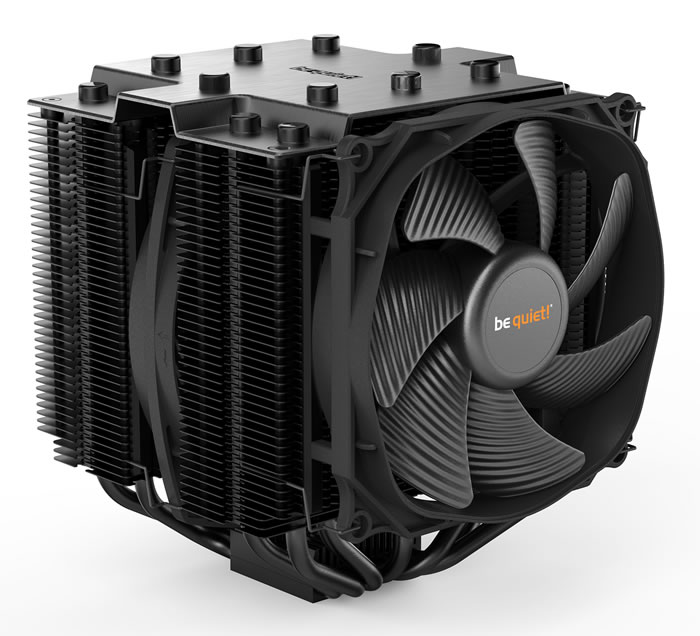 The Dark Rock Pro 4 CPU cooler is priced at €86.90 / £80.99 / $89.90 MSRP and supports most Intel/AMD processors, read below for full specifications.
- Features
Dark Rock Pro 4 offers an immense cooling performance of 250W TDP and virtually inaudible operation. Excellent for overclocked systems and demanding workstations.
Two virtually inaudible Silent Wings PWM fans
Funnel-shaped frame of the front fan for high air pressure
Achieves only 24.3dB(A) at maximum fan speed
Seven high-performance copper heat pipes
Airflow-optimized cooling fins; cutouts enhance the RAM compatibility
Easily installable black installation kit can be mounted from above
Brushed aluminum top cover with diamond cut finish
3-year manufacturer's warranty
German product conception, design and quality control
VIRTUALLY INAUDIBLE OPERATION
The two Silent Wings PWM fans feature advanced fluid-dynamic bearings, smooth six-pole motors and airflow-optimized fan blades. The front Silent Wings 3 fan provides extremely high air pressure, thanks to a funnel-shaped air inlet in the frame. Decoupled fan mounting with vibration-isolating elements on the heat sink.
IMMENSE COOLING POWER
No compromise in silence and performance for overclocked systems and demanding graphics applications! Dark Rock Pro 4 provides an impressive rating of 250W TDP and achieves low temperatures even during periods of peak CPU performance.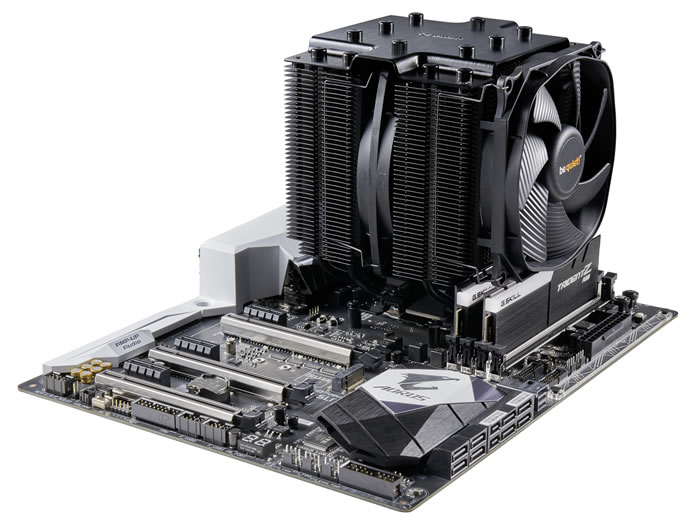 HIGHLY ADVANCED DESIGN
Dark Rock Pro 4 is equipped with seven advanced technology 6mm copper heat pipes that maximize the heat conductance. Airflow-optimized, wave-contoured cooling fins with small dots on their surfaces increase the air circulation. The special black coating with ceramic particles makes a perfect transfer of heat possible.
DOUBLE-TOWER LAYOUT
Dark Rock Pro 4 contains two aluminum heat sinks. The cutouts provided enhance its RAM compatibility. Two fans are pre-installed. It is also possible to add another 120mm fan for even better cooling.
USER-FRIENDLY ELEGANCE
The mounting kit for the Dark Rock Pro 4 cooler is completely black, perfectly matching the black design of the cooler itself. You can conveniently install the cooler on the motherboard from above. The brushed aluminum top cover with its diamond cut finish adds a touch of elegance to this high-end cooler.
- Specifications
| | |
| --- | --- |
| Model | Dark Rock Pro 4 |
| Overall dimensions without mounting material (L x W x H), (mm) | 146 x 136 x 163 |
| Total weight (kg) | 1.13 |
| TDP (W) | 250 |
| Socket compatibility AMD | AM2(+) / AM3(+) / AM4 / FM1 / FM2(+) |
| Socket compatibility Intel | 1150 / 1151 / 1155 / 1156 / 1200 / 1366 / 2011(-3) Square ILM / 2066 |
| Fan model, number | 1x Silent Wings 3 120mm PWM / 1x Silent Wings 135mm PWM |
| Decoupled fan mounting | ✓ |
| Overall noise level (dB(A)) @ 50/75/100% (rpm) | 12 |
Heatsink specifications
| | |
| --- | --- |
| Dimensions (L x W x H), (mm) | 146 x 136 x 163 |
| Number of fins | 90 |
| Fin material | Aluminum |
| Base material | Copper |
| CPU contact surface | CNC machined |
| Heatpipe number / Diameter (mm) | 7 / 6 |
| Color | Black |
| Surface treatment | Ceramic coating |
Fan specifications
| | |
| --- | --- |
| Fan dimensions (mm) | 135 x 135 x 22 / 120 x 120 x 23 |
| Speed @ 100% PWM /12V (rpm) | 1200 / 1500 |
| Bearing technology | Fluid Dynamic Bearing |
| Motor technology | 6-pole fan motor |
| Rated Voltage (V) | 12 |
| Input current (A) | 0.08 / 0.08 |
| Input power (W) | 0.96 / 0.96 |
| Connector | 4-pin PWM |
| Cable length (mm) | 220 / 220 |
| Lifespan (h / 25°C) | 300,000 |
Accessories
| | |
| --- | --- |
| Thermal grease | Included |
| Mounting set | Intel & AMD |
| Y-Cable | ✓ |
| User manual languages | DE, EN, ES, FR, PL, RU |
Service
| | |
| --- | --- |
| Warranty (Years) | 3 |
| International hotline / free of charge | ✓ / DE, FR |