BMW To Challenge Uber With "ReachNow" Car-sharing Programme
BMW plans to offer a ride-booking service in Seattle and then other U.S. cities, becoming the first maker to compete with Uber Technologies. Under the new brand name "ReachNow", BMW Group is launching a car sharing service in Seattle (USA). The programme is based on the business model currently operating in Europe under the name "DriveNow". Users in the USA will soon be able to choose further future-oriented services for bespoke individual mobility. ReachNow is starting in Seattle with an initial fleet of 370 BMW and MINI vehicles. 20 percent of the entire fleet is made up of BMW i3 electric vehicles. In addition to Seattle, ReachNow will be expanded into further cities in the USA.
This move is in line with the company's strategy NUMBER ONE > NEXT, as outlined by BMW AG management three weeks ago. The strategy states that the development of customer-oriented mobility services will be one of the company's central business fields in the years ahead.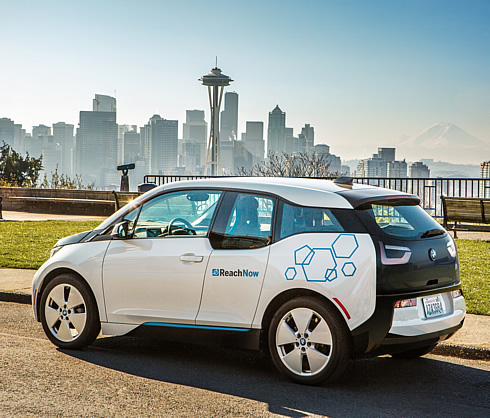 ReachNow users in the USA will be able to book the first new services in 2016:
Delivery service
The desired vehicle is delivered to the customer. This service is interesting to those who wish to transport luggage or live in areas with a limited number of parking spaces. Customers who wish to avoid walking to the car, will also find this service attractive.
Using the vehicle for a longer period
ReachNow is merging car-sharing and conventional car rental services: During the journey, customers can spontaneously decide to keep their ReachNow vehicle for several days, without having to change the vehicle or going to a rental station. The most favourable rate will always be charged.
Car sharing for closed user groups
A pool of ReachNow vehicles is made available exclusively to companies or residential complexes for example, and kept on their respective premises.
Renting out your own car via ReachNow
Customers may rent out their own car via ReachNow, for example if the owner is on vacation. This can reduce the cost of owning a car. Customers will have the option to restrict the availability of the vehicle to their social media contacts.
Chauffeur Service - Car booking with a driver
For those who do not wish to get behind the steering wheel ReachNow will later on also offer an option to book a car with a chauffeur. This allows to reach a destination even more relaxed.
New members can register with ReachNow using their smartphone camera, including driving licence check and credit card deposit. The customer's smartphone, or the customer card sent by post, serves as the car key.
All models are charged at a rate of 0.49 USD for each minute the vehicle is used and a break of journey (parking) 0.30 USD per minute. The vehicle fleet comprises the BMW i3 electric car, the BMW 328i and the MINI Cooper. The one-off registration fee is 29 USD. ReachNow is launching with an introductory offer of 0.41 USD for each minute the vehicle is used and registration is free of charge. All prices are inclusive of insurance, petrol, electricity, parking costs, taxes and fees.