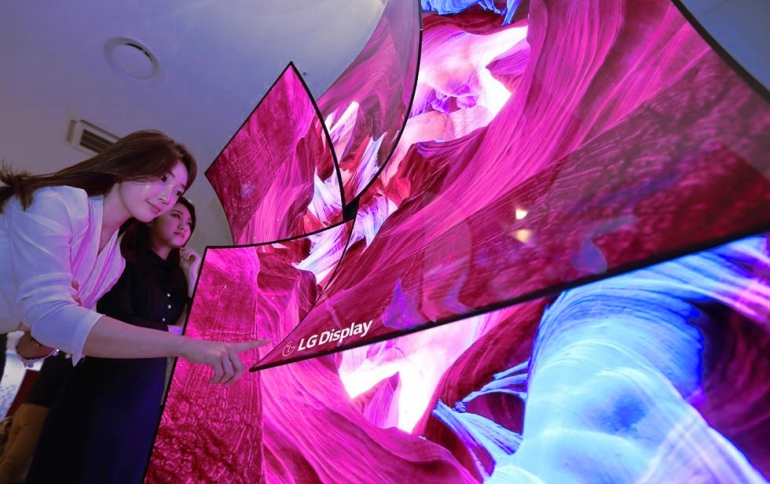 CES: LG Display's 88-inch 8K OLED Screen With In-display Sound
LG Display will highlight its global leadership by introducing cutting-edge OLED and LCD displays at CES 2019 in Las Vegas from January 8 to 11.
The company will introduce an 88-inch 8K Crystal Sound OLED (CSO) display with an advanced 3.2.2 channel sound system embedded into the display. The sounds which emanate directly from the panel reach new audio heights, and when combined with Dolby Atmos, this acoustic innovation enables viewers to experience dynamic sound coming from their top, bottom, left and right.
LG Display will further expand its 8K OLED product lineup with the introduction of a 65-inch 8K OLED display at this year's CES. The company will also unveil a 65-inch UHD Crystal Motion OLED (CMO) display with the world's fastest Motion Picture Response Time (MPRT) of 3.5m/s.
LG Display will showcase a sculpture in the form of a flower, made of four 65-inch UHD OLED displays with their edges curled inwards as flexibly as petals. With this artwork, the company will illustrate the advantages of the rollability and bendability of OLED displays.
In addition, the company's various products including commercial and automotive displays will be on show at this year's CES.
On the commercial display side, LG Display will showcase an 86-inch electronic whiteboard display with the company's in-TOUCH technology embedded inside the display, which will enable greater touch precision, clearer picture quality and a slimmer design. In particular, the company will emphasize the potential of OLED for commercial use by unveiling a giant show window display composed of four 55-inch transparent OLED panels with 40 percent transparency.
On the automotive display side, it will introduce a 12.3-inch transparent OLED panel with 45 percent transparency, highlighting the company's highly advanced technology in that sector. In addition, a 12.3-inch QHD POLED Center Information Display (CID) will be showcased among its various other automotive displays being unwrapped at the show.
The new monitor display market meets convenience with LG Display's new concept of desktop monitor, the 27-inch Neo Art portable display. PC and mobile devices easily connect to this large monitor via a simple USB-C port. With a display that is both portable and wireless, users can maximize how they use their space as this product combines the movability of a mobile device with the usability of a large-size screen.
LG Display will highlight its Oxide backplane technology by introducing a 27-inch UHD LCD monitor display with 2.8mm bezels on the top, left and right sides – the extremely narrow bezels narrowed by 50% compared with existing models through the adoption of Oxide backplane technology. The company is also showcasing a 13.3-inch UHD LCD display with an Oxide backplane for notebook computers, significantly reducing hourly power consumption to merely 2.8 watts. It will further expand its use of Oxide backplanes in high-resolution notebook and monitor displays to accentuate the superior picture quality of IPS technology while cutting energy consumption.
The company will furthermore introduce 65-inch and 75-inch 8K LCD TV panels based on IPS technology, which is advantageous for high-resolution LCD panels thanks to realizing higher transmittance. These two new products realize wide-viewing angles with no image distortion or decrease in brightness, whether they are viewed from the far left or right end of the panel, thus leading to outstanding 8K images. In addition, borderless design applied on three sides of the company's 8K LCD TV panels elevates the finished product with added luxury.
A unique, immersive installation of flexible displays from LG Electronics (LG) is also expecting the attendees at CES 2019. The "LG OLED Falls" display features 260 LG OLED digital signage screens, in curved and flat configurations, giving tens of thousands of CES visitors a one-of-a-kind experience of natural wonders.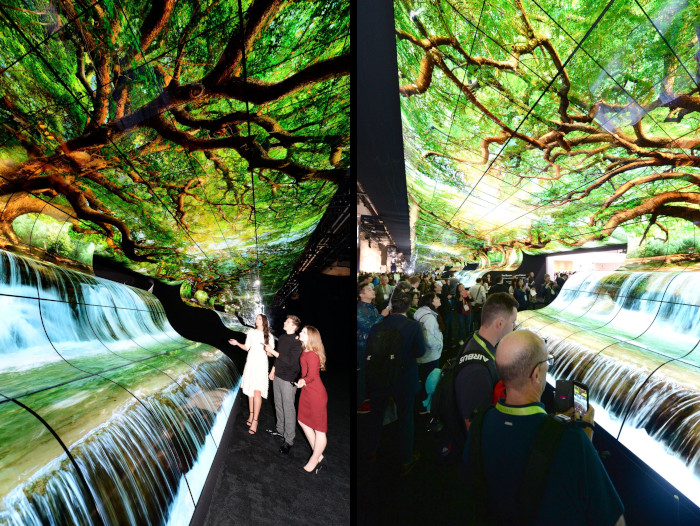 The LG OLED Falls exhibit features 76 concave, 72 convex and 112 flat 55-inch LG OLED screens. It measures 20 feet high and 65 feet wide, displaying alluring images of curves of the desert, waterfalls, ocean and light. The video experience is further enhanced by audio, which is included in 2019 LG OLED TVs for the consumer market.