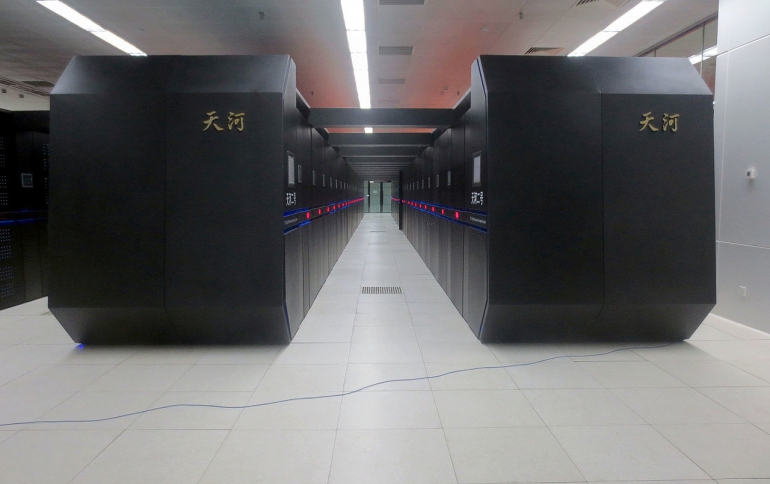 China Tests New Tianhe-3 Exascale Supercomputer
A prototype of China's new-generation exascale Tianhe-3 supercomputer capable of a quintillion calculations per second has been tested for over 30 organizations in China.
The supercomputer passed tests in July last year and is ready for application. It has been designed to provide computing services to users in China and overseas, according to the National Supercomputer Center in Tianjin, China.
The prototype was operated to meet simultaneous demands from 30 organizations including the Chinese Academy of Sciences and the China Aerodynamics Research and Development Center, said Meng Xiangfei, head of the center's applied research and development department.
Tianhe-3 will be 200 times faster and have 100 times more storage capacity than the Tianhe-1 supercomputer, China's first petaflop supercomputer launched in 2010. In October 2010, the Tianhe-I supercomputer became the top speed record holder in the world by consistently operating at 2.507 petaflops.
China operates a number of supercomputer centers which, altogether, hold 29.3% performance share of world's fastest 500 supercomputers.
As of 2018, China dominated the globe's highest performance machines list with 206 out of the top 500 fastest supercomputers in the world, exceeding the second placing (United States) which had 124.
China's Sunway TaihuLight ranks second in the TOP500 list.
The Tianhe-2 is found at the National Supercomputer Center in Guangzhou. As of June 2018, it is the fourth most powerful supercomputer in the world, running at 33,000 teraflops.