Computex: Intel Introduces First 5.0 GHz Processor, 28-core CPU, 5G PCs, Fastest Ever Intel Optane SSD for Mobile
Today, at Computex in Taipei, Gregory M. Bryant, senior vice president and general manager of the Client Computing Group at Intel, announced the Core i7-8086K Limited Edition six-core processor, a 28-core chip, 5GHz 8086K, the Optane 905P in M.2-22110 Form-factor, and the Intel Low Power Display Technology.
As we transition to the data-centric era, Bryant said that the PC remains a "critical facet of Intel's business," and it's an area where "there are still so many opportunities ahead."
Bryant announced the latest additions to Intel's mobile lineup of the 8th Gen Intel Core processor family: the Whiskey Lake U-series and Amber Lake Y-series, featuring up to double-digit performance gains and integrated gigabit Wi-Fi. Expect more than 140 new laptops and 2 in 1s from OEMs starting this fall.
Intel just said that the new parts will offer double digit performance gains (against Kaby Lake parts) and also will offer integrated Wi-Fi. But the company also confirmed that these would not be 10nm parts, so expect to see new 14nm++ parts based on the Coffee Lake microarchitecture.
Both the current Kaby Lake-R chips and the upcoming Whiskey Lake chips are U-series chips, which typically consume about 15 watts. Amber Lake is a Y-series chip, aimed at ultra-low-power ultrabooks, usually in the 4.5-watt range.
For desktop, by the end of this year, Intel promised to release a new X-series release and the next Intel Core S-series processor.
Beyond processing power, Bryant said that the Intel Optane SSD 905P is now available in an M.2 form factor. Delivering endurance (10 DWPD, and 1.6 million hours MTBF), this new, slim Intel Optane SSD is a high-performance drive that allows the processor to spend less time waiting and more time computing.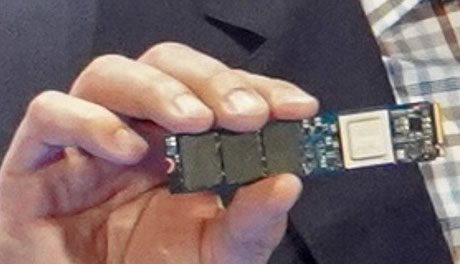 The drive take advantage of the PCI-Express 3.0 x4 interface and NVMe protocol, and feature the company's latest generation 3D X-point memory. The drive's transfer rates are up to 2600 MB/s reads, up to 2200 MB/s writes, and 575k/550k 4K random access speeds.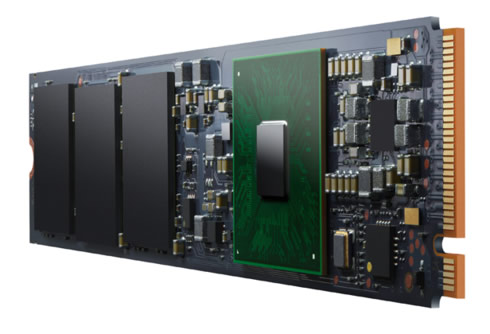 As Intel celebrates its 50th anniversary, the company revealed the limited edition 8th Gen Intel Core i7-8086K processor, the first Intel processor with a 5.0 GHz turbo frequency. This new processor, of which only 50,000 will be made, is a boost over its current Core i7-8700K offering. It is a 6-core, 12-thread processor with integrated graphics in an 1151- pin package supporting a 64-bit instruction set. Intel has said that the processor has a base frequency of 4.0 GHz and a single core turbo of 5.0 GHz.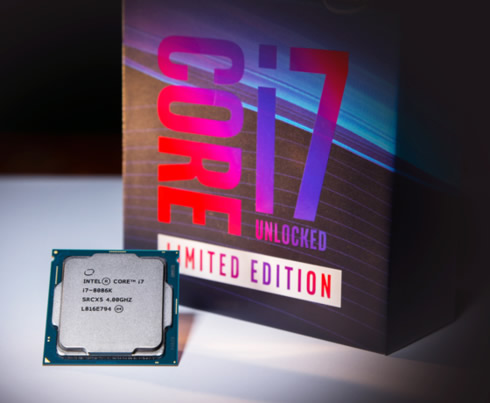 Core i7-8086K / 8700K of specs
Core i7-8086K
Core i7-8700K
Die
Coffee Lake-S
CPU cores
6-core / 12 thread
Cache (LLC)
12MB
The base clock
4GHz
3.7GHz
Up to the time of Turbo Boost
5GHz
4.7GHz
GPU
Intel UHD Graphics 630
GPU clock (at the time of base / Turbo)
350MHz / 1.2GHz
TDP
95W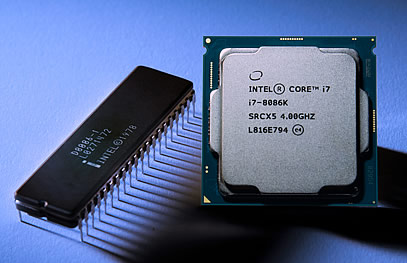 In celebration of this milestone, and Intel enthusiasts, the company is giving away 8,086 8th Gen Intel Core i7-8086K processors. Visit ww.intel.com/8086sweepstakes for more information on markets and rules.
The Intel Core i7-8086K is a limited edition processor that will be available for purchase beginning on June 8, 2018. Pricing details were not unveiled, however their sweepstakes lists the average retail value of the processor at $425.
Intel also today also showcased a 28-core single socket machine also running at 5 GHz. The system on display scored 7334 in Cinebench R15, and Gregory Bryant (SVP and GM of Intel Client Computing Group) stated that it would be coming in Q4 this year. No other details were provided, however for it to exist in a current platform, this new processor would likely be in LGA2066 (X299) or LGA3647 (the server socket).
By comparison, AMD's Threadripper chip includes 16 cores and 32 threads, which would put Intel's chip well ahead of the competition in terms of core count.
Bryant didn't say how much it will cost, but we have a frame of reference.
At Mobile World Congress, Intel talked about the importance of 5G. Sprint is now joining Intel as a partner to sell Intel processor based, 5G-connected PCs in stores around the world. Acer, Asus, Dell, HP, Lenovo and Microsoft are working with us to deliver the first 5G-connected laptops and 2 in 1s in 2019.
Intel promised to deliver 10 more 4G-connected PCs from Acer, Asus, Dell and HP - on top of the 25 currently in market.
The display consumes the most battery in a device, and one way Intel is working to enable all-day battery life is by co-engineering the new Intel Low Power Display Technology, featured in a one watt panel manufactured by Sharp and Innolux, which can cut LCD power consumption by half. Intel expects to deliver an additional four to eight hours of local video playback - that means battery life could be up to 28 hours on some devices.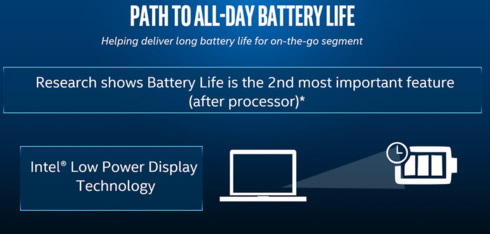 To prove its point, Intel brought a Dell XPS 13 onstage that was outfitted with the new display tech and showed that it could loop video for 25 hours. The existing XPS 13 is capable of 15 hours of video playback under the very best circumstances using Intel's Core-i7 8550U and a 60 wH battery.
Intel also showed PCs in new form factors like dual screen, along with platforms designed for specific usage scenarios. The company showed examples on stage, including a preview of an innovative Yoga Book with very high performance coming from Lenovo later this year.
One of Intel's prototype dual screen PCs is the "Tiger Rapids." With this design, Intel wants to promote a purpose-built device, featuring a digital pen and an UI that allows you to ink a note.
It's very thin, skinnier than an iPhone 8 at 4.85mm thick. The left-hand screen looks relatively normal, with a traditional Windows PC desktop on a 7.9-inch LCD display. Underneath it all is a Kaby Lake Core processor, an SSD, Wi-Fi, and an undisclosed amount of memory.
The right-hand screen of Tiger Rapids is an electronic paper display (EPD) that consumes almost no power. It's purpose-built for digital inking, complete with a slight give to it that mimics traditional paper.
Tiger Rapids' expansion options are limited to just a single USB-C port, but Intel's partners are free to do as they choose. The wirelessly connected product might plug in just once or twice a day. The prototype's battery life achieved 13 to 15 hours.
Asus promises to have an interesting twist on the Tiger Rapids concept that Bryant calls an "AI-based PC." ASUS actually showcased a new concept PC called Project Precog, a convertible dual-screen notebook equipped with intelligent features for productivity.
Additionally, Intel highlighted multiple creator notebooks, desktop towers, all-in-ones and peripherals from Acer, ASUS, Corsair, Dell, HP, MSI and Twist. Creator PCs provide differentiated aesthetics and peripherals, upgradable form factors, and end-to-end technology optimized for the creator workflow, including Intel Core i7 and Intel Core i9 processor performance, Thunderbolt 3 technology and Intel Optane SSDs.
Intel also plans to make the PC more intelligent busing AI. The company introduced the AI on PC Developer Program to provide tools and training for developers - including the OpenVINO toolkit and Windows ML - to utilize hardware capabilities to unlock AI innovation.
Asus also showed off a new ZenBook Pro, which allows developers to take advantage of the low-power Intel Movidius VPU to create AI-centric features for both existing and new applications.