Crucial MX500 1TB SSD Retails for $259
Crucial's new MX500 is a new value TLC NAND based SSD and will soon become available in 250 and 500 GB versions as well as a 1TB and 2 TB model.
Also in the pipeline are Crucial MX500 M.2 2280 Solid State Drives offering the same speed at 560 MB/sec reads, 510 MB/sec writes (sequential) and 90K Random Write IOPS for all models.
The latest MX series drive s positioned to be a mainstream product with solid performance but without much of a premium over entry-level SSDs. It is also Crucial's flagship consumer drive based on the new 64-layer 3D NAND flash memory.
The MX500 comes with major changes under the hood that may allow it to be a solid replacement for both the MX300 and BX300 as they are phased out.
Besides the new NAND flash, the new SSDs use the Silicon Motion SM2258 controller, and not the Marvell SSD controllers thet have been used in the Crucial BX series drives.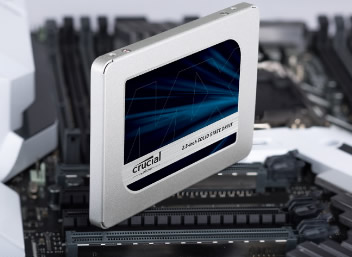 The MX500 also offers all the standard features of the MX series: TCG Opal encryption and Micron's partial power loss protection feature for data at rest - now branded as "power loss immunity". With this feature, you are avoiding unintended data loss when the power unexpectedly goes out.
Data that has already been written to the flash will not be corrupted if the drive loses power while writing a second pass of more data to the same cells.
As with the MX300, the MX500 also includes SLC write caching to accelerate bursty workloads.
The performance specifications for the MX500 series include 560 MB/sec reads, 510 MB/sec writes (sequential) and 90K Random Write IOPS for all models. Compared to the MX300, the new drives offer increased endurance at 360 TB. The warranty period has also been extended to five years.
The introductory price of $259.99.
Micron's spec sheet indicates there will be a M.2 2280 version of the 1TB MX500.