Crucial Unveils New SSDs And DDR4 Memory Modules At CES
Crucial today announced the new MX200 and the BX100 solid state drives along with the Ballistix Sport LT DDR4 memory, the Ballistix Tactical DDR4 memory and new DR4 SODIMMs at CES. Available in 250GB, 500GB, and 1TB capacities with respective MSRPs of $139.99, $249.99, and $469.99, the new Crucial MX200 delivers sequential reads and write up to 555 MB/s and 500MB/s, along with random reads and writes up to 100k and 87k IOPS on all file types. Additionally, with an endurance rating up to 320 TBW (total bytes written) on the 1TB model, the Crucial MX200 delivers up to five times more endurance than a typical client SSD.
The Crucial MX200 is also the only consumer drive on the market with Dynamic Write Acceleration, a new technology that enables faster saves and file transfers. Furthermore, the MX200 also offers a host of features including AES 256-bit encryption to protect data; Exclusive Data Defense to guard against corrupt files; Adaptive Thermal Protection to keep systems cool; Power Loss Protection to preserve user data if power is lost ( data at rest only).
Each Crucial MX200 SSD includes Acronis True Image HD data migration software that moves all files, operating systems, settings, and programs from an existing hard drive to a newly installed SSD.
Available in 120GB, 250GB, 500GB, and 1TB capacities with respective MSRPs of $69.99, $109.99, $199.99, and $399.99, the Crucial BX100 delivers sequential reads and writes up to 535MB/s and 450MB/s on all file types.
With Extreme Energy Efficiency technology, the BX100 is two times more energy efficient than a typical hard drive, allowing users to run their systems longer, using less power.
The BX100 is the first Crucial drive to include the low power consumption Silicon Motion SM2246EN controller.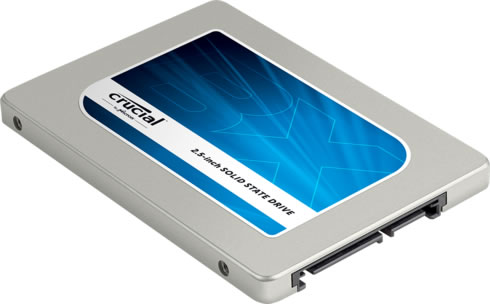 In addition, Crucial has mae available the Crucial Storage Executive, a software tool that helps users monitor, maintain, and optimize their Crucial SSD. Available for download at crucial.com/se, the new tool allows users to:
Update to the latest firmware version
Reset the drive's encryption password
Report on drive status, model, capacity, firmware version, temperature, and overall health
The tool works with the new BX100 and MX200 SSDs, as well as existing M500, M550, and MX100 SSDs.
Both Crucial MX200 and BX100 2.5-inch drives will be available in Q1 2015. The Crucial MX200 will also be available in mSATA and M.2 form factors during Q1 2015. Both drives are backed by a limited three - year warranty.
Crucial's new Ballistix Sport LT DDR4 memory and the Ballistix Tactical DDR4 memory modules offer a combination of sleek design, DDR4 performance, and reliability for gamers.
Designed for mainstream users, Ballistix Sport LT DDR4 memory delivers fast speeds and increased bandwidth. The modules feature a covert digital camo design and integrated heat spreader. Gamers can choose a plug-and-play installation or Intel XMP 2.0 profiles to achieve DDR4 speeds of 2400 MT/s.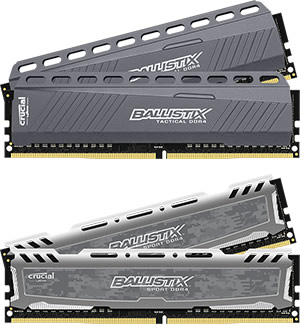 The Ballistix Tactical DDR4 memory delivers 2666MT/s speeds and offers increased bandwidths of 21.3 GB/s. The modules feature distinctive heat spreaders, a complementary black PCB, and certified Intel XMP 2.0 profiles for easy setup and configuration. The new modules also support four channel memory architectures.
Ballistix Sport LT and Ballistix Tactical DDR4 modules will be available in Q1 2015 in 4GB and 8GB densities, as well as kits up to 32 GB.
For laptop users, Crucial is ofering new DDR4 SODIMMs, which are more than 30 percent faster than their DDR3 equivalents with speeds of 2133 MT/s. Operating at 1.2V compared to 1.5V for standard DDR3 memory, Crucial DDR4 SODIMMs consume 20 percent less voltage than standard DDR3 technology.
Additionally, Crucial DDR4 SODIMMs increase memory bandwidth by more than 30 percent, allowing systems to handle more data at once.
Available in 4GB and 8GB modules with two-piece kits up to 16GB, Crucial DDR4 SODIMMs are available now.
Crucial BX100 SSD specs
2.5" (7mm) SSD
2.5" (7mm) SSD
2.5" (7mm) SSD
2.5" (7mm) SSD
Capacity
120GB
250GB
500GB
1TB
Box Contents

2.5" (7 mm) SSD 7 mm–9.5 mm spacer

Sequential Read MB/s

535

Sequential Write MB/s

185

370

450

Random Read IOPS

87k

90k

Random Write IOPS

43k

70k
Crucial MX200 SSD specs
2.5" (7mm) SSD
mSATA SSD
M.2 Type 2260 SSD /
M.2 Type 2280 SSD
Capacity
250GB
500GB
1TB
250GB
500GB
250GB
500GB
Box Contents
2.5" (7mm) SSD, 7mm to 9.5mm spacer, AcronisTrue ImageHD certificate
mSATA SSD, mounting screws, Acronis True Image HD certificate
M.2 Type 2280 SSD / M.2 Type 2260 SSD, mounting screws, Acronis True Image HD certificate
Sequential Read MB/s

555

Sequential Write MB/s

500

Random Read IOPS

100k

Random Write IOPS

87k

Dynamic Write Acceleration

Not required

Yes