Dell Introduces First WiGig Docking Station, New Multi-gigabit Firewall
Dell today made availabile the Dell Wireless Dock, the first docking solution based on the latest multi-gigabit tri-band Wi-Fi standard (WiGig). The company also announced the Dell SonicWALL SuperMassive 9000 Series Next-Generation Firewall (NGFW), designed for enterprise networks. The new WiGig standard offers speeds up to 10 times that of today?s fastest Wi-Fi networks.
Dell's new Wireless Dock is compatible with the Dell Latitude 6430u Ultrabook.

Designed for use in offices, meeting rooms and classrooms, the Dell Wireless Dock offers easy connectivity to displays, projectors, networks, speakers and other peripherals. The Wigig dock supports up to two external displays with both DisplayPort and HDMI, features peripheral connectivity via three USB 3.0 ports and facilitates easy collaboration with a front Audio In/Out port for voice over IP at speeds of up to 4.6 gigabits per second. The Dell Wireless Dock can also be easily managed connect with the updated Dell Connection Manager supporting that now supports both WiGig and Wireless LAN settings.
An adapter is available for VGA-based infrastructures and an Ethernet connector helps ensure stable bandwidth for fast data transfers and communication with remote locations. A
The WiGig standard (802.11ad) is the result of industry collaboration lead by Dell and Wilocity. Based on the IEEE 802.11 standard specification, WiGig offers the same level of security and manageability as today?s best WLAN technologies. WiGig is powered by the first 60 GHz multi-gigabit wireless chipsets developed by Wilocity and brought to the Dell Latitude 6430u by Qualcomm Atheros, a subsidiary of Qualcomm Technologies, Inc.
The Dell Wireless Dock is available today worldwide for $249US.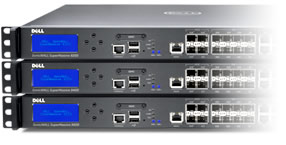 Dell also today announced the Dell SonicWALL SuperMassive 9000 Series Next-Generation Firewall (NGFW), built from the ground up to meet the needs of enterprise network.
The SuperMassive 9000 Series includes the 9600, 9400, and 9200 models and offers full IPS and application control performance up to 12Gbps. Its compact 1U high port density form factor is designed with the total cost of ownership (TCO) and power/space/cooling (PSC) requirements of modern enterprise data centers in mind. With 4 SFP+ 10GbE interfaces, 16 1GbE interfaces and a dedicated management interface, the SuperMassive 9000 Series can be deployed in a variety of networks in either a traditional gateway security deployment or as an additional layer of security for traditional networks in a transparent layer 2 bridge or wire-mode deployment.
Unlike legacy firewall and intrusion prevention technologies, the Dell SonicWALL SuperMassive 9000 Series blocks threats before they enter the network by looking at all traffic, regardless of port or protocol, using Dell SonicWALL?s patented Reassembly-Free Deep Packet Inspection (RFDPI) technology. The RFDPI engine scans every byte of every packet of network traffic across all ports and delivers full content inspection to help eliminate threats and includes full inspection of SSL-encrypted traffic as well as non-proxyable applications. It also provides protection against millions of unique malware variants without file size, performance or latency limitations.
While RFDPI protects the network against threats,the Dell SuperMassive 9000 Series? Application Intelligence and Control features help ensure optimal network productivity and bandwidth through the identification of productive and unproductive application traffic in real-time which can then be controlled through application-level policies. Network administrators can schedule application controls based on business priority and can throttle unproductive applications and block potentially dangerous applications.