Digital Storm, Maingear and Puget Systems Design Data Science PCs Powered by NVIDIA
Digital Storm, Maingear and Puget Systems have started selling online a new class of computers that NVIDIA calls data science PCs.
The systems bundle the hardware and software data scientists need to start managing datasets and models to make AI predictions. Data science PCs tap NVIDIA TITAN RTX GPUs and RAPIDS software to deliver 3-6x speed-ups compared to CPU-only desktops.
Digital Storm, Maingear and Puget Systems are offering the products now. They're targeting an expanding class of independent data scientists to help
Under the hood, a data science PC includes one or two TITAN RTX GPUs, each with up to 24GB of memory. NVLink high-speed interconnect technology connects the two GPUs to tackle datasets that demand more GPU memory.
The systems can accommodate 48-128GB of main memory and storage options include drives that range up to 10TB.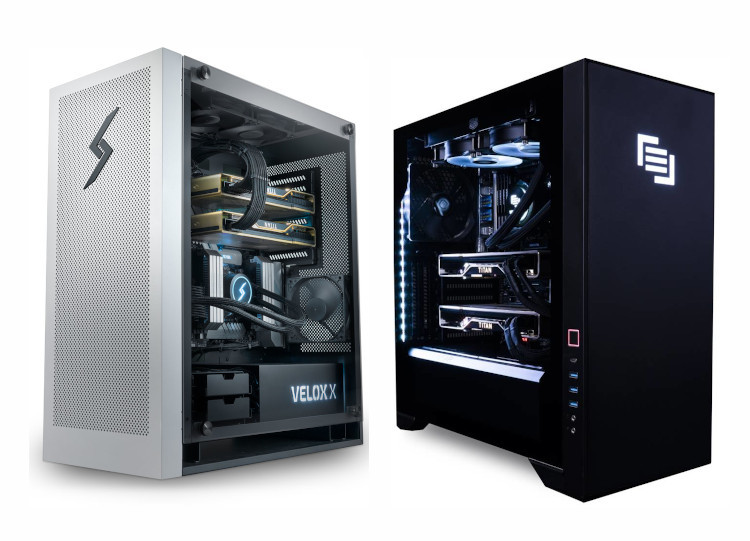 Each data science PC will ship with Linux and RAPIDS, NVIDIA's data science software stack, powered by its popular CUDA-X AI programming libraries.
NVIDIA RAPIDS eases the job of porting existing code for GPU acceleration. Its APIs are modeled after popular libraries used in data science.
Here are some of the key elements of RAPIDS:
cuDF is a Python GPU data-frame library for loading, joining, aggregating, filtering and otherwise manipulating data. The API is designed to be similar to Pandas, so existing code easily maps to the GPU.
cuML accelerates popular machine learning algorithms, including XGBoost, PCA, K-means, k-Nearest Neighbors and more. It is closely aligned with sciKit-learn.
cuGraph is a library of graph algorithms, similar to NetworkX, that works with data stored in a GPU data frame.
An ecosystem of startups in Inception, NVIDIA virtual accelerator program for startups focused on AI and data science, provides applications and services that run on top of RAPIDS. They include companies, such as Graphistry and OmniSci, that offer big-data visualization tools.
Data scientists can also use NVIDIA's data science developer forum to ask questions and learn more about data science on GPUs.
Prices for Data Science PC starts from $7.000 and can go up to more than $12,000, depending on the configuration.