Fujitsu Develops New "Actlyzer" AI Technology for Video-Based Behavioral Analysis
Fujitsu Laboratories Ltd. has developed an AI-based technology that recognizes a variety of human actions and behaviors while eliminating the need for large amounts of training data.
Dubbed "Actlyzer", the technology is taking advantage of the fact that human behaviors generally consist of a combination of basic movements and actions, (e.g. walking, nodding, extending the hand). Fujitsu says its technology makes it possible to recognize more complex human behaviors, including when an individual appears to be acting suspiciously or seems inclined to make a purchase, by training the AI to recognize about 100 basic actions in advance.
Potential use cases for this new technology include automatic detection of individuals engaged in suspicious-seeming activity, product interest surveys based on recognition of purchase behavior by customers, and training applications through comparing the skills of experienced and novice workers at factories, to name a few.
Fujitsu says that approximately 100 types of basic actions can be recognized with an average accuracy of 90% or more through training the system using a large amount of video data in advance. In addition to walking and running, this system can accurately recognize more subtle basic movements such as turning the head to the right, turning the head to the left, tilting the face upward and tilting the face downward.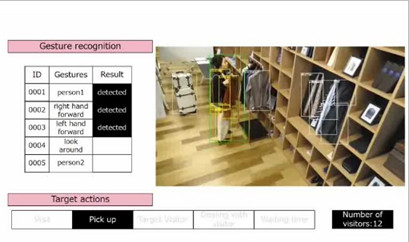 The technology can recognize complex behaviors by specifying combinations of basic actions, order, place of occurrence, and target of action. Actlyzer recognizes various actions with simple settings, and the recognition accuracy can be adjusted immediately by changing parameters.
For example, it is possible to identify potentially suspicious behavior by specifying combinations of basic actions or movements, such as sitting in front of a door, looking at a keyhole, or reaching for a keyhole. In addition, recognition accuracy can be further refined by specifying additional conditions such as turning the head left or right to look around, and by specifying the duration of each action.
Fujitsu will initially offer Actlyzer to its customers in Japan during fiscal 2019, and subsequently aims to commercialize the technology for international markets as a service as part of its "Fujitsu Human Centric AI Zinrai" portfolio.