7. Test Results DX10
We now take a look at DX10 and VISTA (32bit). We maxed all possible visual details for all tested games. This way, we can identify if a graphics card can be used for high quality gaming, offering greater gaming experience. Starting with Company of Heroes, under D3D10 shaders, the game is really stunning. The Gainward 8800GT was only one FPS slower than the other 8800GT cards.
Call Of Juarez is one of the first titles with full DX10 support. The Benchmark produced rather low framerates with all cards. Again, the Gainward 8800GT was slower by only two FPS in the worst case.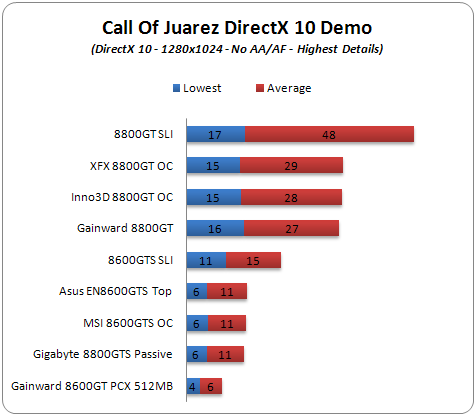 The Crysis Demo can work either under Windows XP or under VISTA and DX10. With DX10, users can enable Very High details for Crysis. This implies a massive performance hit, since most cards performed 50% down, compared to what we saw under the DX9 benchmarks with all details set to HIGH. The Gainward 8800GT card managed 18.20 FPS, while the XFX 8800GT Alpha Dog Edition was slightly faster with 19.67FPS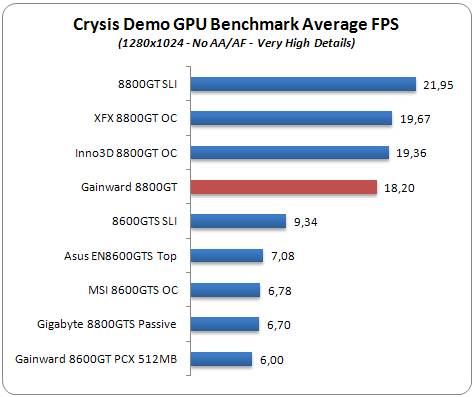 Lastly, Lost Planet also impacted on performance when all details are maxed out. The Gainward 8800GT was again by 2~3FPS slower than the other tested 8800GT cards.