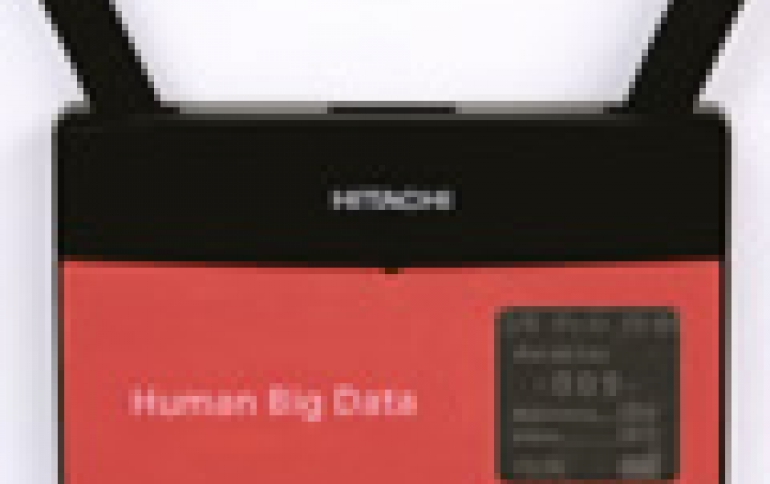 Hitachi Wearable Sensor Helps Working Groups Be Happy And Productive
A new wearable sensor analyzes data on human behavior and uses this data to measure the "organization activation level," which strongly correlates with work productivity. Developed by Hitachi High-Technologies Corp., the device quantifies the "happiness level" of a group from the distinctive patterns of physical movements.
Researchers claim that human happiness has a significant effect on work productivity (Shawn Achor: "Positive Intelligence"; Harvard Business Review, January 2012). Up to now, however, in order to quantify happiness and vitality, it has been necessary to rely on questionnaires based on self-reporting. For this reason, it has been difficult to quantify in real time, and objectively evaluate, the effects that management policies and workplace environments have on the happiness and vitality of employees in a company organization.
The new wearable sensor can quantify the "organization activation level" by gathering data on human behavior and calculating the activation level of each individual. Human has a tendency to synchronize its physical movements with the people around them. Individual activation level therefore is the measured figure of the person wearing the sensor, who is influenced by the people around him/her.
All the individuals' data are then aggregated and averaged out to calculate the organization's figures. Hitachi says that the calculated "organization activation level" can support to improve business operations and increase productivity. This was possible with taking advantage of the predictive model developed by Hitachi to quantify the collective happiness of a group from distinctive patterns in physical movements.
Hitachi's predictive model quantifies the collective happiness through analyzing huge volumes of human behavior data obtained from wearable sensors, identifies distinctive patterns in physical movements that have strong correlations with a group's happiness, and quantifies them as "happiness level".
Hitachi High-Tech used these conditions to develop a new wearable sensor which can efficiently evaluate the effectiveness of management policies and workplace environments in a company.
The display of new wearable sensor indicates the duration of physical movement and trend of individual activation level, and the wearer can confirm the result in real time. The day-to-day changes in the "organization activation level" are provided on a cloud service, and they can be viewed on the browsers.
Some of the data obtained by the sensors during this period, including the users' physical movements, can be downloaded from the Internet. By reading this data using Excel or a similar application, the users themselves can analyze behaviors with correlation to improvements in their own productivity.
Hitachi High-Tech will provide this service in a variety of fields as a new solution in the "Human Big Data/Cloud Services" that it is already offering.