HP Debuts New High-Performance Workstations
HP Inc. today unveiled a range of new, fifth-generation HP ZBook Mobile Workstations designed for creative and technical professionals.
The company revealed the HP ZBook Studio x360 G5 convertible PC. This laptop gives users the latest convertible design with professional-grade performance needed to run multiple apps with speed. It is powered by NVIDIA graphics and Intel Xeon processors. HP's 360-degree hinge delivers the comfort of a laptop, the convenience of a tablet and the luxury of additional modes to help showcase work. Precision inking with 4,096 levels of pressure sensitivity are realized on the anti-glare HP DreamColor 4K display.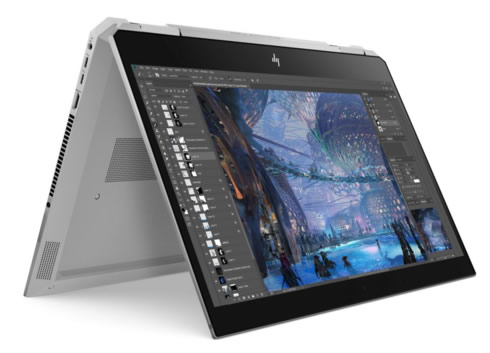 The upgraded HP ZBook Studio G5 laptop also comes with a 4K display. The HP DreamColor anti-glare display supports 100 percent Adobe RGB, has 600 nits of brightness, is 20 percent brighter than the Apple MacBook Pro 15-inch Retina display and 50 percent brighter than the Dell XPS UltraSharp 4K display. The HP ZBook Studio supports up to 6 TB of storage, with certified NVIDIA Quadro graphics and 6-core Intel Xeon processors, with 35 percent higher processing performance than the Apple MacBook Pro, according to HP.
Last fall, HP announced the HP ZBook x2 detachable PC. This product now includes Intel's 8th generation of quad core processors that deliver 73 percent higher graphics performance compared to the Surface Pro.
HP ZBook17 G5 delivers the performance of a desktop with the freedom of a laptop. The mobile workstation is packed with 50 percent more cores generation over generation, up to 10 TB storage, 64 GB memory, NVIDIA Quadro P5200 graphics and 20 percent better thermals generation over generation to stay cool and quiet.
HP ZBook 15 G5 mobile workstation offers 30 percent better thermal performance generation over generation. Users can bring projects to life with one billion colors on the 600 nits 4K HP DreamColor display. Users can also increase productivity with up to 6 TB of storage and 3 drives and up to 4 TB local PCIe TLC storage.
HP ZBook 15v G5 is a high-performance laptop, aimed at engineering students and SMBs, with high speed processors and graphics certified for peak performance. This model has fast response times with 6-core Intel Xeon processors and 32 GB memory. Users can access large 4K files quickly with up to 4 TB of storage and tackle complex 2D and 3D models with certified NVIDIA Quadro graphics. This model features up to 2 TB local PCIe TLC storage.
The HP DreamColor Z27x G2 Studio Display delivers consistent accurate color, features a wide color gamut, IPS Panel and workflow management tools with HP DreamColor technology. This 27-inch diagonal display uses an integrated pop-up sensor that calibrates on demand or on a regular schedule. Users will experience a broad range of colors from 99 percent DCI P3 coverage, 98 percent Adobe RGB and a 1500:1 contrast ratio.
Pricing and Availability
The HP ZBook Studio x360 is expected to be available beginning in May for a starting price of $1,499

The HP ZBook Studio is expected to be available beginning in May for a starting price of $1,299

The HP ZBook 17 is expected to be available beginning in May. Price not yet available.

The HP ZBook 15 is expected to be available beginning in May. Price not yet available

The HP ZBook 15v is expected to be available beginning in May for a starting price of $949.

The HP DreamColor Z27x G2 Display is available beginning in April for a starting price of $1,999