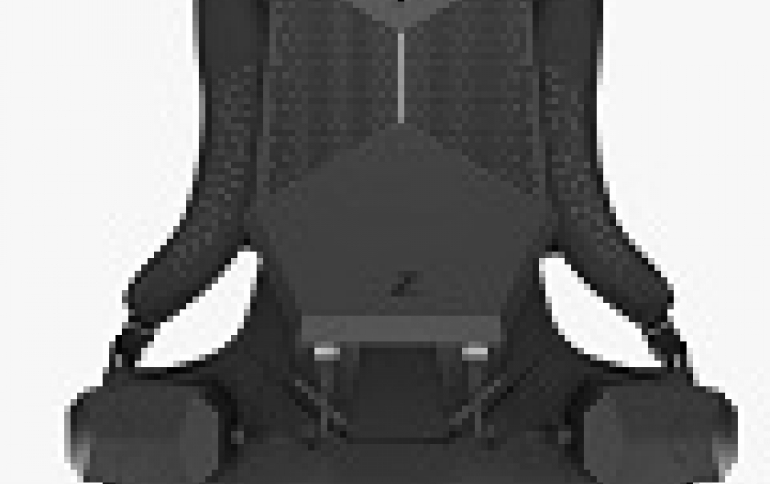 HP's Z VR Backpack G1 Workstation Puts Pros Into the VR World
"Virtual reality" is not only about games. Job training, collaborative 3D design, and medical applications could be accelerated with HP's new Z VR Backpack G1 Workstation.
Some time ago, HP had launched the Omen X by HP Compact Desktop. Although it was originally designed for VR, HP soon demoted the backpack-and-batteries rig to an optional accessory and instead included a dock that turned the mobile machine into a mini desktop.
HP is now replacing the GeForce card with a 16GB Nvidia Quadro P5200 graphics card, and the result is the new Z VR Backpack G1 Workstation. The device is powered by an Intel Core i7-7820HQ CPU and 32GB of DDR4 memory (2400 MT/s). It is equipped with four USB 3.0 ports, a Thunderbolt 3 connection, an HDMI 2.0 connection, a mini-Displayport jack, or regular old 3.5-mm headphones. An "HMD power port" on the top is intended to make using a VR headset a truly wireless experience. The Intel-powered 2x2 802.11ac Wi-Fi and Bluetooth 4.2 adapter will help with that. HP also offers a custom set of short cables for the HTC Vive, including an HDMI cable, a USB 3.0 cable, and a power cable for the aforementioned port.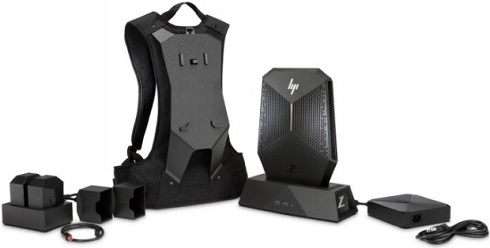 The whole package includes the backpack rig, a docking station (offering up six extra USB ports and two more HDMI 2.0 connections), and two batteries and their charger.
You can buy a Z VR Backpack with 256GB, 512GB, or 1TB of NVMe storage. The device is powered by 74-WHr batteries or a docking station connected the a 330W power adapter.
HP hangs a price tag of $3,200 on the Z VR Backpack G1 Workstation, and that's for the model with just 256GB of storage. HP says you can pick one up next month.
Seperately, HP announced at SIGGRAPH the creation of 'Immersion Centers', places for potential commercial clientele to come in and test the commercial lineup.
There will be 13 immersion centers that will have the full HP commercial portfolio on site, from the HTC Vive Business Edition, Z Workstations, mobile workstations and VR commercial desktops, and the Z VR Backpack. They will be located throughout the world with 4 in the Americas, 4 in Asia/Pacific, and 5 in Europe. These 13 sites will all be live by the end of September with the first already starting July 27th.
HP is also partnering with HTC and brings out the Vive Business Edition. The hardware itself is the same, although the software stack changes with stand alone enterprise software as well as a 1-year commercial license.
Along with the push in the commercial space, HP has put out a VR program called HP Mars Home Planet. It is a free to participate environment, where users can collaborate in a VR space to imagine and design a colony on Mars for housing 1 million humans. Members can use Autodesk software to create 3D models of buildings and cities. The world uses terrain from the Mars 2030 game, which uses real map data from NASA research of a potential landing area on Mars.