HUAWEI P40 Series is Official
Huawei Consumer Business Group today announced the HUAWEI P40 Pro+, HUAWEI P40 Pro and HUAWEI P40, featuring camera innovations that expand mobile photography and video capture possibilities.
The HUAWEI P40 series uses a large 1/1.28-inch sensor that massively boosts light intake for enhanced low-light performance, while a new periscope design realises 10x true optical zoom. P40 Series is powered by Kirin 990 5G and supports high-speed 5G and Wi-Fi 6 Plus.
Richard Yu, CEO of Huawei Consumer BG: "The HUAWEI P Series has always been about innovative aesthetics and making premium imaging hardware accessible, representing the very best of industrial design and technology. With an outstanding sensor, camera systems that we co-engineered with Leica, powerful chipset and HUAWEI XD Fusion Engine, the HUAWEI P40 Series exemplifies our focus and offers an all-day Super Definition experience to help consumers realise their creative vision."
The HUAWEI P40 Pro and P40 Pro+ feature the HUAWEI Quad-curve Overflow Display. The display takes on a curved edge on all four sides, while the super narrow bezels and streamlined round corners ensure an ergonomic hold and near borderless look. An enhanced in-screen fingerprint reader offers 30 percent faster biometric authentication.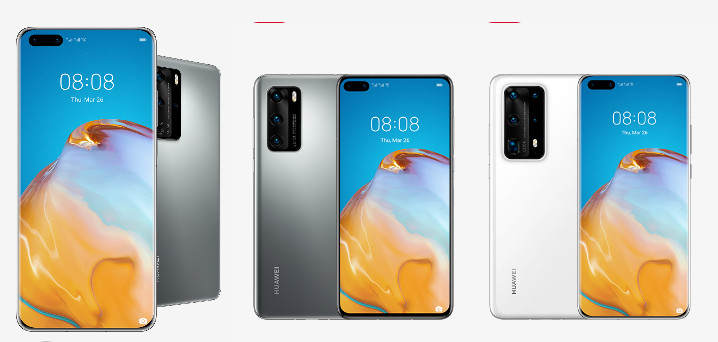 Available in three glossy glass finishes – Ice White, Deep Sea Blue and Black – and two innovative refractive matte glass finishes – Blush Gold and Silver Frost, the HUAWEI P40 Pro and P40 exude elegance. HUAWEI P40 Pro+ features a nano-tech ceramic back panel that is kilned and polished. This design comes in two iconic colours: Ceramic White and Ceramic Black.
Embedded in the HUAWEI P40 Series is the advanced Ultra Vision Leica camera system, available in triple, quad-camera and penta-camera configurations. The HUAWEI P40 delivers great photographic results with ultra wide-angle, wide-angle and telephoto lenses. The HUAWEI P40 Pro features an evolution of the Leica Quad Camera with a more powerful Ultra Wide Cine Camera and ToF Camera alongside 50x SuperSensing Zoom. The HUAWEI P40 Pro+ lets consumers see the unprecedented with the SuperZoom Array, which supports 10x true optical zoom and 100x maximum digital zoom.
The HUAWEI P40 Series is powered by Kirin 990 5G to deliver integrated 5G connectivity with comprehensive 5G band support, robust AI performance and power efficiency. Display responsiveness is taken to the next level by the upgraded graphics rendering engine making the most of the 90Hz panel on the HUAWEI P40 Pro and P40 Pro+.
Starting with the P40, you'll find a triple rear-camera setup consisting of a primary 50-megapixel f/1.9 camera, a 16-megapixel f/2.2 17mm ultra-wide-angle camera, and an 8-megapixel f/2.4 telephoto camera with a 3x optical zoom. The sensor is also massive at 1/1.28 inches, which is even bigger than the 1/1.33-inch 108-megapixel sensor found in the Galaxy S20 Ultra.
The P40 Pro gets you a ToF sensor and increases the resolution of two out of the three cameras. The main camera is still 50 megapixels, but on the P40 Pro, the wide-angle camera has a resolution of 40 megapixels, and the telephoto lens is 12 megapixels. The zoom on the telephoto lens is also increased to 5x rather than 3x.
The P40 Pro+ featues two telephoto lenses: a periscope lens with a zoom of 10x and one with a zoom of 3x. Huawei claims this means you'll get better photos at both medium and far distances. Alongside the two telephoto cameras, which both have a resolution of 8 megapixels, there's a 50-megapixel primary camera and a 40-megapixel ultrawide.
Huawei also says that its AI is now clever enough to remove glass reflections from an image, and it can even remove unwanted passers-by if they accidentally photo-bomb your shot. There's also a feature that'll suggest a better photograph to you after automatically capturing a burst of photos in the background.
The curved screen on the P40 Pro and P40 Pro Plus wraps around not only the left and right sides of the device but also the top and bottom. Thee models come with a 6.58-inch OLED. Like Samsung, Huawei has gone beyond the standard 60Hz refresh rate for its flagship devices, although the P40 Pro and Pro Plus only go up to 90Hz, not 120Hz. The resolution of the two phones tops out at 2640 x 1200, and each has a small oval hole-punch selfie cutout on the top left for their 32-megapixel selfie cameras, which feature a ToF sensor of their own as well as infrared face unlock for low light.
The standard P40 has got a smaller 6.1-inch screen that doesn't wrap around the sides of the device, and it's lower resolution at 2340 x 1080. There's also no infrared face unlock on this device, and the display's refresh rate tops out at 60Hz.
The regular P40 has a 3,800mAh battery and a maximum charging speed of 22.5W using a cable. The water resistance also differs between the three phones, with the Pro and Pro Plus rated at IP68, while the P40 is IP53.
The Huawei P40 will be available from April 7th, with a starting prices of €799 for the model with 8GB of RAM and 128GB of internal storage. The Huawei P40 Pro will be available on the same date with a starting price of €999 for 8GB of RAM and 256GB of internal storage. Finally, the Huawei P40 Pro Plus will be available from June, with a starting price of €1399 for 8GB of RAM and 512GB of internal storage.
 
HUAWEI P40 Pro+
HUAWEI P40 Pro
HUAWEI P40
Size and weight

Width72.6 mm
Height158.2 mm
Depth9.0 mm
WeightApprox. 226 g (including the battery)

Width72.6 mm
Height158.2 mm
Depth8.95 mm
WeightApprox. 209 g (including the battery)

Width71.06 mm
Height148.9 mm
Depth8.5 mm
WeightApprox. 175 g (including the battery)

Colors
White Ceramic,Black Ceramic
Silver Frost,Blush Gold,Deep Sea Blue,Ice White,Black
Display

Size: 6.58 inches
Colour: 16.7 million colours
Type: OLED, up to 90 Hz frame refresh rate
Resolution: 2640 x 1200 Pixels

Size: 6.1 inches
Colour: 16.7 million colours
Type: OLED
Resolution: FHD+ 2340 x 1080 Pixels

Splash, Water, and Dust Resistant
IP68
IP53
Processor

HUAWEI Kirin 990 5G

CPU: Octa-core
2 x Cortex-A76 Based 2.86 GHz + 2 x Cortex-A76 Based 2.36 GHz + 4 x Cortex-A55 1.95 GHz
GPU: Mali-G76
NPU: Dual Big Core + Tiny Core NPUs (Neural-network Processing Unit)

OS
EMUI 10.1 (Based on Android 10)
Memory
8 GB RAM + 512 GB ROM
8 GB RAM + 256 GB ROM
8 GB RAM + 128 GB ROM
Cameras

Rear Camera:

50MP Ultra Vision Camera (Wide Angle, f/1.9 aperture, OIS) + 40MP Cine Camera (Ultra-Wide Angle, f/1.8 aperture) + 8MP SuperZoom Camera (10X Optical Zoom, f/4.4 aperture, OIS) + 8MP Telephoto Camera (3X Optical Zoom, f/2.4 aperture, OIS) + 3D Depth Sensing Camera
Autofocus Mode: Autofocus
Image stabilization: OIS + AIS
Zoom Mode: Digital Zoom, Optical Zoom, Hybrid Zoom
Video Recording: Support for 4K (3840 x 2160 pixels) 60fps video recording
Image Resolution: Support up to 8192 x 6144 pixels
Video Resolution: Support up to 3840 x 2160 pixels


Front Camera:

32 MP Selfie Camera (f/2.2 aperture) + Depth Camera*
Autofocus Mode: Autofocus
Video recording: Support for 4K (3840 x 2160 pixels) 60fps video recording

Image resolution: Support up to 6528 x 4896 pixels
Video resolution: Support up to 3840 x 2160 pixels


*Depth Camera also support face unlock with IR.

*The photo pixels may vary depending on the shooting mode.
*The actual image resolution may vary depending on the shooting mode.

Rear Camera:

50 MP Ultra Vision Camera (Wide Angle, f/1.9 aperture, OIS) + 40 MP Cine Camera (Ultra-Wide Angle, f/1.8 aperture) + 12 MP SuperSensing Telephoto Camera (f/3.4 aperture, OIS) + 3D Depth Sensing Camera
Autofocus mode: Autofocus
Image stabilization: OIS + AIS
Zoom Mode: Digital Zoom, Optical Zoom, Hybrid Zoom
Video recording: Support for 4K(3840 x 2160 pixels) 60fps video recording
Image resolution: Support up to 8192 x 6144 pixels
Video resolution: Support up to 3840 x 2160 pixels


Front Camera:

32 MP Selfie Camera (f/2.2 aperture) + Depth Camera*
Autofocus Mode: Autofocus
Video Recording: Support for 4K (3840 x 2160 pixels) 60fps video recording
Image resolution: Support up to 6528 x 4896 pixels
Video resolution: Support up to 3840 x 2160 pixels


*Depth Camera also support face unlock with IR.

*The photo pixels may vary depending on the shooting mode.
*The actual image resolution may vary depending on the shooting mode.

Rear Camera:

50 MP Ultra Vision Camera (Wide Angle, f/1.9 aperture) + 16 MP Ultra-Wide Angle Camera (f/2.2 aperture) + 8 MP Telephoto Camera (f/2.4 aperture, OIS)
Autofocus Mode: Autofocus
Image stabilization: OIS + AIS
Zoom Mode: Digital Zoom, Optical Zoom, Hybrid Zoom
Video Recording: Support for 4K (3840 x 2160 pixels) 60fps video recording
Image Resolution: Support up to 8192 x 6144 pixels
Video Resolution: Support up to 3840 x 2160 pixels


Front Camera:

32 MP Selfie Camera (f/2.0 aperture), IR Camera
Video recording: Support for 4K (3840 x 2160 pixels) 60fps video recording
Image resolution: Support up to 6528 x 4896 pixels
Video resolution: Support up to 3840 x 2160 pixels

*The photo pixels may vary depending on the shooting mode.
*The actual image resolution may vary depending on the shooting mode.

Battery
4200 mAh (Typical Value)

4200 mAh (Typical Value)
3800 mAh (Typical Value)
Charging
HUAWEI SuperCharge (Max 40 W)
Wireless HUAWEI SuperCharge (Max 40 W)
HUAWEI SuperCharge (Max 40 W)
Wireless HUAWEI SuperCharge (Max 27 W)

HUAWEI SuperCharge (Max 22.5 W)
Network
Primary SIM card:
5G NR: n1 / n3 / n28 (TX: 703-733 MHz, RX: 758-788 MHz) / n38 / n41 / n77 / n78 / n79
4G FDD LTE: Bands 1 / 2 / 3 / 4 / 5 / 6 / 7 / 8 / 9 / 12 / 17 / 18 / 19 / 20 / 26 / 28
4G TDD LTE: Bands 34 / 38 / 39 / 40 / 41
3G WCDMA: Bands 1 / 2 / 4 / 5 / 6 / 8 / 19
2G GSM: Bands 2 / 3 / 5 / 8

Secondary SIM card:
4G FDD LTE: Bands 1 / 2 / 3 / 4 / 5 / 6 / 7 / 8 / 9 / 12 / 17 / 18 / 19 / 20 / 26 / 28
4G TDD LTE: Bands 34 / 38 / 39 / 40 / 41
3G WCDMA: Bands 1 / 2 / 4 / 5 / 6 / 8 / 19
2G GSM: Bands 2 / 3 / 5 / 8
ELS-NX9

Primary SIM card:
5G NR: n1 / n3 / n7 / n28 (TX: 703-733 MHz, RX: 758-788 MHz) / n38 / n41 / n77 / n78 / n79
4G FDD LTE: Bands 1 / 2 / 3 / 4 / 5 / 6 / 7 / 8 / 9 / 12 / 17 / 18 / 19 / 20 / 26 / 28 / 32
4G TDD LTE: Bands 34 / 38 / 39 / 40 / 41
3G WCDMA: Bands 1 / 2 / 4 / 5 / 6 / 8 / 19
2G GSM: Bands 2 / 3 / 5 / 8

Secondary SIM card:
4G FDD LTE: Bands 1 / 2 / 3 / 4 / 5 / 6 / 7 / 8 / 9 / 12 / 17 / 18 / 19 / 20 / 26 / 28
4G TDD LTE: Bands 34 / 38 / 39 / 40 / 41
3G WCDMA: Bands 1 / 2 / 4 / 5 / 6 / 8 / 19
2G GSM: Bands 2 / 3 / 5 / 8

ELS-N04

Primary SIM card:
5G NR: n1 / n3 / n5 / n28 (TX: 703-733 MHz, RX: 758-788 MHz) / n38 / n41 / n66 / n77 / n78 / n79
4G FDD LTE: Bands 1 / 2 / 3 / 4 / 5 / 6 / 7 / 8 / 9 / 12 / 17 / 18 / 19 / 20 / 26 / 28 / 66
4G TDD LTE: Bands 34 / 38 / 39 / 40 / 41
3G WCDMA: Bands 1 / 2 / 4 / 5 / 6 / 8 / 19
2G GSM: Bands 2 / 3 / 5 / 8

Secondary SIM card:
4G FDD LTE: Bands 1 / 2 / 3 / 4 / 5 / 6 / 7 / 8 / 9 / 12 / 17 / 18 / 19 / 20 / 26 / 28 / 66
4G TDD LTE: Bands 34 / 38 / 39 / 40 / 41
3G WCDMA: Bands 1 / 2 / 4 / 5 / 6 / 8 / 19
2G GSM: Bands 2 / 3 / 5 / 8

ELS-NX9

Single SIM model:
One Nano SIM + One eSIM
or
Dual SIM model:
One Nano SIM + One Nano SIM

ELS-N04

Single SIM model:
One Nano SIM + One eSIM
Primary SIM card:
5G NR: n1 / n3 / n28 (TX: 703 - 733 MHz, RX: 758 - 788 MHz) / n38 / n41 (2515 M - 2690 MHz) / n77 / n78 / n79
4G FDD LTE: Bands 1 / 2 / 3 / 4 / 5 / 6 / 7 / 8 / 9 / 12 / 17 / 18 / 19 / 20 / 26 / 28 / 32
4G TDD LTE: Bands 34 / 38 / 39 / 40 / 41
3G WCDMA: Bands 1 / 2 / 4 / 5 / 6 / 8 / 19
2G GSM: Bands 2 / 3 / 5 / 8

Secondary SIM card:
4G FDD LTE: Bands 1 / 2 / 3 / 4 / 5 / 6 / 7 / 8 / 9 / 12 / 17 / 18 / 19 / 20 / 26 / 28
4G TDD LTE: Bands 34 / 38 / 39 / 40 / 41
3G WCDMA: Bands 1 / 2 / 4 / 5 / 6 / 8 / 19
2G GSM: Bands 2 / 3 / 5 / 8

Single SIM model:
One Nano SIM + One eSIM
or
Dual SIM model:
One Nano SIM + One Nano SIM
Connectivity

Wi-Fi: 802.11a/b/g/n/ac/ax, 2 x 2 MIMO, HE160, 1024 QAM, 8 Spatial-stream Sounding MU-MIMO
Bluetooth: Bluetooth5.1, Support BLE, SBC, AAC, LDAC
Data Cable Port: USB Type-C, USB 3.1 GEN1
Earjack: USB Type-C earjack
Others: PC Data Synchronisation

NFC
Support Reader Mode, P2P Mode, Card Emulation Mode (SIM*, HCE)
*Only SIM1 support
Sensors
Gesture Sensor
Gravity Sensor
Infrared Sensor
Fingerprint Sensor
Hall Sensor
Gyroscope
Compass
Ambient Light Sensor
Proximity Sensor
Colour Temperature Sensor