Intel Core i9-7980XE and Core i9-7960X benchmarks
3. Lightroom CC 2017, Photoshop CC, Premiere Pro CC, TMPGEnc Video Mastering Works 6
It's time for some demanding tasks that the digital creative pros could fine inetresting.
Adobe's Lightroom CC 2017 was used t measure the time each processor takes to convert RAW data to JPEG. The differences we found are not important among the Skylake-X chips, and it is interesting to see that the and the Core i9-7980XE took a little longre to finish the task compared with the Core i9-7960X.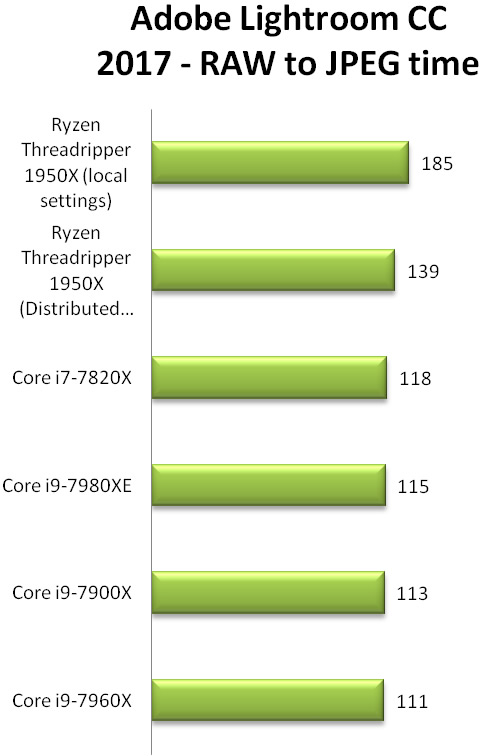 In Photoshop CC 2017 we ran a heavily loaded filter and color correction to the RAW data in batch processing. Once again the differences among the Intel chips were small, with the small lead of the new CPUs.

We used the Premiere Pro CC 2017 to measure the time needed to create a 4K movie from multiple videos.
Although the difference between the Core i9-7980XE and the Core i9-7960X is small, the Core i9-7960X was about 23% faster than the Core i9-7900X, and 36% fsatr than the to-Core i7-7820X.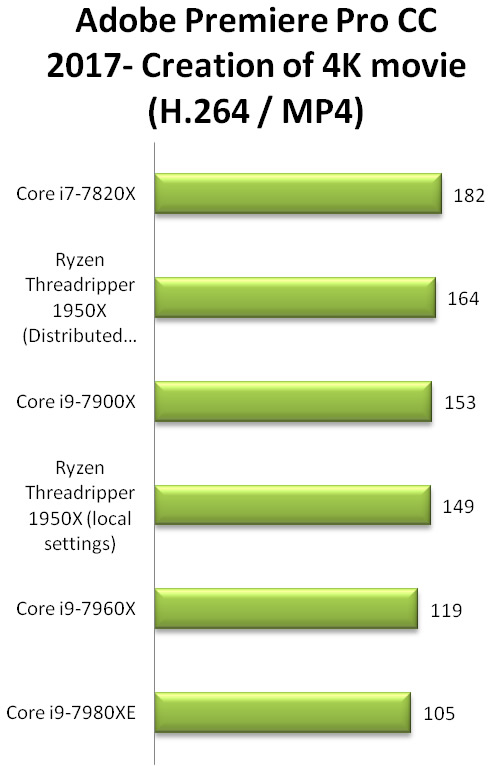 We also used the TMPGEnc Video Mastering Works 6 for the same task, in order to create a a full HD movie (H.265 / MKV).
The Core i9-7980XR was the fastest chip in the test, with the Core i9-7960X to follow closely. Notice that the overall performance of the Ryzen Threadripper 1950X here was lower than the Skylake-X CPUs.