Intel Core i9-7980XE and Core i9-7960X benchmarks
2. Cinebench R15, PCMark 10
We start our benchmarks with the Cinebench R15, in both single -threaded and multi-threaded tasks. Also ntice that we tested both Local and Distributed settings for the AMD chips. AMD has introduced a new memory access mode that you can toggle either in the BIOS or with the Ryzen Master software. The Local and Distributed settings flip between either NUMA (Non-Uniform Memory Access) or UMA (Universal Memory Access).
UMA (distributed) allows the dies to access all of the attached memory. NUMA mode (local) attempts to keep all data for the process executing on the die confined to its directly attached memory controller. This reduces, and even possibly eliminates, data fetches from the remote memory connected to another die, though the die can still access it if needed. Even though almost no desktop applications are designed to support it entirely, there can be performance advantages for non-NUMA applications.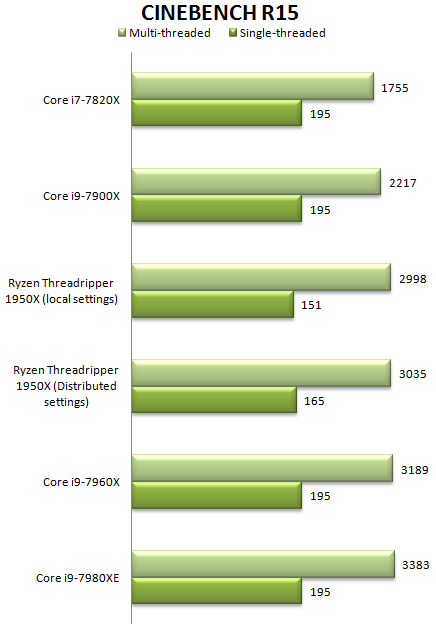 We start our benchmarks with the Cinebench R15.
The power of the 18 cores of Core i9-7980XE processor is clearly reflected in the "CPU" score, with all those threads available.
The i9-7980XE CPU is almost 11% faster that the AMD Ryzen Threadripper 1950X. The same happens with the Core i9-7960X chip, in both multi-threaded and single-threaded tasks. However, considering that Intel's high-end chips cost 80 percent more, that's could be considered as an overall poor result.
Comparison with the 10-core Core i9-7900X chip, the Core i9-7980XE is about 53% faster while the Core i9-7960X has also a 45% lead.
Also notice that the scores is the single-threaded tests of the Core i9-7900X and the i7-7820X are in par with the larger chips, mainly due to their high clock speeds.
We continue with the PCMark 10 benchmark. The tests that comprise the suite are not all multi-threaded, so the higher-clocked Intel processors take the pole positions here, versus the new Core i9-7980XE and Core i9-7960X. Here Core i9-7900X had the highest overall score, and the Skylake-based CPUs gave almost similar results.