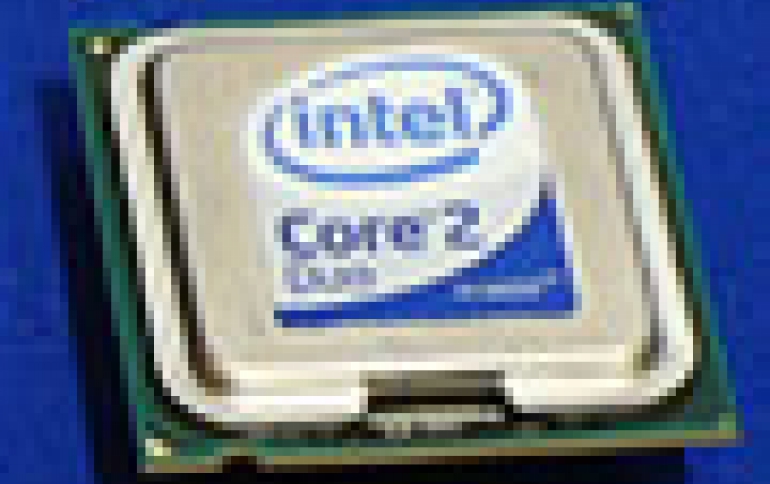 Intel Unveils Core 2 Duo Chips
Intel officially announced today the introduction of 10 Core 2 Duo and Core Extreme microprocessors for desktops, workstations and notebooks. Among the chips announced by Intel are five processors designed for laptops and five desktop chips, including the high-end Core 2 Extreme processor for creatives and gamings topping out at the the 2.93GHz Core 2 Extreme X6800. The products were formally codenamed "Conroe" and "Merom".
Core 2 Duo and Core 2 Extreme are based on Intel's Core microarchitecture, which replaces the NetBurst architecture used in the Pentium 4. The same microarchitecture is used in Woodcrest, the latest version of the Xeon workstation processor announced last month.
The new CPUs are built on 65 nanometre technology. Intel began using the 65nm process last year, starting the move away from the less-advanced 90nm process. Shifting to a more advanced process generally permits the production of chips that are smaller, run faster and consume less power. The more advanced process also reduces the per-unit cost of chips, since more can fit on a single silicon wafer.
The chips support the "smart cache" technology which shares L2 cache. They also feature wide dynamic execution and instructions that speed up multimedia transactions.
The mobile chips have a better version of Speedstep, a method for powering down the processor to increase battery life, and other power saving devices.
Core 2 Duo runs at slower clock speeds than Pentium-era chips, but is still more productive because it handles more calculations per clock cycle. Thanks to that slower speed, Core 2 Duo chips need less electricity, drawing just 65 watts compared to the Pentium 4?s 95 watts and Pentium D?s 130 watts.
Machines using the desktop chips will be available in early August, said Intel, while notebooks will become available at the end of that month.
The "Conroe" chips clock from 2.93GHz down to 1.86GHz, all using a 1066MHz system bus, and with L2 caches of 4MB for the higher clocked chips and 2MB for the lower clocked chips.
The "Merom" chips clock from 2.33GHz down to 1.66GHz with bus speeds of 667MHz and cache of either 4MB or 2MB for the two loweststock keeping units.
The Core 2 Duo launch has been billed as Intel's most significant since the introduction of the original Pentium processor in 1993. Intel executives have watched AMD expand its share of the processor market recent quarters and they want to reclaim this lost ground.
With the introduction of the Core 2 Duo, Intel now produces more 60nm chips than 90nm chips, the company said. That will help Intel put pressure on AMD, which still produces most of its chips using a 90nm process.
Specifications:
| | | | | |
| --- | --- | --- | --- | --- |
| Merom | Frequency (GHz) | FSB (MHz) | L2 cache (MB) | TDP (W) |
| Core 2 Duo T7600 | 2.33 | 667 | 4 (shared) | 34 |
| Core 2 Duo T7400 | 2.16 | 667 | 4 (shared) | 34 |
| Core 2 Duo T7200 | 2 | 667 | 4 (shared) | 34 |
| Core 2 Duo T5600 | 1.83 | 667 | 2 (shared) | 34 |
| Core 2 Duo T5500 | 1.66 | 667 | 2 (shared) | 34 |
| | | | |
| --- | --- | --- | --- |
| Conroe | Frequency (GHz) | FSB (MHz) | L2 cache (MB) |
| Core 2 Extreme X6800 | 2.93 | 1,066 | 4 (shared) |
| Core 2 Duo E6700 | 2.66 | 1,066 | 4 (shared) |
| Core 2 Duo E6600 | 2.4 | 1,066 | 4 (shared) |
| Core 2 Duo E6400 | 2.13 | 1,066 | 2 (shared) |
| Core 2 Duo E6300 | 1.86 | 1,066 | 2 (shared) |