JBL at CES 2019
JBL is announcing new PartyBox and Bluetooth speakers along with the new JBL LIVE headphone series at CES 2019.
JBL PartyBox
The party has arrived, with the introduction of the JBL PartyBox 200, 300 and 1000 speakers.
Packed with JBL's signature sound, the PartyBox creates an uplifting listening experience. And users canchoose one of three lighting options and create added ambiance to any setting.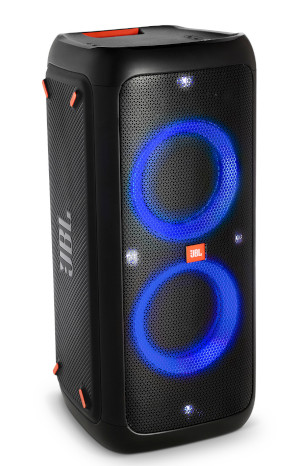 You can grab a mic and strap on a guitar because the JBL PartyBox is equipped with a microphone and instrument input.
For even larger sound, you can connect two PartyBox speakers. PartyBox is Bluetooth-enabled, allowing anyone to connect their playlist wirelessly.
JBL PartyBox 200 & 300 Features
JBL Signature Sound
Wireless Bluetooth Streaming: Wirelessly stream sound from a smartphone or tablet.
Built-in Light Shows: Meter, Pulse, and Party mode.
Portable with Rechargeable Battery: Plug in to a 12V DC source or use the built-in 10,000mAh battery for 18 hours of playtime (only for the PartyBox 300).
Mic and Guitar Inputs: Plug in a mic or guitar and take the stage.
USB Playback: Pre-program a party or event with a favorite playlist from a USB thumb drive.
True Wireless Stereo & RCA: Connect compatible speakers wirelessly via TWS (True Wireless Stereo) using Bluetooth connection up to two PartyBox speakers or wired via one RCA output to another.
JBL PartyBox 1000 Features
The JBL PartyBox 1000 packs 1.1 kilowatts (KW) of power, a 12-inch downfiring subwoofer and patented compression driver technology. It also includes features showcased in PartyBox 200 but additional perks are:
Enhanced Audio Performance: a three-way acoustic package that provides a bigger, more epic sound compared to the JBL Partybox 200 and 300
Air Gesture Wristband (patent pending): allows control of lighting using hand gestures
Full Panel Lighting: speaker rim and strobe lighting effects
Karaoke-Enabled: equipped with a vocal fader, key control and echo effect
Integrated DJ Launch-Pad: DJ skills will be put to the test every night with the integrated 4x4 DJ launch pad
JBL PartyBox 200 ($349.95) and JBL PartyBox 300 ($449.95) are available for purchase now. The JBL PartyBox 1000 ($999.95) will be available in July 2019.
The JBL Flip 5
JBL's Flip series now includes the JBL Flip 5, the newest member of the Bluetooth speaker line.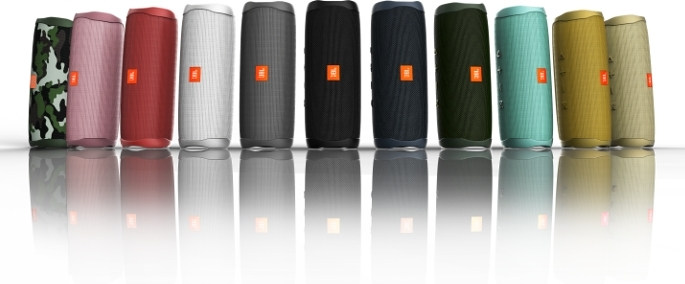 The Flip 5 features a newly engineered racetrack-shaped driver with increased cone area and excursion. Like its predecessor, the JBL Flip 5 sports a waterproof, compact design. Boasting 12 hours of playtime and recharging capabilities via a new USB-C charging port means this speaker will be up and running with stronger battery support than ever before. A built-in speakerphone, alongside its stellar and stable Bluetooth connection, lets users make and receive calls with the touch of a button.
JBL Flip 5 Features
Wireless Bluetooth Streaming: Wirelessly connect to any smartphone or tablet via steaming technologies.
12 hours of playtime: Built-in 4800mAh rechargeable Li-ion battery supports up to 12 hours of continuous playtime.
IPX7 Waterproof
Acoustic Design: Racetrack shaped driver
USB-C Charging: Supported by 5V/3A power source.
Speakerphone: Built-in speakerphone allows anyone to take calls with the touch of a button.
Life-proof materials: Rubber housing and durable materials allows this speaker to outlast any adventure.
The JBL Flip 5 (USD: $99.95) will be available on JBL.com and select retailers starting spring 2019 in 11 color options: Desert Sand, Mustard Yellow, Dusty Pink, Grey Stone, River Teal, Fiesta Red, Ocean Blue, Midnight Black, Steel White, Forest Green, and Squad.
Ready to Rock JBL
Making a colorful debut to the JBL JR line, the JBL JR POP is the brand's first ultra-portable Bluetooth speaker.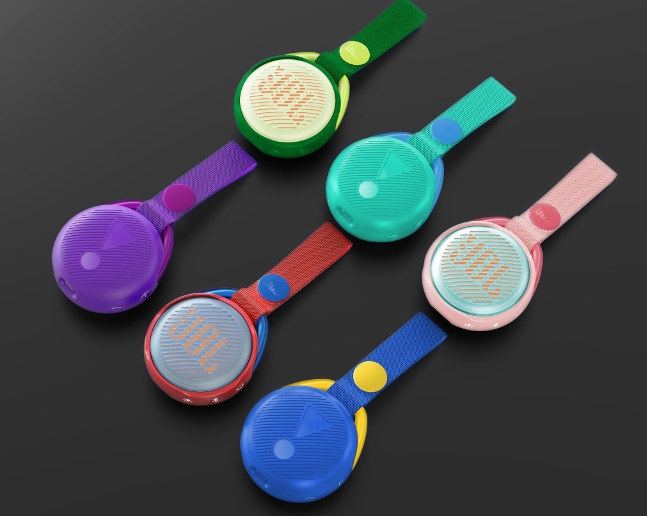 With five hours of playtime and JBL's sound quality, the JBL JR POP will have kids rocking out to their favorite "parent-approved" playlists from the school bus all the way through afterschool activities. The JR POP is also durable and IPX7 waterproof-rated.
This speaker was designed just for kids – small enough to fit in their hands. They'll even have the option to snap the speaker to their backpack using the JR POP's strap. The JR POP comes in a variety of two-tone color combinations with the option to tailor the design with its included fun sticker sets. And, if there was ever a need to match those light-up sneakers that are all the rage, the JR POP has a multi-color lighting mode that illuminates when it is playing.
JBL JR POP Features
Wireless Bluetooth streaming: Wirelessly connect to any smartphone or tablet.
Rugged materials: The durable and rugged rubber housing allows it to outlast any kid-filled adventure.
Multi-color lighting mode: Speaker lights up when music is playing
IPX7 waterproof
Built-in rechargeable Li-ion Battery: Keeps kids entertained for up to 5 hours on a single charge.
Ultra-compact
Custom personalization: colorful stickers included
Detachable strap: Attach the speaker for stationary or on-the-go listening
JBL JR POP (USD: $29.95) is available for purchase now on JBL.com in six color options: Aqua Teal, Iris Purple, Rose Pink, Spider Red, Cool Blue and Froggy Green.
JBL LIVE Headphone Series
JBL is back with a new wireless headphone series, toting powerful JBL Signature Sound, a sleek look and smart, touch-control features: the JBL LIVE Series.
JBL is making audio devices designed to work with the Google Assistant and Amazon Alexa voice service technologies. Once activated through the My JBL Headphones app, a simple tap to the left earcup delivers a seamless headphone listening experience, letting users search for the newest songs from their favorite artists, ask for directions to a local coffee shop or queue a calendar reminder for weekend activities.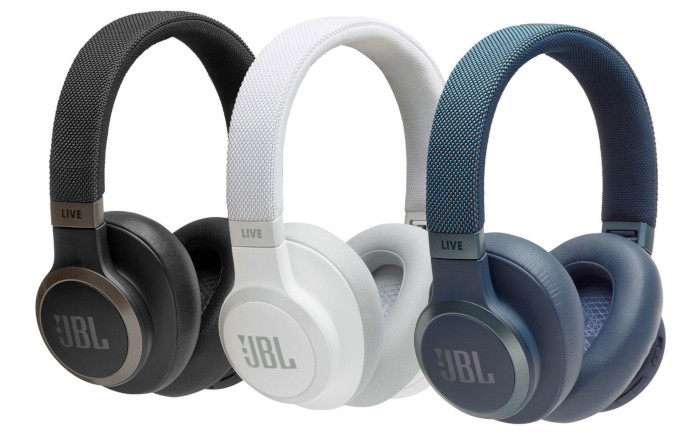 Additionally, the JBL LIVE 400BT and LIVE 500BT headphones are embedded with TalkThru and Ambient Aware technologies. With TalkThru, music is lowered at the touch of a button to make it easy to chat with a friend without removing the headphones. In Ambient Aware mode, listeners can control the amount of background noise they want to let in, to stay keyed into their surroundings when it's needed most, such as walking in a busy intersection, dodging through a crowd of people.
JBL is offering five models to choose from with aluminum finishes.
At the top end is the Live 650BTNC. As the model number suggests, this is the wireless noise cancelling over-ear option. It's also the priciest at $199.95. For your investment, JBL says you can expect up to 20 hours of battery life with active noise cancellation enabled. That figure goes up to 30 hours with ANC off and Speed Charge tech enable a full charge in less that two hours. Touch controls are available here too.
If you're not into noise cancellation, the Live 400BT and Live 500BT are wireless on-ear and over-ear options, respectively. The on-ear 400BT offers up to 24 hours of music on a charge with the Speed Charge tech to keep charging speedy. For the Live 500BT, expect up to 30 hours plus the Speed Charge option. Touch controls and both the Ambient Aware and TalkThru audio transparency modes that are also on some of JBL's new true wireless earbuds are also on the features list for both of these models. In terms of price, the Live 400BT is $99.95 and the Live 500BT is $149.95.
The $69.95 Live 200BT is a set or wireless halo-style behind-the-neck earbuds. Up to 10 hours of battery life and that Speed Charge tool are the key stats here. Last but not least, the Live 100 is a $39.95 set of wired earbuds.
The JBL LIVE Series will be available for purchase starting Spring 2019 in a variety of pricing and color options.
JBL LIVE Series Feature Set

Product Features
Product
LIVE 100
LIVE 200BT
LIVE 400BT
LIVE 500BT
LIVE 650BTNC
Price
$39.95
$69.95
$99.95
$149.95
$199.95
JBL Signature Sound

x

x

x

x

x

Google Assistant & Amazon Alexa
 
 

x

x

x

Ambient Aware & TalkThru Technology
 
 

x

x

 
Active Noise Cancellation (ANC)
 
 
 
 

x

My JBL Headphones App
 
 

x

x

x

Bluetooth
 

x

x

x

x

Battery Life & Speed Charge (<2hr to full)
N/A
Up to 10hr

Speed Charge

Up to 24hr

Speed Charge

Up to 30hr

Speed Charge

Up to 20hr (ANC)
Up to 30hr (w/o)

Speed Charge

Touch Controls
 
 

x

x

x

Comfort-Fit Design with Aluminum Finish

x

x

x

x

x

Headphone Design
In-Ear
In-Ear
On-Ear
Around-Ear
Around-Ear