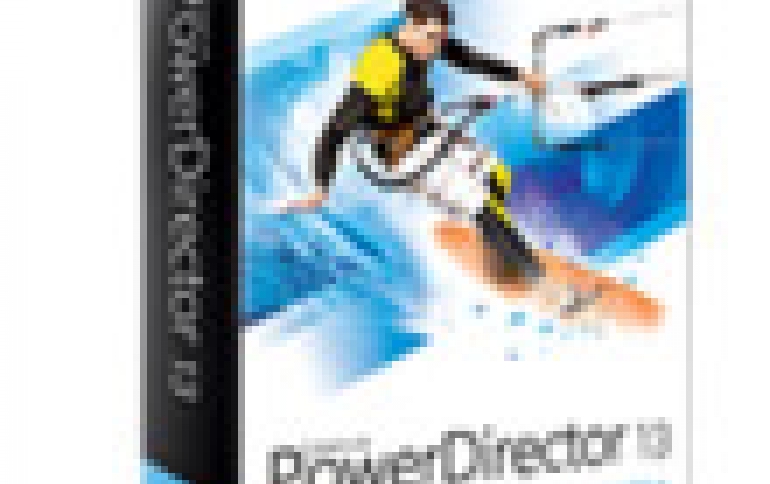 Latest Cyberlink PowerDirector Offers Cloud Storage Features
CyberLink's PowerDirector 13 flagship video editor has been overhauled to offer a suite of more than 100 dynamic design tools, customizable transition video and audio effects, and integrates the new CyberLink Cloud service, providing a new for users to backup and share their projects and templates. PowerDirector 13 Ultimate Suite is comprised of three interoperable products - PowerDirector, ColorDirector and AudioDirector. Highlights include:
PowerDirector 13
Video Editing Tools - Create videos with Easy Editor mode, or take full control via the timeline interface in the Full Feature Editor.
Effects & Templates - More than 400 pro-quality effects and templates. Also free effects, templates, presets and tutorials are available at DirectorZone.
Customizable Design Tools - Design your own transitions, title effects and disc menus with CyberLink's fully customizable Design Studio tools - Title Designer, PiP Designer, Transition Designer, Particle Designer, Menu Designer.
Fast Video Editing - HD video rendering powered by the TrueVelocity 4 64-bit engine.
Drag 'n' Drop to Create Video - Use over 30 animated design templates in Theme Designer to create polished videos.
Multi-Camera Editing - Sync via audio for simultaneous multicam shots and create multicam collages using up to 100 timeline tracks.
4K & HD Videos - Produce 3D and Blu-ray videos and even go beyond standard HD with 4K Ultra HD. Enhance footage quality with embedded TrueTheater technologies, including new gyroscopic stabilization engine.
ColorDirector 3
Post-Production Color Grading - A set of tools to correct white balance, adjust tonality, and enhance and stylize the colors within videos

HDR Video - CyberLink technology now brings the popular HDR effect to video, adding more dynamic range to scenes and highlighting the best parts of footage
Intelligent Motion Tracking - Isolates and tracks the motion of any object in a video scene so that it can be color enhanced

AudioDirector 5
Direct Soundtrack Editing - Edit any audio tracks embedded in videos with support for up to 7.1 multichannel sound and visually-referenced synchronization
5.1/7.1 Channel Surround Sound Panner - Enables surround sound projects using dynamic panning technology on any existing mono or multichannel audio file
Noise Reduction and Hum Removal- Reduces both broadband and tonal background noise, along with low frequency hum and buzz from audio files for a natural result that improves video quality
Today, CyberLink also launched the latest version of its Director Suite comprised of four applications and extras, available both as a perpetual and subscription purchase.
Versions and Pricing
Director Suite 3
Director Suite 3 (US$299.99): Includes PowerDirector 13, PhotoDirector 6, AudioDirector 5, ColorDirector 3, over $800 worth of premium content, 20GB CyberLink Cloud for 1 year PowerDirector Mobile (Windows 8/Android) and PhotoDirector Mobile (Windows 8/Android/iOS)
Director Suite Live (US$99.99/12mo. or US$49.99/3mo.): Subscription version
PowerDirector 13
PowerDirector 13 Ultimate Suite ($249.99) : Includes PowerDirector 13, AudioDirector 5, ColorDirector 3, over $700 worth of premium content, 20GB on CyberLink Cloud and PowerDirector Mobile (Windows 8/Android)
PowerDirector 13 Ultimate ($129.99) : Includes PowerDirector 13, over $650 worth of premium content, 10GB on CyberLink Cloud and
PowerDirector Mobile (Windows 8/Android)
PowerDirector 13 Ultra ($99.99): 100-track multicam, 4K and H.265 support, 10GB on CyberLink Cloud and PowerDirector Mobile (Windows 8/Android)
PowerDirector 13 Deluxe ($69.99)

PhotoDirecto 6
PhotoDirector 6 Suite ($149.99): Includes PhotoDirector 6, ColorDirector 3, 20GB on CyberLink Cloud for 1 year and PhotoDirector Mobile (Windows 8/Android/iOS)
PhotoDirector 6 Ultra ($99.99): Includes PhotoDirector 6 (Mac & Windows version), 10GB on CyberLink Cloud for 1 year and
PhotoDirector Mobile (Windows 8/Android/iOS)
PhotoDirector 6 Deluxe ($59.99): Windows version only

ColorDirector 3: ColorDirector 3 Ultra ($129.99)
AudioDirector 5: AudioDirector 5 Ultra ($129.99)