Latest ZTE Flagship Axon 9 Pro Debuted at IFA 2018
ZTE last week presented at IFA its latest flagship, the ZTE Axon 9 Pro. The smartphone features the new Axon Vision technology to enhance your entertainment experience.
The new ZTE model features a 6.21" Full HD+ AMOLED display, a 12 and 20 megapixel intelligent AI camera, Dolby Atmos sound and a Qualcomm Snapdragon 845 Mobile Platform. It will be available from the end of September at a recommended retail price of 649,- EUR (incl. VAT).
The ZTE Axon 9 Pro is the first smartphone with Axon Vision, a graphics optimization technology. The video processing technology and the independent display processing chip promise to bring increased image quality and video fluency. The ZTE Axon 9 Pro supports HDR10 video playback. It also supports an RGB sensor which manages ambient light sensing that dynamically adjusts the screen's color temperature for ideal viewing under changing lighting conditions.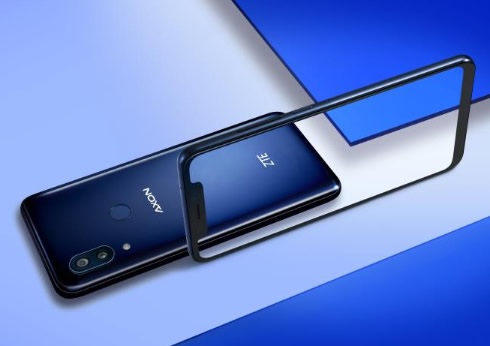 The all new Axon Vision technology mainly consists of three elements:
A measurement of ∆E(<2) for the optimization technology of Axon Vision delivers the rich, accurate color reproduction, exceeding color levels that the human eye is able to detect. These detailed color enhancements not only present more accurate colors, but also automatically adjust for optimal display of screen colors.
The independent display processing chip with MEMC (motion estimation, motion compensation) technology delivers smooth and sharper videos, capable of processing up to 500 megapixels every second. Video content frame rates from 24 or 30 frames are boosted to 60 frames per second to reduce blur.
Supporting HDR10 video playback which presents more details and accurate chromaticity at increased dynamic range.
The almost borderless AMOLED display (hardened 2.5D glass) with only a small notch at the top is 6.21" and has a resolution of 2248 x 1080 pixels (Full HD+) and an aspect ratio of 18.7:9. The back, which includes a fingerprint sensor, is made of tempered glass (3D) and thus not only looks stylish, but is also protected against unintentional jostling and falling. It is waterproof and dust resistant thanks to its IP68 certification. The front and back are embedded in a housing made of noble metal.
The ZTE Axon 9 Pro uses an Artificial Intelligence (AI) snapshot technology that consists of various intelligent motion and facial recognition functions as well as smart portrait compositions. For example, it can capture motion sequences in single shots, in slow motion and it can follow moving objects and remain in focus. The main, rear camera is a high-definition dual camera with 12 and 20 megapixel lenses. The 12 megapixel lens has a pixel size of 1.4 micrometers and an aperture of F/1.75. Optical Image Stabilization (OIS) compensates for any camera shaking. The camera also features a new auto focus function, which is equipped with a dual photo diode (2PD). The 20 megapixel lens has a 130 degree wide-angle view. The front camera with fixed focus offers 20 megapixels for sharp selfies and fast unlocking of the smartphone via facial recognition.
The system of the new ZTE Axon 9 Pro also makes use of Artificial Intelligence. It identifies processes and apps that are running in the background and slowing down the performance of the smartphone. The Axon 9 Pro predicts user beha-vior and automatically terminates unused applications and removes their files or fragments from the system. This intelligent approach enables optimized battery life. At 4,000 mAh, the new ZTE model has a battery that can be charged with power for an entire day in just one hour thanks to the Quick Charge 4+ function. The ZTE Axon 9 Pro also supports wireless charging with the Qi stan-dard.
The smartphone also features powerful stereo speakers supported by a dual-smart power amplifier. It does also come with support for Dolby Atmos. And aA special feature of the new ZTE top model is the integrated real-time language translation into 29 languages.
The flagship ZTE Axon 9 Pro is equipped with Android 8.1 Oreo and is avai-lable in Germany from the end of September at a recommended retail price of 649,- EUR (incl. VAT) at online platforms and in stationary specialist shops.
Technical Data ZTE Axon 9 Pro
| | |
| --- | --- |
| Processor | Qualcomm Snapdragon 845 Mobile Platform |
| Display | 6.21" Full HD+ (2248 x 1080 pixel resolution), 18.7:9 AMOLED, 2.5D |
| Back | 3D tempered glass |
| Dimensions | 156.5 x 74.5 x 7.9 mm |
| Battery | 4,000 mAh (typical), wireless charging, Quick Charge 4+ |
| Main camera | Dual camera with 12 megapixels (1.4 micrometer, aperture of F/1.75, Optical Image Stabilization (OIS)) and 20 megapixels (130 degrees wide angle). Autofocus with dual photo diode (2 PD), flash |
| Front camera | 20 megapixels, face detection |
| Audio | Dolby Atmos, stereo speakers, best Hi-Fi/audio quality, surround sound recording with three microphones |
| Memory | 6 GB |
| Internal Memory | 128 GB |
| Operating system | Android 8.1 Oreo |
| Sensors | RGB sensor, rear fingerprint sensor |
| Connectivity | Wi-Fi 802.11 a/b/g/n/ac at 2.4/5 GHz 2x2 MIMO, NFC, USB Type-C, Bluetooth 5.0 |
| Special features | IP68 certified (water and dust protected) |