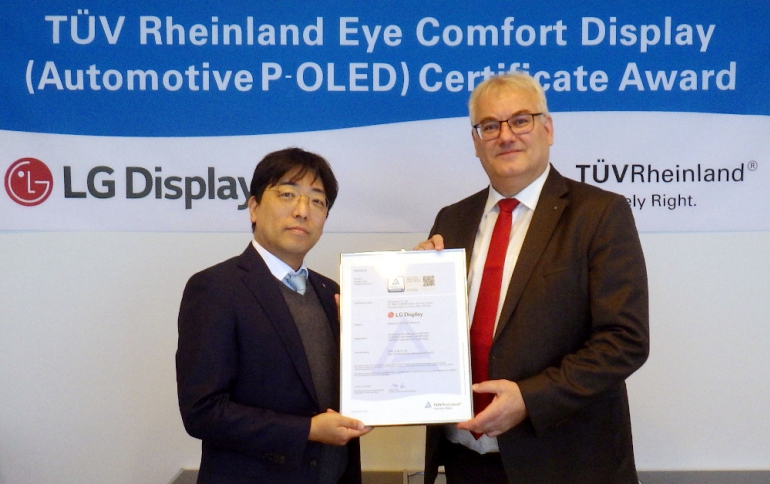 LG Display Receives Eye Comfort Display Certification for Automotive P-OLED Displays From TÜV Rheinland
LG Display has received Eye Comfort Display certification for its automotive P-OLED displays from TÜV Rheinland.
This is the first automotive display in the industry to receive Eye Comfort Display certification.
"This certification by TÜV Rheinland means that P-OLED is internationally recognized as the most cutting-edge and optimal automotive display," said Jung-sik Shin, Senior Vice President and Head of the Auto Business Division at LG Display. "With its industry-leading P-OLED displays, LG Display will enable people to experience premium values in their cars, thereby opening a new era of automotive displays and solidifying its leading position in the global automotive display market."
Using plastic substrates instead of glasses, LG Display's P-OLED displays offer high design flexibility while maintaining the picture quality of OLED.
The Eye Comfort testing process measures three categories: light reflection ratio, blue light content, and picture quality. LG Display's automotive P-OLED displays scored 0.22% in the light reflection test. This figure is far below the threshold of 1%. The P-OLED displays also scored 23% for blue light content, which is less than half of the standard of 50%. Additionally, this figure is just one third of the excess blue light emitted by automotive LCD panels. The company's P-OLED displays also met all testing criteria for picture quality, including color reproduction, contrast ratio, and brightness.
LG Display began mass-producing automotive P-OLED displays at its Gumi plant in Korea earlier this year. According to global research firm IHS, automotive P-OLED display shipments are expected to reach up to 110,000 units this year and further grow by a whopping 80% on an annual basis to 4.6 million units by 2026.