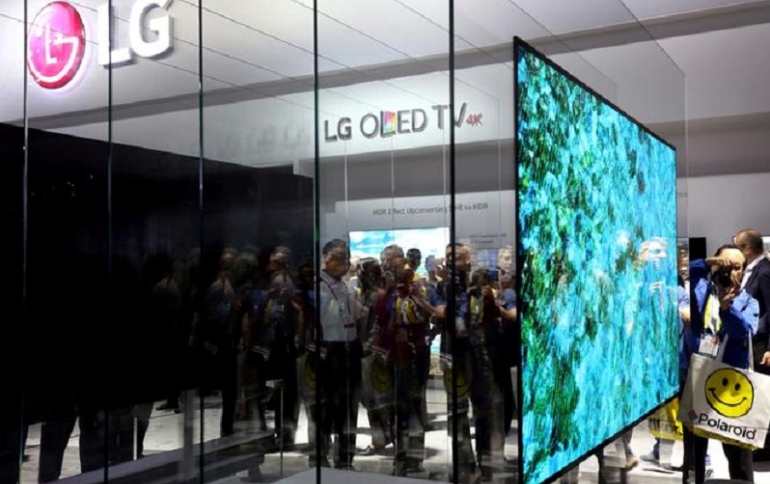 LG Display Says OLED Offers Better 8K Picture Quality Than LCD
LG Display says that active matrix organic light emitting diode (OLED) panels are more advantageous than liquid crystal display (LCD) panels in showing high-quality videos.
Earlier this week, LG Display held an OLED press event at LG Electronics Science Park in Seoul under the management of Kang In-byung, chief technology officer (CTO) and vice president of LG Display.
LG Display's executives refuted rival's Samsung position that it will lead the 8K TV market with quantum-dot light-emitting diode (QLED) TVs which combine quantum dot filters and LCD panels.
What is being called "QLED TV" in today's market is technically a liquid-crystal display TV using quantum dots, said Han Sang-beom, vice chairman of LG Display.
"There is a need to clarify technical differences between QLED and OLED due to confusion in the market," LG Display's executives told reporters.
QLED TV is Samsung Electronics' premium TV brand that was launched in 2017 to stand against LG Electronics' OLED TV, which has been leading the market since 2013.
"A real QLED TV should use self-emissive quantum dots instead of the backlight behind the LCD panel," the company's vice chairman said.
His remarks came after an announcement that the sales volume of QLED TVs outnumbered that of OLED TVs last year. According market researcher IHS Markit, a total of 2.68 million QLED TVs were sold in 2018, while OLED TVs posted 2.51 million.
Citing the data, Samsung has claimed its QLED TVs have overtaken the premium TV market leadership.
However, LG underlined that total sales value matters more, saying the value for OLED TVs stood at $6.5 billion, while the figure for QLED TVs was $6.3 billion.
"Academically, the way which is done by Samsung is called 'QD-LCD,' while a quantum dot TV using self-emissive diodes like OLED is called 'QD-OLED,'" said Kang In-byung. "QD-LCD and OLED are totally different display platforms."
Regarding the latest 8K trend, Kang said OLED is more suitable for providing 8K picture quality than QD-LCD.
"The higher the resolution, the smaller the pixel will be, hence each pixel should be able to self-control its emission," the CTO said.
"We know Samsung is also aiming to mass-produce QD-OLED TVs based on OLED panels in 2021," Kang said.
He explained that Samsung rushed into production of large-sized OLED panels because LCD panels are limited in expressing 8K or clearer images. "The nature of liquid crystal in LCD panels causes a viewing angle problem," Kang said. "LCD panels' brightness is reduced by 50 percent or even skin colors change when viewed from its sides instead of its front."
"OLED panels are more advantageous in the 8K TV age when 8K TVs need to control 33 million pixels," Kang added. "Self-lighting display OLED panels are optimal as the higher resolution is, the smaller pixels become."